Burglary adds to 'a very difficult time' for UC Irvine food and toiletries pantry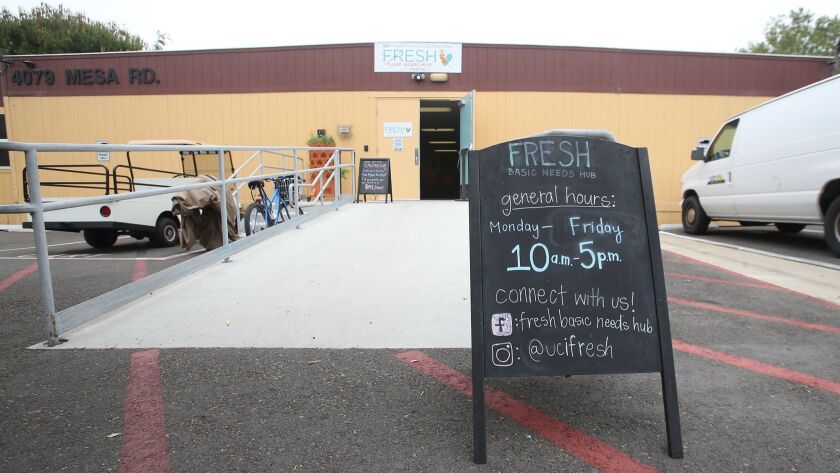 UC Irvine police said Tuesday that they are still working to identify a suspect in a burglary Saturday morning at a UCI food and toiletries pantry.
The incident at the Fresh Basic Needs Hub at 4079 Mesa Road occurred at about 7 a.m., when the pantry was closed, according to the UCI Police Department.
The pantry, at the end of Lot 5 in the Anteater Community Resource Center, provides emergency food and toiletries to UCI students in need.
According to surveillance video, the burglar was a white man with a beard and dressed in black clothing and a black hat, police said. He was 5-feet-8 to 6 feet tall and weighed 150 to 170 pounds, police said. He was seen arriving on a tan and brown bicycle.
Police said no arrests had been made as of Tuesday afternoon. They said Saturday that it wasn't known how the burglar got into the pantry, and the department said Tuesday that it had "no additional information as of now."
No items were reported missing, but Fresh Basic Needs Hub director Andrea Gutierrez said the burglary has lowered morale.
"We're working so hard and we're trying so hard and then this happens to us. It's been emotionally difficult to process," Gutierrez said Tuesday. "We're safe. Nothing was stolen, but dealing with a sense of invasion of privacy or customer space ... we're trying to make it a positive space in just trying to deal with the situation. But … I think we're just fortunate that it's nothing bigger than that or major."
"We've been very challenged in the past few weeks trying to figure out how to continue to serve our student body and continue with food distribution in the middle of the [coronavirus] pandemic," she said. "We're still working with student staff, but it's just been a very difficult time."
Gutierrez said most of the student staff has been working from home and those that are able and willing have been going to the pantry to aid with food distribution. But the pantry has had to change what kinds of food it can offer and how to offer it.
"We used to work with about 10 grocery stores in the area and we'd pick up all the excess food, but all of that has been shut down because some of the grocery stores don't feel it's safe for us to continue and some of them just have nothing to give," she said. "Sadly for us — we've always worked really hard to offer fresh, healthy food."
With the decrease in available food, the pantry has shifted toward nonperishable items because they're easier to get and allow the staff more time to package.
Before the pandemic, people were able to go inside and choose what food to take with them. Now they receive prepackaged boxes to help maintain social distancing.
Still, "we're committed to continuing business as usual," Gutierrez said.
Anyone with information about the burglary is asked to call the UCI Police Department at (949) 824-5223.
---
All the latest on Orange County from Orange County.
Get our free TimesOC newsletter.
You may occasionally receive promotional content from the Daily Pilot.