UCI Humanities Center and Newport Beach Public Library Foundation preserve 'Stories from the Sea'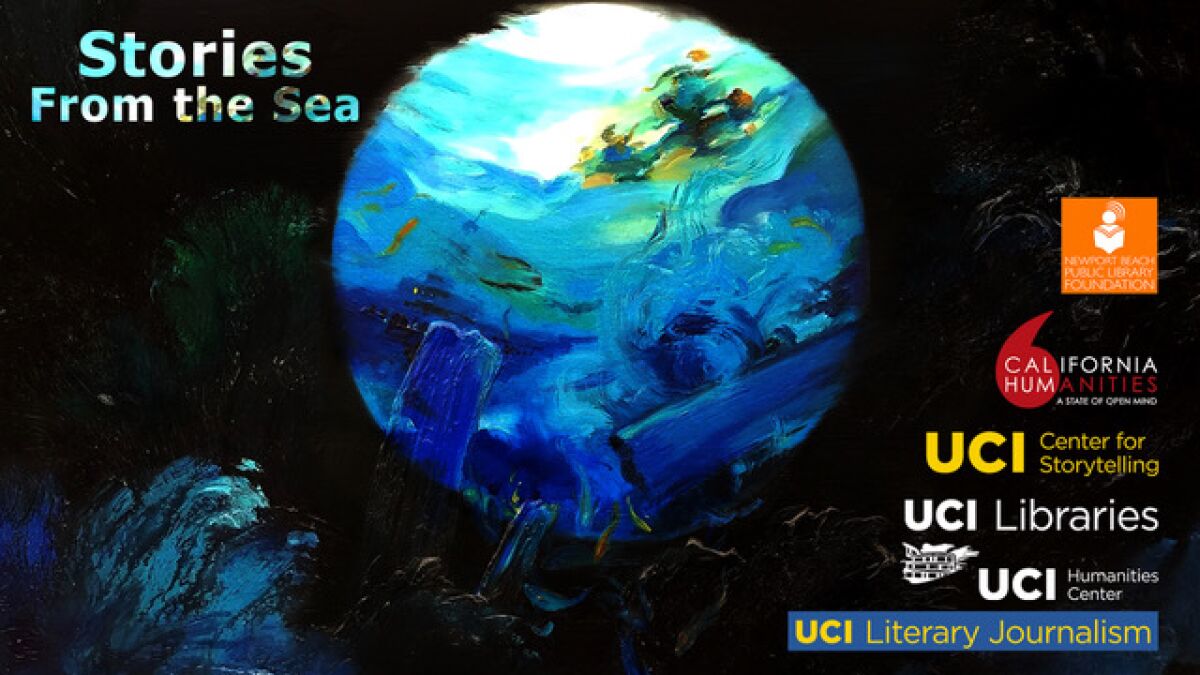 The UC Irvine Humanities Center and the Newport Beach Public Library Foundation are setting sail to find "Stories from the Sea" — an oral history project that looks to document personal memories and encounters with the sea for current and former residents of the Newport Beach bay and coastline.
"We do a lot of partnerships with UCI. We have the 'Medicine in Our Backyard' program and lots of connections with faculty," said Meg Linton, the chief executive officer for the Newport Beach Public Library Foundation. "When [Judy Wu, the director of the UCI Humanities Center] came in, we started talking."
Linton said that the idea to do an oral history project surfaced.
She said the project would help the foundation get to know the library's patrons while also facilitating multigenerational exchanges between the almost 40 students participating.
For Wu, the project is about teaching students how to become storytellers and record the memories of people in nearby Newport Beach. Wu said that since taking on the role of director of the UCI Humanities Center last year, she said the center's tried to emphasize engagement with the community.
"This year, our big theme is focusing on the ocean. It's a way to think about the connections between continents," Wu said.
The project is paid for with $24,000 in grants from California Humanities and the Isidore and Penny Myers Foundation.
"We also wanted to have this undergraduate research innovation component as well. We wanted to train students to become storytellers, to record really important personal memories," Wu said.
Plans were to have students use resources in the library such as its recording and media labs to conduct interviews for "Stories from the Sea." But as with all plans this year, organizers pivoted online because of the pandemic.
Students are currently taking a literary journalism class with Patricia Pierson, the associate director for the university's literary journalism program. Pierson said she's taught the class for 14 years and it is often tailored to bring students into projects in the department. This year's dovetails the "Stories from the Sea" internship.
"This is our largest cohort ever and what's been really interesting is that we have students coming from the 'Stories from the Sea' internship through this class from different disciplines and humanities programs like Humanities Out There," Pierson said.
Pierson said the class and project have been a great opportunity to bring together a diverse group of educators, community members and interested students. Typically, she said the literary journalism course sees class sizes of about 15 to 17 students.
As for what the students are recording and examining, it's flexible.
Pierson said students are free to explore topics they're interested in. Some have clearer ideas, while others aren't entirely sure. Students are organized into five groups until the end of the quarter, focusing on topics that include the environment, food, immigration, art, architecture and landmarks and ocean sports.
Rehana Morita, a second-year film and media studies major, said she's studying the history of Japanese Americans in Newport Beach.
Morita said that growing up, she never knew many Japanese people and she wanted to focus her research on communities of color in Orange County. She said she recently learned Japanese Americans lived in Newport Beach until WWII, when the U.S. sent Japanese Americans to internment camps, a part of history she feels isn't acknowledged well in schools.
"Since the pandemic started, a lot of the Asian community has experienced xenophobia, and I felt it was important to highlight stories about Asians in general, and I think it's important to share stories about families that were affected by internment," Morita said. "There's a lot of intergenerational trauma."
Fourth-year comparative literature and Asian American studies major Vian Nguyen said she'd initially wanted to reach out to the indigenous communities that lived in Newport Beach to hear about their relationship to the sea. She said she wanted to compare that to current residents and their own perspective.
"If COVID wasn't a thing, I would really like to get in touch with the community, volunteer and show up more physically before I asked them for the labor of their time," Nguyen said.
"That's the same with our other narrators as well. I'm really grateful for their time and their effort in speaking with me, but I know from the talk [Angela Mooney D'Arcy] gave," Nguyen said. "It takes a lot of time to build that kind of trust with the indigenous community and so we have to respect that."
She said she pivoted to an examination of how Newport Beach built a community and how others could mirror that instead.
Both Morita and Nguyen said they're still in the planning phase. Pierson said students will be refining their research in the upcoming winter quarter. By spring, they'll be presenting some of the stories recorded in a virtual event and also present creative projects inspired by their research throughout the academic year.
"There is an intimacy that's created in the best oral histories," Wu said. "You have this connection with this person you're talking to. The emotion or the physicality of it — I think you can capture the sense of emotion."
"Not everything that's happened in the past has equal weight. Not everyone sees the past in the same way. When you talk to someone, you get a sense of how they experienced history," Wu said.
"It's both the bottom-up version of history, but it's also a more intimate history. We could do a version of this project where it's just repeating the P.R. version of Newport Beach," Wu said, "but we really want to get more at the hidden history of Newport Beach. The people that might not necessarily get the light of day."
The Newport Beach Public Library Foundation is still looking for people out in the community to participate in the "Stories from the Sea" project who might have a good story and a willingness to share any documentation they might have such as photos, film or objects.
Interested readers can apply at bit.ly/35JPW7w.
---
All the latest on Orange County from Orange County.
Get our free TimesOC newsletter.
You may occasionally receive promotional content from the Daily Pilot.