Take photos, but do not disturb: invasive algae found in Newport Harbor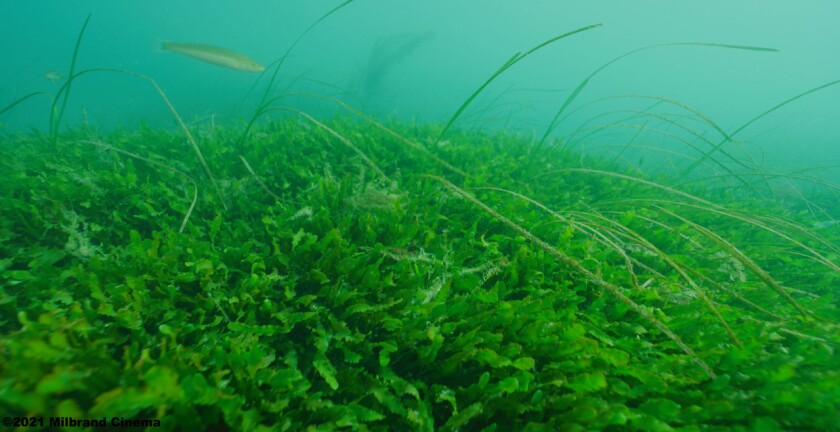 An invasive algae species was discovered in Newport Harbor and state and local officials are asking that the public don't interact with it to avoid potentially spreading its reach any farther.
The species, scientifically known as Caulerpa prolifera, is native to Florida and other subtropical and tropical locales and isn't harmful to humans, but could potentially affect other native species. The algae is known to grow quickly and can "choke out" native seaweeds, which can impact the ecosystem of Newport Bay.
The algae is capable of recolonizing through fragmentation.
"Even small little pieces are viable and can float off and become small plants elsewhere. The species prefers sandy habitats. So, it will break off, float away and land somewhere else, plant its roots and sprout another little group of plants," said Becky Ota, marine habitat conservation program manager.
"That's why it's important that people don't disturb it. If they see it, that's great. Take a picture. Note down where it was, but don't try to pull it up," Ota said.
Members of the public who see the algae are encouraged to reach out to AskMarine@wildlife.ca.gov
with the location, description and a photo if possible and discouraged from collecting specimens.
A statement released by the city said that a diver discovered the patch at the Entrance Channel area of Newport Harbor.
Ota said the diver subsequently reported it to the Orange County Department of Agriculture, which in turn reported it to the California Department of Fish and Wildlife after positive identification on April 15.
John Pope, a city spokesman for Newport Beach, said the city is working with federal, state and local officials to determine the extent to which the species has impacted Newport Bay and are working with said agencies on developing an eradication plan.
At this time, Ota said there are no expected closures of Newport Harbor while officials are investigating.
---
All the latest on Orange County from Orange County.
Get our free TimesOC newsletter.
You may occasionally receive promotional content from the Daily Pilot.