More air-quality testing is planned in coming months at Edison High School in Huntington Beach after mounting concerns from parents that students are being exposed to dust and odors from the nearby defunct Ascon landfill.
"The school is planning a proactive approach to do additional monitoring for variables we might see in work schedules, seasonal changes, environmental changes and what have you," said Megan Canright, director of scientific operations for Forensic Analytical Consulting Services. The Huntington Beach Union High School District retained the Compton-based environmental consulting agency last month to conduct air-quality testing and help determine whether summer school classes and activities could proceed as normal at Edison High.
New details in a 43-page assessment report of that testing reaffirmed the district's assurances to parents that the air at Edison is safe. The report is posted on the district's website.
FACS collected air samples from four indoor and 11 outdoor locations periodically between 11:30 a.m. and 7:30 p.m. June 14, almost a week after Ascon notified city and school officials that it would shut down work on a cleanup of the former landfill for the rest of the school year. Edison's last day in regular session was June 13; summer school began June 18.
Remediation work on the 38-acre site at Hamilton Avenue and Magnolia Street was suspended indefinitely when the state Department of Toxic Substances Control implemented 10 safety enhancements following increasing complaints from residents. Project Navigator, an environmental consultant overseeing the daily activity at Ascon, must meet those requirements before it can resume the cleanup.
The cleanup at the site — which served as a waste disposal facility from about 1938 to 1984 — is expected to continue through 2020.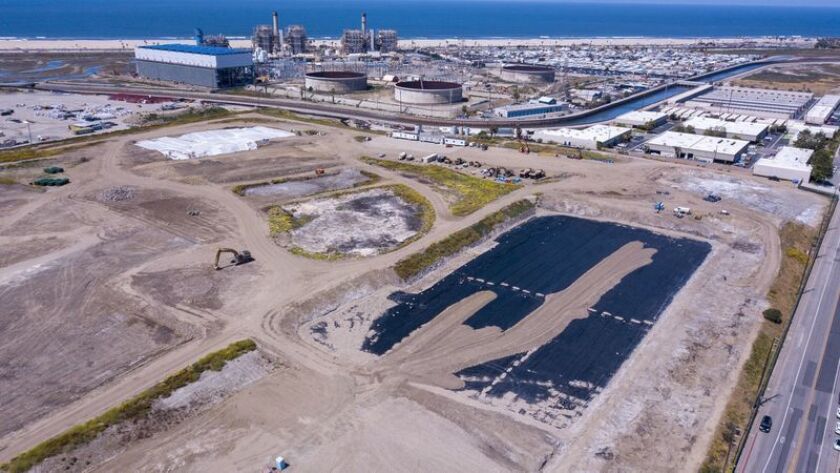 FACS collected samples from classrooms and outdoor locations, both upwind and downwind of the landfill, with supervision from a professional geologist and certified industrial hygienist, according to the report.
Samples were submitted for laboratory analysis on the same day and screened for volatile organic compounds and gases typically affiliated with landfills. The results did not show a danger to health and safety at Edison, nor did samples reflect impacts from the landfill, according to the report.
"[Volatile organic compounds] are in the atmosphere indoors and outdoors, but those are just part of everyday life," Canright said.
Methylene chloride, a compound potentially associated with the landfill, was the only one in the report — recorded in one of the indoor samples — at "slightly above the established background concentrations in residential homes." However, FACS said the compound could have come from ongoing construction near Classroom 319 because it wasn't detected in the upwind or downwind samples.
Canright said air testing will continue throughout the year to include when work resumes at the former landfill. She said FACS also will recommended that the district continue testing, and include dust monitoring, to set "baseline data" in warmer and colder months.
District spokeswoman Cheryl McKenzie did not immediately respond to a request for comment Monday.
Ascon spokeswoman Mary Urashima said in an email that the data shared by Huntington Beach Union confirms the area's air quality.
Though the cleanup is suspended, Ascon said officials are continuing to secure the site and monitor the air and are preparing to install a 16-foot-tall barrier along Hamilton and Magnolia, subject to permit approval from the city.
Officials also are using new products such as Posi-Shell — a blend of clay binders, fibers and polymers that creates a thin layer of stucco when mixed with water — to seal some of the site's excavated areas as an additional measure against potential odors and dust, Urashima said. People may notice a different color in the sealed areas, she added.
Support our coverage by becoming a digital subscriber.
---
UPDATES:
This article was originally published at 3:05 p.m. July 8 and was later updated with additional information.
---