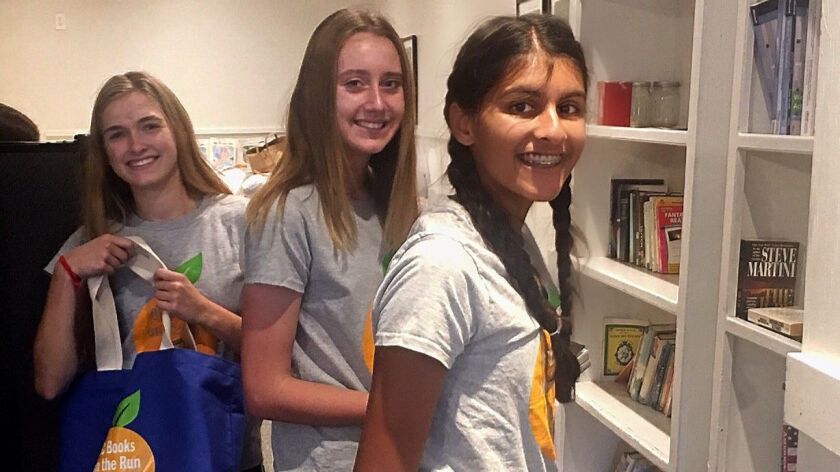 Sage Hill School student Kimi Reddy, Corona del Mar High student Molly Boyle and St. Margaret's Episcopal School student Isabelle Searles, all sophomores, longtime friends and Newport Beach residents, have started a charity called OC Books on the Run.
The trio collect books for donation to Girls Inc. of Orange County and Someone Cares Soup Kitchen, both based in Costa Mesa, as well as Casa Teresa and City of Hope hospital.
The girls are looking to collect 1,000 books. They've distributed about 400 in the charity's first year.
For more information, visit ocbooksontherun.com.
Corona del Mar chamber discussion to focus on homelessness
The Corona del Mar Chamber of Commerce's monthly government and community affairs discussion group will cover homelessness from 7:30 to 9 a.m. Thursday at the Bahia Corinthian Yacht Club, 1601 Bayside Drive.
Orange County and Newport Beach Police Department officials will speak about homelessness locally and countywide.
Newport Beach City Councilman Scott Peotter and representatives of U.S. Rep. Dana Rohrabacher (R-Costa Mesa), state Sen. John Moorlach (R-Costa Mesa), Assemblyman Matthew Harper (R-Huntington Beach) and Orange County Supervisor Michelle Steel will provide updates from their offices.
Admission is free and no RSVP is necessary.
Japan Fair comes to O.C. fairgrounds this weekend
The OC Japan Fair will bring authentic Japanese foods, performances and other cultural experiences to the OC Fair & Event Center in Costa Mesa this weekend.
Hours are 5 to 11 p.m. Friday, noon to 10 p.m. Saturday and 10 a.m. to 5 p.m. Sunday.
General admission is $8 per day. Children 6 and younger and senior citizens 65 and older get in free.
The Fair & Event Center is at 88 Fair Drive.
For tickets or more information, visit oc-japanfair.com or email info@jpp-usa.com.
Three-day Gem Faire set in Costa Mesa
A Gem Faire featuring fine jewelry, gemstones, beads, crystals, gold, silver, minerals, jewelry repair, cleaning, ring sizing and more will be held Friday through Sunday at the Costa Mesa Building and Santa Ana Pavilion at the OC Fair & Event Center in Costa Mesa.
Nearly 200 exhibitors from around the world will be on hand from noon to 6 p.m. Friday, 10 a.m. to 6 p.m. Saturday and 10 a.m. to 5 p.m. Sunday. The Fair & Event Center is at 88 Fair Drive.
General admission is $7. Children 12 and younger get in free. Tickets are good for all three days.
For more information, visit gemfaire.com, email info@gemfaire.com or call (503) 252-8300.
Newport Beach Civic Center to host Art in the Park
The 14th annual Art in the Park festival is set for 10 a.m. to 4 p.m. Saturday on the Newport Beach Civic Center lawn at 100 Civic Center Drive.
The event will offer a chance to see and buy works by more than 100 painters, sculptors, glass artists, photographers and craftspeople.
Art activities for children will be provided by the Chuck Jones Center for Creativity.
Admission and parking are free.
Hawaiian festival Saturday in Huntington Beach
The Huntington Beach Downtown Business Improvement District and Duke's restaurant will present the He'e Nalu Aloha Pier Festival from 11 a.m. to 9 p.m. Saturday at Pier Plaza in Huntington Beach.
The free festival will include Hawaiian food, gift items and music. A luau will begin at 8 p.m. with food available for $15 per person.
Pier Plaza is at 325 Pacific Coast Hwy.
For more information, call (714) 536-8300.
Free pumpkins for kids at Huntington Beach festival
Every child can get a free pumpkin at Saturday's seventh annual Pumpkin Patch Festival from 10 a.m. to 3 p.m. Saturday in Huntington Beach.
Admission is free to the event at Coldwell Banker Campbell Realtors at 1720 Pacific Coast Hwy. It will feature carnival games, face painting, balloon creations, popcorn, a pumpkin weight-guessing contest and more.
The festival is a fundraiser for the Huntington Beach Police and Community Foundation to support its youth programs.
For more information, visit hbpumpkinpatch.com.
Newport Bay Conservancy holds first golf tournament Saturday
The Newport Bay Conservancy will present its inaugural golf tournament, the Newport Bay Conservancy Classic, on Saturday at Newport Beach Golf Course.
The tournament will raise funds to benefit the conservancy's educational, restoration, research and advocacy efforts.
Check-in for golfers begins at 3 p.m., with first tee at 4 p.m., at the golf course, 3100 Irvine Ave.
Dinner, a silent auction and awards will follow the tournament, with complimentary wine and beer.
Prices for the tournament and dinner are $125 per individual or $400 for a foursome. Admission is $50 for the banquet only.
To register for the tournament and/or dinner, visit newportbay.org or call (949) 923-2290.
Harvest Festival set at Blue Bird Canyon Farms in Laguna
Blue Bird Canyon Farms' eighth annual Harvest Festival will feature music, food, a pie contest and more on Saturday in Laguna Beach.
Hours are 4 to 8 p.m. at 1085 Bluebird Canyon Drive.
There will be no onsite parking for the event; parking will be available on Rancho Laguna Road.
Admission is $10 for guests who bring a dish to share and $20 for others. Children younger than 16 are admitted free.
Proceeds will support the Growing Skills educational program.
Space is limited to 100 people. Tickets are available at bluebirdcanyonfarms.com or at the door.
SmartScape Expo to focus on water efficiency
The Laguna Beach County Water District will present its eighth annual SmartScape Expo on Saturday.
Guests at the free event can meet with local landscape and irrigation professionals, buy California-friendly plants and learn about available rebates on water-efficient devices.
Planting workshops and free compost will be offered throughout the expo from 8 a.m. to 2 p.m. at district headquarters, 306 Third St.
For more information, visit lbcwd.org.
Costa Mesa Fire & Rescue to hold open house
Members of the public will have a chance to meet firefighters and other staff of the Costa Mesa Fire & Rescue Department during an open house Saturday.
The event will run from 10 a.m. to 2 p.m. at the fire station at 2300 Placentia Ave. and will feature equipment displays and demonstrations.
Parking will be available at nearby Estancia High School.
Nature center to host Fall Faire and Pumpkin Patch
The Environmental Nature Center in Newport Beach will host its annual Fall Faire and Pumpkin Patch on Sunday.
The event, from 10 a.m. to 3 p.m., will include crafts, games, pony rides, a petting zoo, food and music. Proceeds will benefit the center at 1601 E. 16th St.
For more information, visit encenter.org or call (949) 645-8489.
Newport Beach man honored at Miracles for Kids gala
Newport Beach resident Ken Gerdau was recently honored by Miracles for Kids, a Tustin-based nonprofit that helps children with life-threatening illnesses and their families.
During a gala in Dana Point that raised nearly $1.2 million, Gerdau was recognized as the 2017 Miracle Maker honoree. He is a former board member for Miracles for Kids and the Pediatric Cancer Research Foundation.
Doug Ingram of Corona del Mar, a former chief executive of Chase Pharmaceuticals, was the gala's presenting sponsor. He serves on the Miracles for Kids board.
Harbor Day School student and singer/actress Maya Fischbein, 8, of Newport Beach was a soloist at the event.
Children's author brings new release to Newport
Best-selling children's author and illustrator Tad Hills will be at the Newport Beach Central Library's Children's Room at 4 p.m. Tuesday for a presentation and book signing.
Hills will be introducing his newest book, the Halloween adventure story "Duck and Goose: Honk! Quack! Boo!"
Admission is free. Seating is first-come, first-served. Books will be available for purchase.
The library is at 1000 Avocado Ave.
Fairgrounds seeks public input at discussions of five-year business plan
The OC Fair & Event Center in Costa Mesa will hold two community discussions next week to seek public input on a strategic five-year business plan it is launching.
Area residents, educators, members of the agricultural community, nonprofit leaders and businesspeople are invited.
The meetings will be held from 2:30 to 4:30 p.m. Oct. 18 and 7 to 9:30 p.m. Oct. 19 at the Fair & Event Center's administration building at the corner of Fairview Road and Arlington Drive.
Comments also can be emailed to CommDept@ocfair.com.
Newport-Mesa College and Career Night set for Oct. 18
The Newport-Mesa Unified School District's College and Career Night will be held from 6:30 to 9:30 p.m. Oct. 18 to give seventh- through 12th-grade students access to career demonstrations, financial aid presentations and hundreds of college representatives.
The free event will be at the Costa Mesa Building and Santa Ana Pavilion at the OC Fair & Event Center, 88 Fair Drive, Costa Mesa. Parking is $8.
For more information, visit nmusd-ca.schoolloop.com/collegecareernight.
Shark expert to speak at Orange Coast College
Cal State Long Beach shark expert Chris Lowe will speak at Orange Coast College in Costa Mesa on Oct. 19.
His lecture, "Beach Babies: Southern California Beaches Form Important Nursery Habitat for White Sharks in the Northeast Pacific," will take place in OCC's Science Hall from 4 to 5 p.m. A VIP reception will follow.
The lecture is free. Reception tickets are $50.
Orange Coast College is at 2701 Fairview Road.
Newport Dunes to host Country Pumpkin Patch
Newport Dunes Waterfront Resort in Newport Beach will host the Boots on the Beach Country Pumpkin Patch on Oct. 21 and 22.
The festival will include crafts, seasonal treats, country music and drinks. Admission is free; parking is $10 per car.
For more information, visit NewportDunes.com.
Literacy Project will present fundraiser in Newport
The Literacy Project, a Newport Beach-based nonprofit, will hold its Cheers for Literacy fundraiser Nov. 2.
The event at The Winery restaurant in Newport Beach will run from 6 to 8 p.m. Dennis Kuhl, chairman of the Angels baseball team, will tend bar alongside former Angels pitcher Chuck Finley.
For more information, visit literacyprojectfoundation.org.
---