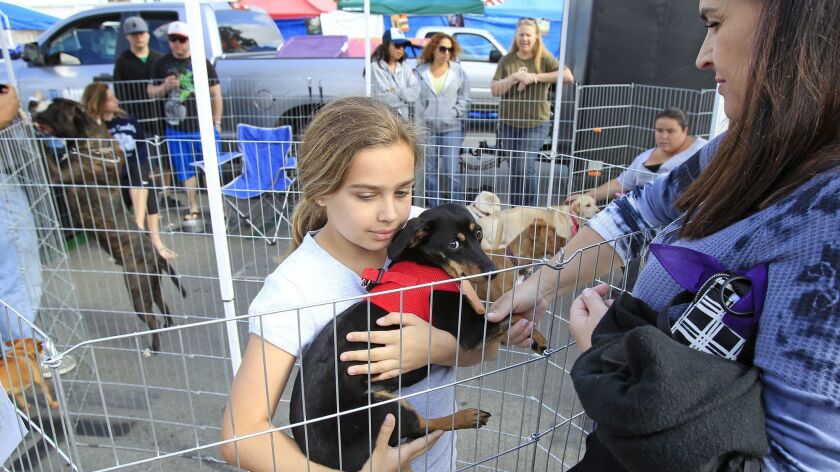 The ninth annual Pet Days in Costa Mesa this weekend will feature local rescue animals available for adoption, plus animal education vendors and pet supplies.
The event will be held from 9 a.m. to 3 p.m. Saturday and Sunday at the OC Fair & Event Center, 88 Fair Drive.
Admission is free with a donation of paper towels, towels, bleach, cat litter, potty pads, new pet food, gift cards or cash.
For more information, visit bit.ly/2HhgFxT.
Tall ships open for tours and sailings in Newport Beach
Lady Washington, the official tall ship of Washington state, and its companion vessel, Hawaiian Chieftain, will be available for public tours and sailings beginning Friday at Newport Sea Base, 1931 W. Coast Hwy., Newport Beach.
Lady Washington, a replica of a Revolutionary War-era tall ship of the same name, has appeared in the movies "The Pirates of the Caribbean: The Curse of the Black Pearl" and "Star Trek: Generations" and the TV shows "Revolution" and "Once Upon a Time."
Vessel tours will be available for $5 Friday, Saturday, Sunday and Jan. 26 and 27. Sailings, which will include demonstrations and other activities, will be offered for $59 to $85 the same days, except Friday.
For the full schedule and more information, visit historicalseaport.org.
State cheer and dance championships set in Costa Mesa
The California cheer and dance championships will be held from 9 a.m. to 8 p.m. Saturday and 11 a.m. to 4 p.m. Sunday at the OC Fair & Event Center in Costa Mesa.
The championships are sanctioned by the California Interscholastic Federation.
For more information, visit cheerpros.com or email mai@cheerpros.com.
Expo in H.B. to feature model cars, ships, planes and more
The 30th annual Model Kit, Hobby and Toy Expo on Sunday in Huntington Beach will feature model kit cars, ships, planes, helicopters, tanks and armored vehicles.
The event, presented by Brewer Bros., will run from 9 a.m. to 3 p.m. at Old World, 7561 Center Ave.
Admission is $6 for adults and free for children 12 and younger.
For more information, visit bit.ly/2RRudEu.
Lunar eclipse viewing party Sunday at UC Irvine
The public is invited to a viewing party at UC Irvine to watch Sunday's lunar eclipse — Earth's shadow passing over the moon — through telescopes outside the Science and Technology Building.
The event, from 5 to 10:30 p.m., will feature a talk by Paul Robertson, assistant professor of physics and astronomy, from 5 to 6 p.m. in the Physical Science Lecture Hall. Guests also will have the opportunity to view other space objects through telescopes. The eclipse is expected to begin shortly after 7:30.
Food trucks will be available and commemorative T-shirts will be sold.
Admission is free, though donations to UCI's Astronomy Outreach Program and Astronomy Club are encouraged.
For more information, visit physics.uci.edu/news.
Segerstrom Center to host Day of Service event
The Segerstrom Center for the Arts in Costa Mesa will celebrate the Martin Luther King Jr. Day of Service by inviting the public to its Julianne and George Argyros Plaza from 11:30 a.m. to 2 p.m. Sunday for free family activities and a chance to learn about volunteer opportunities.
Representatives of Segerstrom Center docents, ushers and the School of Dance and Music will present informational booths for those who wish to sign up.
The center is at 600 Town Center Drive. For more information, call (714) 556-2121.
Pro tennis competition returning to Newport Beach
The Oracle Challenger Series professional tennis competition will return to Newport Beach from Monday to Jan. 27.
The series will be held at 10 a.m. daily at the Newport Beach Tennis Club, 2601 E. Bluff Drive.
For more information, visit bit.ly/2RyG0by.
Masculinity to be topic of Newport Beach event
A program on the evolution of conceptions of masculinity will be held from 7 to 8:45 a.m. Wednesday at the Pacific Club, 4110 MacArthur Blvd., Newport Beach.
"Wake Up, Grow Up and Show Up: Calling Men Into the 21st Century" will feature speakers Leonard Szymczak and Rick Broniec.
For more information, visit insideedge.org.
Program to teach basics of camping
A presentation on the basics of camping will be held from 6:30 to 8 p.m. Jan. 24 at the Upper Newport Bay Nature Preserve, 2301 University Drive, Newport Beach.
The free program will discuss equipment, safety, cooking and other topics.
Staff from Gear Coop in Costa Mesa will provide demonstrations with camping gear.
For more information, visit ocparks.com/parks/newport. To register, visit letsgooutside.org/backtobasics.
'Fairway to Heaven' charity golf event set for Newport
A charity golf event benefiting the Wounded Warriors and Make-A-Wish foundations will be held at 8 a.m. Jan. 25 at Pelican Hill Golf Club, 22800 S. Pelican Hill Drive, Newport Beach.
The cost to enter the "Fairway to Heaven" event is $380 for individuals and $1,500 for teams.
For more information, visit bit.ly/2DfBA0m.
Information meetings about home schooling set
Classical Conversations, a North Carolina-based organization that promotes home schooling with a Christian viewpoint, will offer informational meetings Jan. 25 in Costa Mesa and Huntington Beach to mark National School Choice Week.
The Huntington Beach event is scheduled for 9 to 11 a.m. and the one in Costa Mesa will be from 6:30 to 8:30 p.m.
For the locations and other information, contact Elizabeth Muise at (714) 852-2342 or emuise@classicalconversations.com.
Groundbreaking scheduled for assisted-living center in Fountain Valley
A groundbreaking ceremony will be held from 11 a.m. to 1 p.m. Jan. 30 for a new 100,000-square-foot assisted-living facility in Fountain Valley.
Park View Estates will have 145 suites at 11360 Warner Ave.
Construction is expected to be complete by early 2020.For more information, visit ParkViewRet.com.
Open house coming at Ocean View High School
A community open house will be held from 4:30 to 7 p.m. Jan. 30 at Ocean View High School, 17071 Gothard St., Huntington Beach.
The event will feature a guided tour of the campus and presentations about student athletics, the school's Business Academy and the International Baccalaureate and Advanced Placement programs.
For more information, call (714) 848-0656.
---