Around Town: OC Brew Hee Haw brings beer and music to fair
The sixth annual OC Brew Hee Haw will bring live music and more than 100 craft beers to the Hangar at the Orange County Fair on Friday and Saturday.
Dead Man's Party, an Oingo Boingo tribute band, will perform at 8 p.m. Friday.
Fast Times, a 1980s tribute band, will play at 1:30 and 7 p.m. Saturday.
General admission tickets both days are $45 and VIP tickets are $55.
The OC Fair & Event Center is at 88 Fair Drive in Costa Mesa.
For more information, visit bit.ly/2JqgLT9 and bit.ly/2XBl7iF.
H.B. Fire Department promotes first female captain in its 110-year history
Newly promoted Huntington Beach Fire Department Capt. Shawna Parkinson is the department's first female captain since its formation in 1909. Parkinson joined the agency in 2007 as a firefighter.
She will be recognized in a badge pinning ceremony at 6 p.m. Thursday at the Huntington Beach Senior Center, 18041 Goldenwest St.
The ceremony also will recognize Fire Department Division Chief Mark Daggett, Battalion Chief Darrin Witt, Capts. Bill Cerri, Kevin Prentiss and Travis Terich, engineers Ryan Cooke and Luke Jones, paramedics Cameron Gair and Tom Havert, and ocean lifeguards Ryan Andrews, Derek Peters, Jonathan Richards and David Rodriguez.
Costa Mesa Fire Department promotes Jon Neal to fire marshal
The Costa Mesa Fire Department has promoted Jon Neal to fire marshal. Neal joined the city in 2007 and has served as assistant fire marshal since 2017.
"Jon has been a highly valued addition to our team," Fire Chief Dan Stefano said in a statement Monday. "We are pleased to announce that he will be overseeing the entire Community Risk Reduction Division and holding the rank of fire marshal, a position we have been working to formalize and reestablish for many years."
O.C. Fair offers chance for a barn wedding
If you'd like to be surrounded by clowns and farm animals when you get married, you're in luck.
Couples can submit a video until July 29 for the chance to win a wedding at the Millennium Barn at the Orange County Fair.
The one-minute video must explain why you're the most qualified pair to get married at the fair, and it must be posted on social media and tagged with #ocfairwedding.
The winners will be announced Aug. 3 and the wedding will take place Aug. 10.
For more information, visit ocfair.com/wedding.
Concert series brings Common, Kenny G and others to Newport Beach
Common, Kenny G and other performers will play in Newport Beach as part of the Hyatt Regency Summer Concert Series.
The performances will be held some Fridays from this week to Oct. 20 at 1107 Jamboree Road.
The schedule is:
Friday: Jonathan Butler and Kirk Whalum
July 19: Patti Austin and Steve Tyrell
July 26: Common
Aug. 23: Kenny G
Sept. 6: Mindi Abair & the Boneshakers
Sept. 13: Ottmar Liebert and Luna Negra
Sept. 20: West Coast Jam
Sept. 27: Keiko Matsui and Oleta Adams
Oct. 20: Damien Escobar and Eric Darius
For tickets, visit bit.ly/2S5ko3g.
Concerts coming up in the next week at Pacific Amphitheatre
A variety of performers are set to play during the next week at the Pacific Amphitheatre at the OC Fair & Event Center in Costa Mesa as part of the Toyota Summer Concert Series. Here's a look:
Friday and Saturday: Ska band Rebelution, with Collie Buddz, Iya Terra and DJ Mackle, 6 p.m. both days. Tickets are $30 to $60.
Sunday: Country singers Josh Moore and Josh Phillips, 7:30 p.m. Tickets are $40 to $75.
Wednesday: Brandi Carlile, with David Rosales, 6 p.m. Tickets are $50 to $90.
July 18: Why Don't We, with EBEN, 7:45 p.m. Tickets are $32 to $67.
The fairgrounds are at 88 Fair Drive. For tickets and more information, visit pacamp.com.
Orange Coast College screens film about first moon landing
Orange Coast College is commemorating the 50th anniversary of the first moon landing with an immersive documentary screening each Friday, Saturday and Sunday through Sept. 29.
"Capcom Go! The Apollo Story" details what led to the historic 1969 mission. Screenings are at the OCC planetarium at 2701 Fairview Road in Costa Mesa.
The cost is $6 for adults and $5 for children.
For the full schedule and tickets, visit occtickets.com.
'Wild Tales' for kids comes to Upper Newport Bay
Orange County Parks will present "Wild Tales" — a morning of storytelling, a guided nature walk, and arts and crafts geared to children ages 2-5 — at the Peter and Mary Muth Interpretive Center at the Upper Newport Bay Nature Preserve on Friday and July 19 and 26.
The event will be held from 10:30 to 11:30 a.m. each day at 2301 University Drive, Newport Beach. The cost is $5 per child. Parking is free.
Registration is required. To sign up, go to letsgooutside.org/activities.
For more information, visit ocparks.com/parks/newport.
Epilepsy Support Network marks 10th anniversary
The Costa Mesa-based Epilepsy Support Network of Orange County will celebrate its 10th anniversary Friday at the Epilepsy Expert Series at Children's Hospital of Orange County in Orange.
Dr. Mary Zupanc, chief neurology strategy officer and co-director of the Neurosciences Institute at CHOC, will speak from 7 to 8:45 p.m. about emerging trends in epilepsy.
The nonprofit provides 26 programs intended to help families and individuals affected by epilepsy and works closely with CHOC, Hoag Hospital in Newport Beach and UC Irvine Medical Center.
The speaker series is part of multiple events the organization presents throughout the year.
To RSVP for Friday's event or for more information, call (714) 916-0456 or visit ESNOC.org.
Concerts on the Green series returns to Laguna Beach
The annual Concerts on the Green series begins Saturday in Laguna Beach and continues on select Saturdays through Aug. 31.
Each concert, presented by the Festival of Arts, will be held at 1 p.m. at 650 Laguna Canyon Road.
The schedule is:
Saturday: Grace Kelly
July 20: Greg Adams and East Bay Soul
July 27: Russell Ferrante and Bob Mintzer from the Yellowjackets
Aug. 3: Nita Whitaker
Aug. 10: Ellis Hall
Aug. 17: Eric Marienthal All-Stars
Aug. 31: Isaiah Sharkey
For more information, visit bit.ly/32eieTM.
Beginning archery classes set for Mile Square Park
Mile Square Regional Park in Fountain Valley will host a free archery course for beginners from 9 to 10:30 a.m. Saturday and July 27.
All archery equipment will be provided at the park at 16801 Euclid St.
Registration is required. For more information, visit ocparks.com/parks/mile.
Children's authors to be at Newport Beach Books and Bunnies Festival
The Newport Beach Public Library Foundation will present the sixth annual Books and Bunnies Festival from 10:30 a.m. to 1 p.m. Saturday at the Central Library, 1000 Avocado Ave.
Various children's authors will attend, including Karen Dobyns, who wrote "The Centipede Who Couldn't Tie His Shoes," and Margarita Fairbanks, author of "Valentino: The Love Bunny Series."
There also will be bunny crafts, games and a balloon artist.
For more information, visit bit.ly/2XDyIkX.
Hawaiian food and music featured at Costa Mesa event
A Hawaiian dinner and dance event will be held from 5 to 9:30 p.m. Saturday at St. John the Baptist Catholic Church, 1015 Baker St., Costa Mesa.
Food such as chicken teriyaki and egg rolls will be available while a disc jockey spins Hawaiian tunes.
Admission costs $35. For more information, visit bit.ly/32iObtZ.
Hawk, owl, falcon and eagle to star at 'Amazing Raptors' event
Visitors can get a close-up look at a live hawk, owl, falcon and bald eagle from the Orange County Bird of Prey Center during "Amazing Raptors," a free event set for 1 to 4 p.m. Sunday in the Nix Nature Center at Laguna Coast Wilderness Park, 18751 Laguna Canyon Road, Laguna Beach.
Parking is $3 per vehicle.
Online reservations are required at eventbrite.com/amazingraptors.
For more information, call (949) 497-8324.
Newport church to host 'Carnival of the Animals' concert
St. James Episcopal Church in Newport Beach will host a "Carnival of the Animals" concert at 2 p.m. Sunday.
The free event will feature the sounds of Camille Saint-Saëns' "Carnival of the Animals," in which animals are described musically through an orchestra's instruments. Refreshments will follow, and there will be face painting and balloons for children.
Child care will be available.
The church is at 3209 Via Lido. For more information, email info@stjamesnewport.org.
Young sailors set for Governor's Cup racing in Newport Beach
A field of 12 skippers from six countries is set for the 53rd Governor's Cup International Youth Match Racing Championship to be held Tuesday through July 20 in Newport Beach.
The Governor's Cup — for skippers and crew members who have not reached their 23rd birthday — is the world's oldest youth match racing regatta. All competitors will race in identical sloops designed by former Balboa Yacht Club Commodore Alan Andrews and built by Westerly Marine in Santa Ana.
For more information, visit govcupracing.com.
Jazz Summer International to feature acclaimed performers in Laguna Beach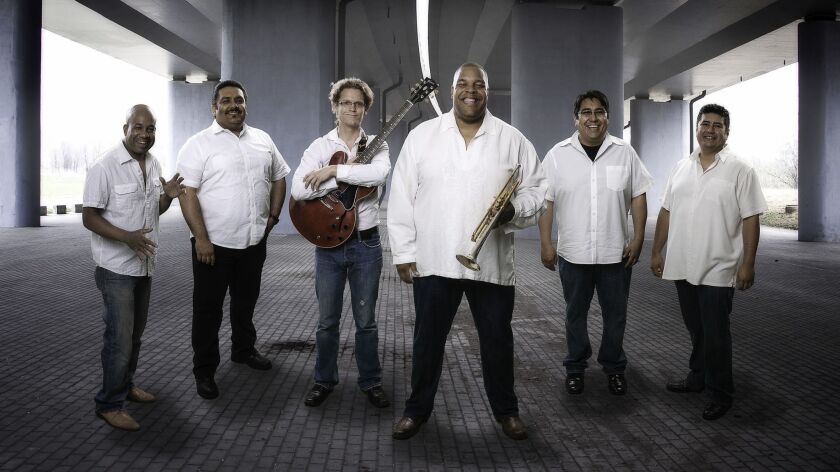 Laguna Beach Live will bring four acclaimed jazz artists to Laguna Beach starting Tuesday as part of the Jazz Summer International series.
Performers will include the Latin Jazz Syndicate on Tuesday, the Hot Club of Los Angeles on July 30, Adonis Puentes on Aug. 13 and Téka on Aug. 27.
All concerts will run from 6 to 8 p.m. at the Woman's Club of Laguna Beach, 286 St. Ann's Drive.
Tickets are $25 in advance and $30 at the door. Tickets to the full season are $100.
For tickets and more information, visit bit.ly/2XzJIzx.
Golden West College awarded highest level of accreditation
Golden West College in Huntington Beach was recently awarded a reaffirmation of accreditation, the highest level of accreditation from the Accrediting Commission for Community and Junior Colleges.
The group awarded the accreditation, which lasts through 2026, based on the college exceeding national standards in several categories, including its emphasis on an equity-focused campus culture.
"Our mission is to provide affordable, high-quality education," Golden West President Tim McGrath said in a statement. "This reaffirmation means that we will be able to continue to serve our community for many years to come."
$4-million grant helps UCI researchers in national effort to build atlas of human breast cells
Researchers at UC Irvine will use a $4-million grant from the Chan Zuckerberg Initiative to help lead a national effort to compile a Human Breast Cell Atlas to document the cell types and states of breast tissue that underlie cancer.
"We are currently experiencing the incredible convergence of genomics, bioengineering and computational biology, which now enables us to understand the complexity of the human body in unprecedented resolution," said Kessenbrock, an assistant professor of biological chemistry. "The Human Breast Cell Atlas will not only allow us to identify previously unrealized cell types, but also lead to a better grasp of how these cells communicate with each other in normal tissue homeostasis and disease."
The effort will generate a high-resolution, multi-dimensional depiction of the cell types and states, as well as their variations in women, which will provide a reference for studying conditions such as breast cancer, mastitis and lactation failure, according to a news release.
Over the past year — also with Chan Zuckerberg Initiative funding — UCI team leaders Kai Kessenbrock, an assistant professor of biological chemistry, and Devon Lawson, an assistant professor of physiology and biophysics, conducted a pilot project in which more than 200,000 breast tissue cells from 20 people were profiled. The team documented more than a dozen cell types and 31 states.
In the new project, the researchers plan to build a breast cell atlas of 100 women of multiple ages, breast sizes and densities, ethnicities and body mass indexes with varied numbers of pregnancies and at different menstrual cycles and menopausal stages.
"This work will provide invaluable new details ... which will facilitate new breakthroughs in our knowledge of how breast cancer arises," Lawson said in a statement. "I am confident that our work will impact the treatment of breast cancer patients in both the short and long term."
UC Irvine institute gets $1 million for saliva-based research
The UC Irvine Institute for Interdisciplinary Salivary Bioscience Research recently received a $1-million donation to expand a study that uses saliva to monitor lithium levels in patients with bipolar and major depressive disorders.
Blood is generally used to monitor lithium levels, but saliva can offer advantages, according to a UCI news release.
The five-year grant was provided by the Elisabeth Severance Prentiss Foundation.
"We are thrilled that, thanks to the generosity of the Prentiss Foundation, we can continue our work," said co-principal investigator Douglas Granger, the institute's director and a professor of psychological science. "Although lithium is one of the most effective and affordable long-term treatments for bipolar disorder, it's used in less than 25% of patients because of its very narrow therapeutic window. Lithium must be very closely monitored. If dosage levels are too low, there may not be any benefit, and if they're too high, there can be toxic side effects."
Laguna Beach High grad is awarded Cox Charities scholarship
Recent Laguna Beach High School graduate Sydney Davison is one of 16 students from Orange County and the Palos Verdes area who received a total of $40,000 in scholarships from Cox Charities to help defray college costs.
Davison will attend the University of Wisconsin at Madison this fall with plans to study computer science in the film industry.
The students were chosen based on their academic success, community service, leadership and commitment to education, according to Cox Charities, the philanthropic arm of Cox Communications.
Huntington Beach partners with O.C. cities for Beach Boulevard festival
Seven Orange County cities are inviting the public to "Meet on Beach," a festival featuring free workshops, live performances and giveaways on Nov. 17 at various locations along Beach Boulevard.
The city of Huntington Beach will present food trucks, live bands and bike safety demonstrations at Beach Boulevard and Pacific Coast Highway. Special attention will be placed on promoting "human-powered conveyances" such as bicycles, skateboards and inline skates, according to city spokeswoman Julie Toledo.
Huntington Beach collaborated with La Habra, Buena Park, Anaheim, Stanton, Garden Grove and Westminster to form the Renew Beach Boulevard Coalition, a new alliance dedicated to revitalizing the 21-mile thoroughfare.
To learn more about the festival, visit meetonbeach.com.
---
All the latest on Orange County from Orange County.
Get our free TimesOC newsletter.
You may occasionally receive promotional content from the Daily Pilot.