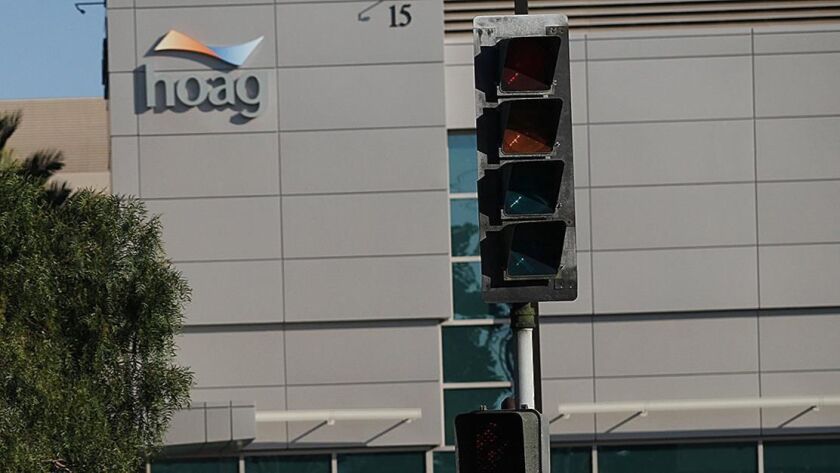 Hoag Hospital in Newport Beach has opened two new brain and spine operating room suites.
The 820-square-foot facilities have new equipment designed to enhance surgical communications and efficiencies, according to a news release.
Hoag is the first California hospital to use CollaboratOR technology, an 84-inch touch-screen system. It enables Hoag surgeons, nurses and surgical assistants to "simultaneously view, monitor and analyze an array of information to assist in brain and spinal surgeries — delicate procedures that require pinpoint accuracy, close collaboration and specialized surgical and monitoring equipment," the company said.
Irvine Co. corporate president announces retirement
Ray Wirta, corporate president of the Newport Beach-based Irvine Co., has announced his retirement from the post after nine years.
"This has been the business experience of my life," he said in a statement. "I was given the opportunity to serve with the finest real estate talent in the world and guided by a chairman with a vision and energy to execute the master plan that this company created over 60 years ago. The company is in great condition with a bright future ahead."
Company Chairman Donald Bren said Wirta "has provided steady and strategic guidance to the company during a tremendous period of growth. I thank him for his dedication and his friendship and I wish him well in his retirement from the company."
Arc owners open new concept in Cannery Village
Marín Howarth and Noah Von Blöm, owners of Arc, Arc Pizza House and the Guild Club in Costa Mesa, are opening a new concept in Newport Beach on Friday.
Arc Butcher & Baker is at 417 30th St. in Cannery Village. It will serve sandwiches, salads, fried chicken, pasta and more. It also will feature takeout dinners that feed up to four.
For more information, visit arcbutcherbaker.com.
New Flame Broiler comes to Surf City
Flame Broiler is opening a new location in Huntington Beach.
The restaurant will have its grand opening Monday at 7251 Warner Ave. The opening will include a $5 special for any bowl and drink through April 14.
Costa Mesa chamber presents nonprofit breakfast
The Costa Mesa Chamber of Commerce will present a free community nonprofit breakfast from 8:30 to 9:45 a.m. Wednesday.
It will take place at IKEA, 1475 South Coast Drive, and feature information on how nonprofits can connect to the business community.
New microbrewery opens in Costa Mesa
Costa Mesa's newest microbrewery has officially opened.
Brewing Reserve of California at 2930 College Ave. has an assortment of beers on tap, including Hoppy Poppy Pale Ale, BelYum Belgian and Good 4 All Saisons, according to its website, brcbeer.com.
Brewing Reserve is the city's fifth microbrewery, joining Barley Forge Brewing Co., Gunwhale Ales and Bootlegger's Brewery — all on Randolph Avenue — and Karl Strauss Brewing Co. on South Coast Drive. A sixth, Salty Bear Brewing Co., is on track to open soon on Randolph.
New chef comes to H.B.'s Pasea Hotel
Pasea Hotel & Spa in Huntington Beach has hired a new executive chef, Prabeen Prathapan.
He previously was executive sous chef at the Montage Laguna Beach resort and has worked at the Mandarin Oriental in Las Vegas.
New bar opens in Costa Mesa
Landers Liquor Bar is now open in Costa Mesa.
The bar, which sells beer, wine, cocktails and entrees, replaces Taco Brat at 2101 Harbor Blvd., a site that has housed restaurants since 1958.
Landers says it is inspired by California's high deserts and coastal lifestyle.
Fitness facility opens in Costa Mesa
Fitness classes are now being offered at Fitwall in Costa Mesa.
The spot is in the Costa Mesa Square shopping center, anchored by Target, at 3030 Harbor Blvd.
Costa Mesa center bought for $24.5 million
The Back Bay Center, a Costa Mesa retail and office property, has been acquired for $24.5 million, according to a news release.
Irvine-based Space Investment Properties plans to renovate the property at 2651-2675 Irvine Ave. It contains 58,000 square feet of space and was built in 1980.
Casa Barilla has new menu at South Coast Plaza
Casa Barilla in Costa Mesa's South Coast Plaza has reopened with a new menu.
The Italian restaurant now focuses on seasonal ingredients and sustainability, according to a news release. It serves lunch and dinner.
---