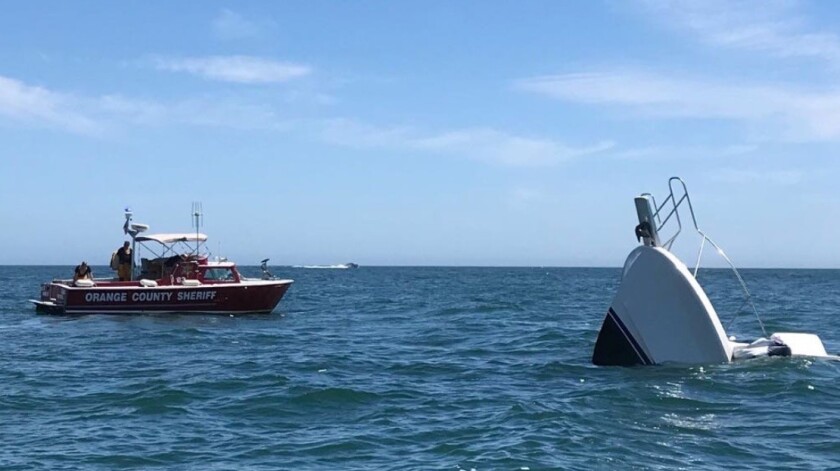 Thirteen people were rescued Sunday when a 30-foot fishing boat began to sink off the coast of Newport Beach.
The Orange County Sheriff's Department Harbor Patrol responded at about 2:20 p.m. after a boat owner reported that his vessel, Bonnie Mac, was smoking and taking on water about a half-mile south of the Newport Harbor entrance, according to a Sheriff's Department news release.
The 51-year-old Irvine resident and his 18-year-old son, who had invited friends for a cruise on the ocean, couldn't figure out what was wrong with the boat. So they decided to head back toward the harbor and call for help, authorities said. Their names were not released.
Harbor Patrol crews and Newport Beach lifeguards arrived and evacuated the occupants from the sinking vessel.
"Tying a rescue boat to the vessel, the crew used three pumps in an attempt to dispel water more quickly than the damaged fishing boat was taking it on, but the flooding outpaced the power of the pumps," the Sheriff's Department said in a statement.
The weight of the sinking boat started to tip the Harbor Patrol vessel, so the crew cut the fishing boat free. It sank in less than a minute at about 2:45 p.m., according to the Sheriff's Department.
"Although we never like to lose a boat, we are very grateful that we were able to rescue the 13 passengers and nobody was injured," sheriff's Sgt. Isaac Felter said in a statement. "The deputies did an outstanding job."
Harbor Patrol helped pull the sunken Bonnie Mac from the ocean Monday night. The origin of the problem with the boat was unclear.
Twitter: @HannahFryTCN
---