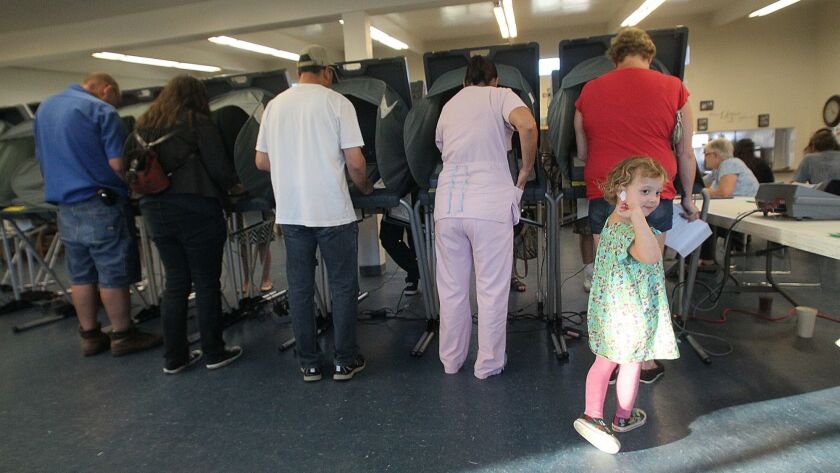 City Council races are steadily taking shape in Costa Mesa, Huntington Beach and Newport Beach.
Candidates running in those cities filed their official campaign paperwork by Friday.
Here's a rundown of who will appear on local ballots in November:
Costa Mesa
Costa Mesa voters will elect four council members this year — including the city's first directly elected mayor. In another first, the other members chosen will be elected by districts, meaning residents in each of three specific areas of the city will vote for one council member to represent them.
The candidates are:
Mayor
Katrina Foley: Rejoined the City Council in 2014 after having served from 2004 to 2010. The former Newport-Mesa Unified School District trustee was mayor from December 2016 to November last year. She lives in the Mesa del Mar neighborhood.
Sandy Genis: Served on the council from 1988 to 1996 and was elected again in 2012 and 2016. The Mesa Verde resident became mayor in November.
State Streets resident Al Melone had announced plans to run for mayor but said last week that he was abandoning the bid.
"I just cannot picture my name alone on the ballot along with the two incumbents," he wrote in an email. "I don't belong in this dogfight!"
District 3
Includes College Park, Mesa del Mar and a portion of the upper Eastside
Brett Eckles: Former member of the city Parks and Recreation Commission is a board member of Costa Mesa United and vice president and owner of Eckles Construction Inc.
Andrea Marr: City Cultural Arts Committee member is a former member of the Bikeway and Walkability Committee. She is a Navy veteran and a professional engineer who works at Willdan.
The filing period for District 3 has been extended to Wednesday because the incumbent — Foley — chose not to seek reelection to the seat and instead ran for mayor.
District 4
Includes the Westside south of the Fairview Developmental Center, ranging from Harbor Boulevard west to Monrovia Avenue and south to West 17th Street
Steve Chan: Westside neighborhood activist
Manuel Chavez: UC Irvine political science graduate is heavily involved with Save Our Youth.
Michelle Figueredo-Wilson: Works in real estate and holds degrees in criminal justice and public policy-urban affairs
District 5
Wraps around District 4, taking in downtown and the remainder of the Westside​​​
Allan Mansoor: Reelected to the council in 2016 after previously serving from 2002 to 2010. He is a former state Assembly member.
Arlis Reynolds: Parks and Recreation Commission vice chairwoman is a clean-energy engineer.
Rebecca Trahan: Former member of the Costa Mesa Finance and Pension Advisory Committee and current member of the city Housing and Public Services Grant Committee
Huntington Beach
Voters will select four candidates from a pool of 15 to serve on Huntington Beach's seven-member City Council.
Mayor Mike Posey, Mayor Pro Tem Erik Peterson and council members Barbara Delgleize and Billy O'Connell are running for reelection.
The candidates are:
Brian Burley: Information technology analyst at USC, where he earned his undergraduate degree in political economy. He moved to Huntington Beach in 2007.
Kim Carr: National sales manager for a San Diego television station was appointed to the Huntington Beach Public Works Commission in 2013 and served as chairwoman in 2015. She also volunteers with the city's community garden, the Girl Scouts and Seacliff Elementary School's PTA.
Barbara Delgleize: Real estate broker and Huntington Beach resident of more than 45 years is completing her first term on the City Council. She served as mayor in 2017, spearheaded the completion of Patriot Point to honor veterans and helped create the Central Park Committee, which helps refurbish parks in the city.
Darren Ellis: Owner of a screen printing business in Huntington Beach since 1989. He attended Huntington Beach High School and Golden West College.
Kevin "KC" Fockler: Businessman and history teacher spent the past 16 years teaching at Talbert Middle School in Huntington Beach. He retired in June and is volunteering with nonprofits.
Amory Hanson: Making his second bid for City Council at age 21 after an unsuccessful run in 2016.
Dan Kalmick: Owner of an IT management consulting company is a city Planning Commission member and served as chairman in 2015. He also is treasurer and past vice president of the Bolsa Chica Land Trust.
Don "DK" Kennedy: Huntington Beach resident since 1962 is the father of three children and has volunteered at various schools in town and spent more than 10 years coaching local sports. He also has volunteered with Big Brothers Big Sisters of Orange County for more than 20 years.
Shayna Lathus: Santa Ana Unified School District teacher of more than 15 years also volunteers with organizations such as the Leukemia & Lymphoma Society's Team in Training and the St. Baldrick's Foundation.
Billy O'Connell: Small-business owner is a former Los Angeles County sheriff's deputy. He founded the nonprofit Colette's Children's Home, which has helped more than 3,000 homeless women and children in Orange County. The Huntington Beach resident of more than 20 years also is a member of the city's Chamber of Commerce and Kiwanis Club.
Erik Peterson: Current mayor pro tem was elected to the City Council in 2014. He helped push for a city lawsuit this year against state mandates such as Senate Bill 54 that expand protections for undocumented immigrants.
Mike Posey: Current mayor was elected to the City Council in 2014 and helped spearhead the city's lawsuit this year challenging SB 54.
Charles "CJ" Ray: Lawyer earned his undergraduate degree in communications from Cal Poly Pomona and his law degree from Trinity Law School in Santa Ana.
Michael Simons: Huntington Beach Union High School District trustee since 1991 is a podiatrist in private practice. He has lived in Huntington Beach for more than 40 years.
Ronald Sterud: Huntington Beach native and product of the Ocean View School District is making his second attempt at a seat on the City Council after running unsuccessfully in 2016. He founded a financial planning business in Huntington Beach and volunteers at local charities, including the Assistance League of Huntington Beach.
Newport Beach
Four seats on Newport Beach's seven-member council are up for election, and all four incumbents are running. They were elected in 2014 as a slate called "Team Newport." Each is facing one challenger this year.
Council members represent districts but are elected by voters citywide.
The eight candidates are:
District 1
Includes the Balboa Peninsula and Lido Isle
Diane Dixon: Incumbent is a retired senior executive with Avery Dennison, which makes the "Hello, my name is" sticker badges
Mike Glenn: Neighborhood activist's interests include property rights and the unofficial dog beach
District 3
Includes Dover Shores and Santa Ana Heights
Marshall "Duffy" Duffield: Current mayor invented the Duffy electric boat
Tim Stoaks: Activist with Still Protecting Our Newport, or SPON, AirFair and the Newport Beach animal shelter
District 4
Includes East Bluff and Big Canyon
Roy Englebrecht: Fight promoter ran unsuccessfully for the council in 2014
Kevin Muldoon: Incumbent is an attorney and corporate counsel for a technology company
District 6
Includes Corona del Mar
Joy Brenner: Active with Friends of the Corona del Mar Library and the Corona del Mar Residents Assn. She also was involved with the Committee to Recall Scott Peotter, which tried to unseat the councilman in 2017.
Scott Peotter: Incumbent is an architect and a former city planning commissioner
Former Planning Commission member Mike Toerge, who ran unsuccessfully for council in 2014, withdrew from this year's District 6 race before the filing deadline. He also was involved in the effort to recall Peotter.
"While I feel I am uniquely qualified to serve as a city councilman, the divisiveness of team politics renders the election process anything but enjoyable," Toerge said in a statement Monday. "There is greatness in our future, and I am looking forward to the years to come."
---