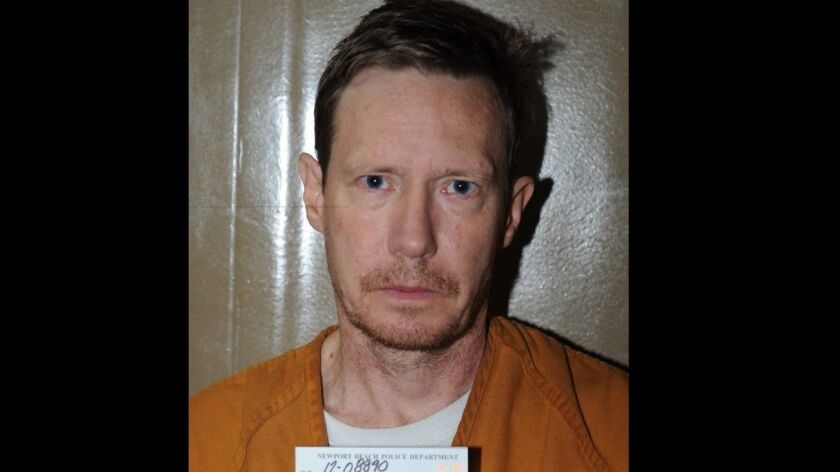 A Newport Beach man charged in the 2012 slaying of his wife has been added to the U.S. Marshals Service's 15 Most Wanted Fugitives list and authorities announced a potential $100,000 reward for his capture as Newport Beach police try to rekindle interest in the case with a true-crime podcast.
Federal and local authorities announced the efforts Wednesday in their quest to find Peter Gregory Chadwick, 54. They said the millionaire real estate investor, who disappeared in early 2015 while free on bail for about two years, could be anywhere in the world.
Authorities believe Chadwick strangled Quee Choo Lim "Q.C." Chadwick, 46, at their Newport Coast home in October 2012 while their young sons were at school and dumped her body in a gas station trash bin in Lakeside, about 20 miles outside San Diego and a half-hour from the Mexico border.
The couple had a troubled marriage, according to investigators, who allege Chadwick killed his wife in a fit of rage during an argument.
"Almost six years later we haven't had the satisfaction of seeing him stand trial," said Newport Beach Police Chief Jon Lewis. "Our investigators have put together all the reports, the witness statements, the evidence that we need, and we're confident in our case. The one thing missing is our defendant."
Chadwick is white, 5-foot-7 and about 160 pounds, with brown hair and blue eyes. He is a naturalized U.S. citizen from Britain.
He was arrested a day after police searched the family's home and reported signs of a struggle, including blood spatter on a bathroom wall. A concerned neighbor had called police after noticing the sons hadn't been picked up from school.
Chadwick called police from San Diego County claiming a handyman had killed Quee Chadwick, then kidnapped him and forced him to drive her body to the border. Police doubted his story, noting scratches and bruises on his neck, arms and chest and dried blood on his hands.
Chadwick was originally held without bail but was allowed to go free after prosecutors dropped an allegation that he killed his wife for financial gain. He posted $1-million bail and surrendered his British and U.S. passports and was supposed to be staying with his father in Santa Barbara.
After he missed two court dates in January 2015, investigators found that he had drained millions from his bank accounts and had books with titles such as "How to Live on the Run Successfully" and "Surviving in Mexico," according to a federal complaint of unlawful flight in October 2017.
David Singer, marshal for the Central District of California, said Wednesday that Chadwick had access to the kind of cash that would enable him to buy false identification or otherwise help him go on the lam.
"It's not a matter of if we catch him, it's a matter of when," Singer said.
Newport Beach police spokeswoman Jennifer Manzella said she hatched the idea of a six-episode podcast titled "Countdown to Capture" to help ignite public interest in the crime.
She researched and narrated the series, which she assembled in the past few weeks, right after a Twitter spotlight on another long-open Newport investigation, the 1973 kidnapping and slaying of 11-year-old Linda O'Keefe.
"Countdown to Capture" episodes are about 15 minutes long and will be released every few days through Sept. 29. The first three episodes are expected to be posted by Thursday.
Manzella said this is the first police-produced podcast that she knows of in the popular true-crime genre.
The podcast and its website, countdowntocapture.com, feature audio of Chadwick's 911 call and crime scene photos from the home. Photos of Chadwick just after his arrest show a pallid man with a drawn, stubbly face, a sternly set mouth and sunken eyes.
Anyone with information about the case is asked to call the Newport Beach Police Department tip line at (800) 550-6273.
Twitter: @Daily_PilotHD
---