'We've moved mountains to get where we are': L.A. Chargers gear up for first training camp in Costa Mesa
Like all National Football League franchises, the Los Angeles Chargers have been busy this year laying the groundwork for the upcoming season.
In the Chargers' case, though, those efforts have involved a lot of literal groundwork.
Amid the spectacle of the NFL draft and the buzz of free agency, the Chargers — who are moving to L.A. this year after more than five decades in San Diego — have been readying a new headquarters, practice facility and training camp site in Costa Mesa.
On Sunday, Bolts fans will see the fruits of those efforts up close as the team kicks off its first training camp at the Jack R. Hammett Sports Complex.
"We've moved mountains to get where we are and we've still got a ways to go," A.G. Spanos, the team's president of business operations, said this week at the complex at 2750 Fairview Road. "But I'm so pleased when I look back at all the things we've accomplished to get us to this point."
"I think everything is setting us up for a great year both on the field and from a fan experience standpoint," said Spanos, son of Chargers owner Dean Spanos.
Readying for camp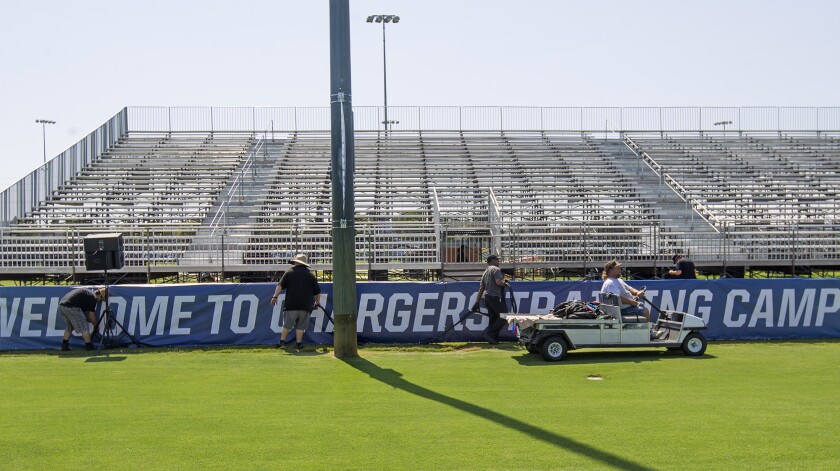 In March, the Costa Mesa City Council approved a lease agreement for the Chargers to use two fields at the Hammett complex for their annual preseason training camp for up to 10 years.
The Chargers pulled out the old grass and laid down new sod to get the fields ready for NFL action, according to John Spanos, the team's president of football operations and brother of A.G. Spanos.
"We were very thorough with the preparation of these fields, and they look great," John Spanos said.
All told, the team made about $1 million worth of renovations at the Hammett site.
Bleachers will offer seating for about 3,000 fans attending the team's free practices. Plenty of standing-room space also is available.
Panels surrounding the fields bear phrases such as "Welcome to the fight" and "Fight for Costa Mesa."
The Chargers also will set up a merchandise tent, interactive games and a "high five" zone where fans will get to slap hands with players.
They also can get a bite at food trucks onsite.
"There are a few more things to set up logistically — paint the field, get the players here — but we're ready to go," John Spanos said.
A.G. Spanos said it's been exciting to see the team's plans for the facility come to life.
"We're not hindered by an old road map or a way that things used to be in the past," he said. "We get the chance to build a whole new model, a whole new way of doing things."
Headquarters in Costa Mesa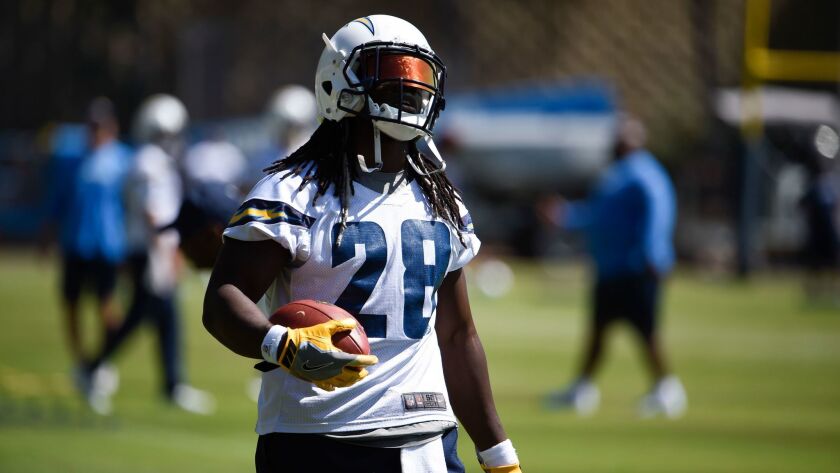 While work has progressed at the Hammett Sports Complex, the Chargers have been developing their new headquarters about two miles away at 3333 Susan St.
The Chargers are leasing a nearly 102,000-square-foot building where they've "built a brand-new weight room, locker room, equipment room" and new office space, John Spanos said.
An adjacent 3.2-acre parcel has been redeveloped with training and practice fields the team will use during the season.
"We basically constructed a brand-new team headquarters and all that that encompasses," A.G. Spanos said.
"It's full-go, full steam ahead," John Spanos added. "Everybody's up there."
Why Costa Mesa?
With all the options between San Diego and the StubHub Center in Carson — where the Chargers will play their home games the next three seasons before joining the Los Angeles Rams in a new stadium in Inglewood — why did the team choose Costa Mesa for its headquarters and training sites?
"When you talk about relocating an NFL franchise, it's not very easy in regard to finding a home that meets all of the criteria," John Spanos said. "We were able to do that here, and it's a great area."
A.G. Spanos said the franchise is "very happy with the venues we've been able to secure" and praised community leaders like the Costa Mesa City Council for their support.
From the team's perspective, he said, choosing a new home base was a matter of finding "what is going to set us up for success in 2017 and beyond."
"Costa Mesa was it," he said.
The availability of quality local shopping and dining also didn't hurt, the brothers said.
Info about practices and parking
The Chargers will hold 13 practices at Jack Hammett between Sunday and Aug. 22.
All sessions will run from 10 a.m. to noon and are free and open to the public. Walk-ups are welcome, but fans are encouraged to reserve free bleacher seating passes at chargers.com/camp.
Gates will open an hour before each session.
Parking will be available for $10 in the Gate 3 parking lot at the nearby OC Fair & Event Center, off Fairview Road.
Costa Mesa Police Department personnel will be on hand daily to help with security and provide traffic control during training camp, according to city spokesman Tony Dodero.
The Chargers aren't the only NFL team the Hammett complex will welcome this year. The New Orleans Saints will drop by for joint practices with the Chargers on Aug. 17 and 18.
Chargers joint practices with the Rams are scheduled for Aug. 5 at the StubHub Center and Aug. 9 at UC Irvine, where the Rams are holding training camp.
The Aug. 5 practice is open only to season ticket holders and those on the waiting list.
John Spanos said there's a palpable sense of excitement in the Chargers calling Costa Mesa their home.
"People see the logo and they want to talk to you about it," he said. "It's all been really positive."
::
IF YOU GO
What: Los Angeles Chargers training camp practices
Where: Jack R. Hammett Sports Complex, 2750 Fairview Road, Costa Mesa
When: 10 a.m. to noon Sunday through Wednesday and Aug. 4, 7, 8, 11, 15-18 and 22
Cost: Free
Information: chargers.com/camp
Twitter @LukeMMoney
---
All the latest on Orange County from Orange County.
Get our free TimesOC newsletter.
You may occasionally receive promotional content from the Daily Pilot.