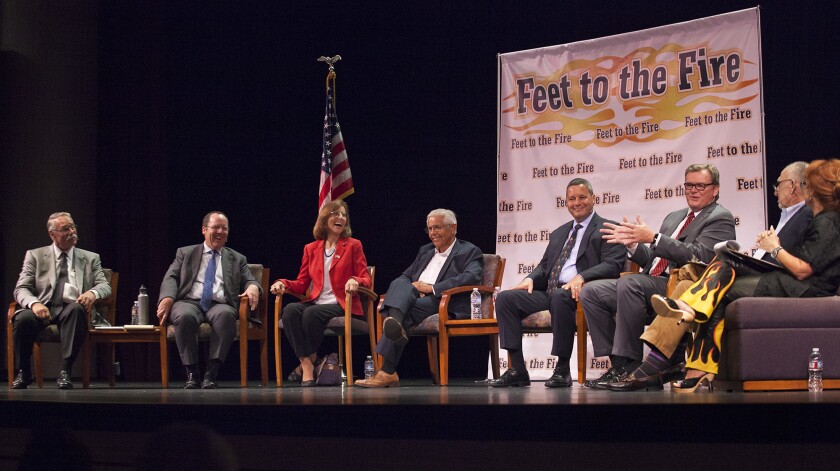 Several years after deciding to stop taping candidate forums, the Costa Mesa City Council will discuss dusting off the cameras for the upcoming election cycle.
Council members are set to provide direction Tuesday on whether staff should participate in recording such forums, showing them on Costa Mesa's public-access channel, CMTV/3, or posting them on the city's website.
The city began recording and broadcasting council candidate forums in 2000 and continued doing so into the 2014 election cycle, according to a staff report.
However, at that point, "legal counsel recommended that city staff no longer take part in the taping of candidate forums and that any recordings of forums not be available on any city resources to avoid any and all potential conflicts," the report states.
In 2016, the council majority at the time voted to officially stop the practice, citing concern about using public resources for events that might not be politically neutral.
Another issue raised was that the number of such forums could make it problematic for the city in taping some events and not others.
CMTV taped three candidate forums in 2008, four in 2010 and five in 2012, according to the staff report.
Three forums were held during the 2016 election cycle — Feet to the Fire, one sponsored by the Eastside Costa Mesa Neighbors' Group and another put on by Mesa Verde Community Inc.
Should the council decide to resume recording, broadcasting and posting such events, "a policy should be put in place that clearly outlines staff's role and a process for determining which forums qualify to be taped," the staff report states.
Event venue review
Council members also will review the Planning Commission's approval of an event venue called Alleylujah planned for 2955 Randolph Ave.
Alleylujah would occupy about 2,300 square feet of indoor space and include a sizable outdoor area. It would be used for business meetings and other private events.
Mayor Sandy Genis asked to look at the commission's decision, writing in her review application that she's "concerned about parking, including implementation and monitoring of [the] conditions of approval."
There aren't enough parking spaces at 2955 Randolph to satisfy the city's requirements, so Alleylujah would tap into available spots at two other properties: 2991 Randolph and 765 St. Clair St. Valet services also would be used.
Other business
The council's agenda also is packed with items held over from its two meetings in January, including:
A proposed partnership with the Costa Mesa Sanitary District for a pilot program to provide mobile restrooms to serve the local homeless population;
A discussion about noise issues stemming from John Wayne and Long Beach airports;
A proposal to direct staff to analyze options for filling Costa Mesa's city attorney position;
The proposed work plan to review the city's small-lot ordinance, urban plans and overlay districts;
A proposed resolution supporting local authority to certify and regulate residential recovery facilities and sober-living homes.
Tuesday's meeting starts at 6 p.m. at City Hall, 77 Fair Drive.
luke.money@latimes.com
Twitter @LukeMMoney
---