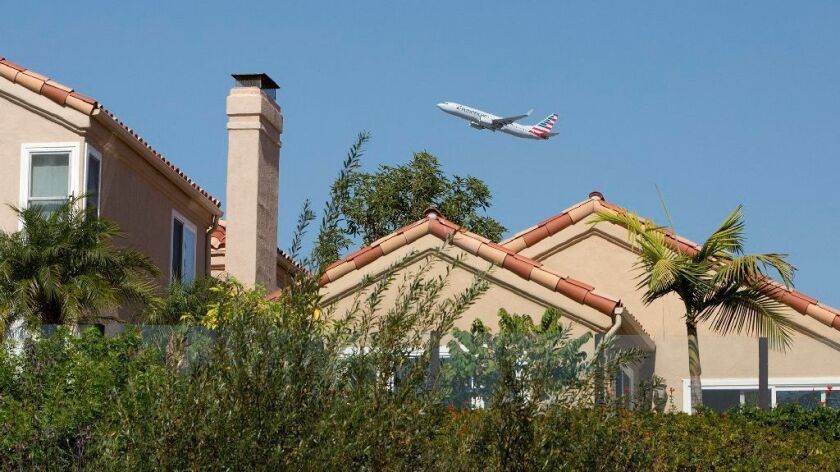 Costa Mesa City Council members Tuesday are set to take on airport noise issues.
Since the Federal Aviation Administration implemented new flight patterns for area airports — including John Wayne and Long Beach — the city has received complaints regarding increased noise from planes flying overhead, according to a staff report included in the council agenda.
The altered paths went into effect last spring as part of the FAA's Southern California Metroplex project, which covers the region's airports and is aimed at addressing inefficiencies, saving fuel and reducing carbon emissions and flight delays.
However, some residents in Costa Mesa, Huntington Beach, Laguna Beach and Newport Beach allege the changes have led to excessive airplane noise that harms their quality of life. Potential increases in air pollution also have been cited as a concern.
The FAA has faced lawsuits challenging the accuracy of the environmental assessment for the project, which determined there would be no significant effects. Officials from Newport Beach and Orange County announced a tentative agreement to settle one such suit earlier this week.
During their upcoming meeting, Costa Mesa council members will discuss several options to address concerns with airport noise — such as possibly conducting a comprehensive noise study or hiring a consultant to represent the city in matters related to the airports or the FAA, according to the staff report.
Another possible course of action, pitched by Mayor Pro Tem Allan Mansoor, is to consider creating a city committee to advise the council on airport-related issues.
The city has already launched a web page containing information about both John Wayne and Long Beach airports — including how to file noise complaints or report other concerns.
City employees also have been attending meetings on airport noise issues and kept in touch with their counterparts in other cities regarding the topic, according to the staff report.
A potential airport-related panel isn't the only committee council members are expected to discuss during the meeting, which starts at 6 p.m. in City Hall, 77 Fair Drive.
They're also set to make appointments to the recently created Animal Services Committee — which will promote pet licensing, help plan community events, make recommendations on how to improve city animal services and aid in advertising volunteer opportunities.
Thirty people have applied to serve on the committee. Seven regular members and two alternates will be appointed.
The council also will discuss potentially establishing a new committee to review and address issues related to local mobile home parks.
As proposed by Councilwoman Katrina Foley, that panel would have nine members — two mobile home park owners, five mobile home resident owners and two independent citizens — and meet at least on a quarterly basis.
Twitter @LukeMMoney
---