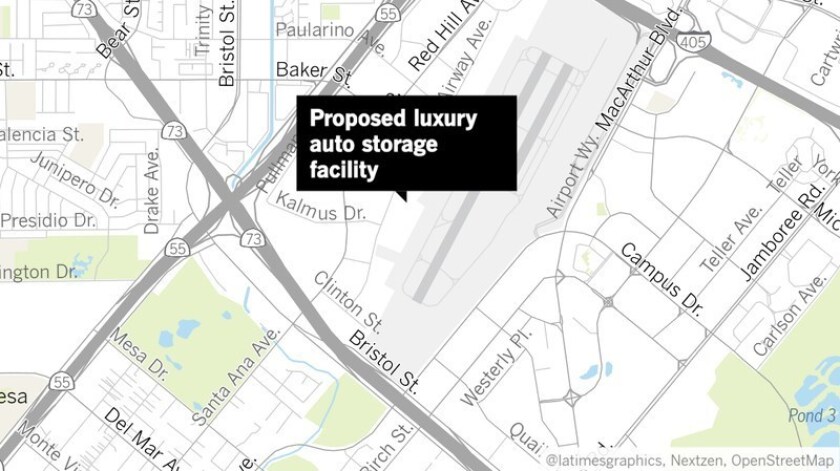 A proposed luxury auto storage facility got a green light from the Costa Mesa Planning Commission on Monday.
The commission's unanimous vote — which is final unless appealed to the City Council within seven days — approved plans for Finish Line Auto Storage to open a branch at 3080 Airway Ave., just west of John Wayne Airport.
The facility will include 32 secure private storage units and an array of onsite amenities, including a private clubhouse with conference and meeting rooms, a dining room, a kitchen, lounge space, a bar and wine storage.
The intent is to create an almost country club-style environment "for car collectors to store and curate their own collections and decorate their spaces as they choose to complement their collections," said Tony Principe of Finish Line.
The company already operates such a facility in Westlake Village.
"It really has just become a place of synergy where 'gearheads' are going to go, maybe like a yacht club is for people that have boats," Principe told the commission.
Though the airport-adjacent commercial and industrial zone contains several auto-related businesses, Finish Line's proposal required approval of a conditional use permit because it includes social space.
Commission Vice Chairman Jeffrey Harlan said he felt this was an appropriate use of the land and that he appreciated "the kind of investment that we're getting in Costa Mesa."
"I think it's a testament to the fact that we do have a very diverse economy here; we have a diverse population," he said. "It seems like there's a demand for this and it looks like a well-designed project."
---