Newport film festival documentary on African migrants to Europe provides a homecoming for its director
Kone Yossodjo, center, a runner from Ivory Coast, dreams of competing at the international level. He had been in Spain less than a year when the documentary "¡Boza!" was filmed.
("¡Boza!")
Sani Ladan, from Cameroon, is a writer and speaker who talks publicly about the realities of migrants like himself.
("¡Boza!")
Migrants in an apartment in Tangier, Morocco, share the difficulties of attempting the passage to Spain. They said they've seen fellow migrants die in pursuit of asylum in Europe.
("¡Boza!")
Newport Beach natives Brecht Van't Hof, director of photography, and Sydney Bowie, director and producer, work on "¡Boza!" a feature-length documentary about African migrants pursuing a new life in Europe.
("¡Boza!")
Migrants rescued from an inflatable raft wrap themselves in blankets they received from aid workers.
("¡Boza!")
The West Coast premiere of "¡Boza!" at the Newport Beach Film Festival on Monday will be both a debut and a homecoming for filmmaker and Newport native Sydney Bowie.
She directed and produced the feature-length documentary that explores the risks, challenges and sacrifices that African migrants face to realize their dream of a better life in Europe.
Bowie set off on her project before "the migrant/refugee crisis was the buzzword it is now," she said.
A documentary film class during her senior year at UCLA led Bowie, 27, who now lives in Ojai, to a journey to Spain and northern Africa and then back to Southern California to premiere her first feature-length production in her hometown, where she grew up going to the Newport film festival with her mother and aunt, she said.
After graduating from college in 2014, Bowie spent the next year teaching herself as much as she could about filmmaking and applied for a Fulbright grant in 2015. She was selected for the prestigious award and spent nine months in Seville, Spain, researching her subject between 2016 and '17. The film was completed this year.
"It was an incredible experience for me as a filmmaker," she said.
Bowie is headed to Stanford University in the fall to pursue a master of fine arts degree in documentary film.
"¡Boza!"
"Boza" roughly translates to "freedom," "success" or "victory" in the Fulani language of West Africa. "No one really seems to know the origin of it," Bowie said.
Whatever its origin, the unifying cry is understood to the African migrants crossing from Morocco to Spain, Bowie said.
The 70-minute film moves among Spain, northern Africa and the animated memories of the film's subjects as they recount their journeys from their homes. In Spain, Bowie follows three young men who are building new lives.
Sani Ladan, from Cameroon, had already spent five years in Spain when the film begins. He became fluent in Spanish and is a prolific writer and speaker, talking publicly about the realities of migrants like himself.
Kone Yossodjo, a runner from Ivory Coast, is the film's most recent arrival in Spain. As he adjusts to his new life while struggling with nostalgia for home and family, a Spanish coach takes him under his wing to help him train to compete at the international level with the hope that he will one day represent Spain.
Yamal Awudu, from Ghana, first connected with Spanish friends through a shared love of soccer, helping him adapt to a new country and culture.
In Morocco, migrants live in dormitories as they prepare for and sometimes repeatedly attempt the final stretch in their journey to seek asylum in Europe. Some have spent years trying to make it to Spain by crossing the Mediterranean Sea or reaching Ceuta or Melilla, Spanish territories surrounded by Morocco.
Interviews in the film capture the hardship of leaving home and living in limbo, experiencing racism and the trauma of seeing fellow migrants die trying to get to Europe. Some had been trying as long as six years; one recounted having made more than 100 attempts to reach Spain.
Animation re-creates migrants' harrowing stories of traveling on foot across the Sahara Desert, taking shelter in pipelines, being assaulted and the journey across the nine-mile Strait of Gibraltar.
"One day our turn will arrive to say 'boza,' " said one migrant in Morocco.
Local talent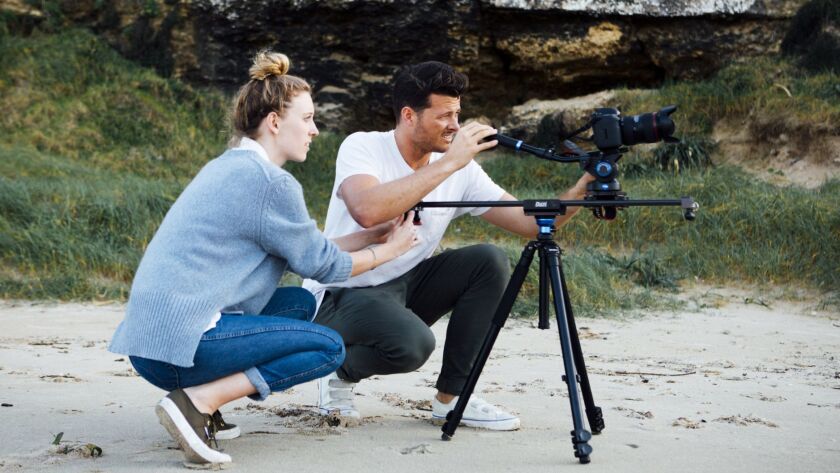 The film features the work of another Newport Beach native, Brecht Van't Hof, 26, the director of photography.
"¡Boza!" isn't Van't Hof's first foray into documentaries — he debuted at the Newport Beach Film Festival in 2016 with a cinematography role in the Newport documentary "Dirty Old Wedge" — but it was a departure from how he's used to working.
"I definitely come from a commercial, glossy, music videos world," Van't Hof said. "Working with Sydney, it was all about the story."
"'¡Boza!' really sparked an interest in documentary that I didn't really think I had," said Van't Hof, who now lives in Venice and runs a Los Angeles-based film production company.
Bowie and Van't Hof said they hope the film will humanize the often contentious topic of immigration.
"I hoped it would find relevance with so many different audiences in Europe, in Australia, in the U.S., especially," Bowie said. "I don't know that I set out to make a feature ... but as it evolved, it just felt like it had to be a feature to do justice to each of those stories."
Van't Hof said he hopes that after watching the film, "people understand a little more … what's going on on the other side of the fence."
Support our coverage by becoming a digital subscriber.
If You Go
What: "¡Boza!"
When: 3:15 p.m. Monday
Where: Edwards Big Newport 6, 300 Newport Center Drive, Newport Beach
Cost: $16
Tickets and information: newportbeachfilmfest.com/event/boza
---
All the latest on Orange County from Orange County.
Get our free TimesOC newsletter.
You may occasionally receive promotional content from the Daily Pilot.