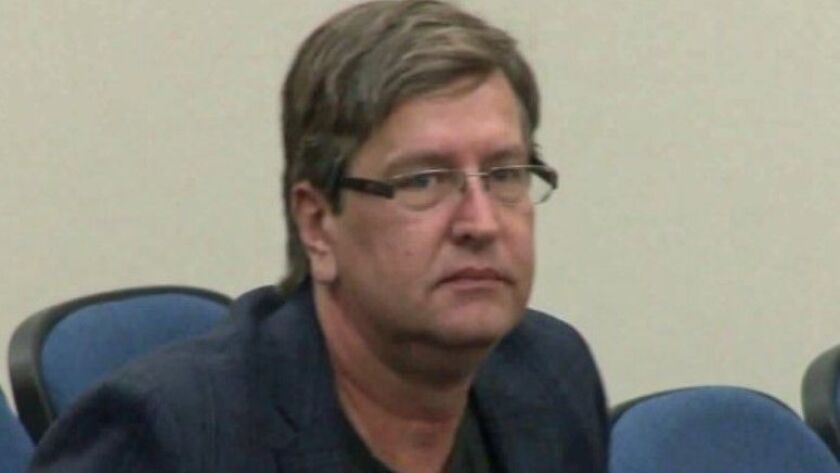 A Newport Beach doctor accused of sending "sexually motivated" messages to two Newport Harbor High School cheerleaders was remanded to custody Thursday after new allegations surfaced.
David Lee Haller, 52, was charged June 19 with two misdemeanor counts of child annoyance on allegations of sending sexually charged messages via social media while using aliases.
In one message, authorities said, a cheerleader was told "he saw her bend over at the game and that he felt guilty watching her."
Haller pleaded not guilty Sept. 4. If convicted, he could face a maximum of two years in Orange County Jail, according to prosecutors.
Haller had been free on his own recognizance but was remanded Thursday with bail set at $50,000. He is scheduled back in court March 5.
Deputy District Attorney Paul Chrisopoulos told Orange County Superior Court Judge Greg Jones on Thursday that prosecutors had become aware that Haller traveled to Orlando, Fla., on Jan. 19 for a collegiate cheer competition and contacted a Cal State Long Beach student using a pattern similar to the other cases.
The cheerleader made coaches aware of the messages, and they identified Haller and recorded video of him at the event before law enforcement evicted Haller from the premises, Chrisopoulos said.
"This is the sort of conduct the defendant was charged of [earlier]," Chrisopoulos said.
Jones ordered Haller not to attend any youth or collegiate cheer or dance events or practices. He also ordered him to stay away from middle and high school campuses and prohibited him from attending any events at UC Irvine, Cal State Long Beach or Cal State Fullerton.
Haller's attorney Alan Castillo asked that the public "not rush to judgment."
"The law presumes that he is innocent," Castillo said Thursday.
At the time he was charged, Haller was listed as a family doctor at Kaiser Permanente's Alton/Sand Canyon medical offices in Irvine, according to the facility's website. The company said in a June statement that Haller was put on leave.
Haller, who is married with two elementary school-age children, has been a licensed physician since January 1995. He has no record of disciplinary actions, according to state Medical Board records.
Officer Adam Dudash, a school resource officer at Newport Harbor High, launched an investigation in November 2017 after the cheer team coach told him that several cheerleaders were being followed on social media by someone who had made suspicious online contact with them, including comments about cheer activities the person apparently had seen.
The Daily Pilot reported in June that Haller was accused of sending messages to the teenagers through Snapchat and Instagram using the screen names "miaperv," "Anh Tran" and "Anh Nguyen" while he was volunteering at the school. Haller resigned as a volunteer earlier last year, citing work conflicts, according to police.
The investigation reached a pivotal point when a college cheerleader told UC Irvine that she was being sexually harassed through social media by a man who had spoken to her in person. Authorities said they determined the man was Haller, though Dudash's investigation report didn't detail how officials identified him.
During a conversation with Dudash at his Newport Beach home in May, Haller indicated "he greatly appreciates what cheerleaders do and that he appreciates that they do not get paid for what they do," according to the report.
Haller said he tried to compensate them but did not intend to annoy, threaten or hurt anyone with the messages, the report states.
Haller told Dudash that he was seeing a therapist to help him understand his behavior, the report says. "Somehow in my head it's gotten mixed up between 'This girl is hot and I want to have sex with her' and 'This girl's hot, I want to give her money,'" the report quotes Haller as saying.
"There was no attempt to lure anyone to have sex, get naked, meet for those purposes," Haller said, according to the report. "There is no attempt in the future to do that."
The mother of one of the alleged Newport Harbor victims said outside court Thursday that Haller tried to arrange a meeting with her daughter while claiming to be an Ensign Intermediate School student. The alleged premise of the meeting was to make a donation to the cheer team, the mother said.
The latest allegations have made the teenager "terrified" and "always on the watch," her mother said.
The mother of the other cheerleader said "she thought this was over with, done, that he's not going to bother us anymore. Now she's back being angry and fearful, and we can't let her do her normal activities anymore, we have to rein it back."
The case has been a "nightmare for the whole team," said Newport Harbor cheer coach Kristin Higman, who has overseen the pep squad and cheer programs at Ensign and the high school for more than 10 years.
Higman said the alleged contact from Haller has added a "whole other concern" in regard to her students' safety.
The students have been thoroughly instructed on what to look out for online and things to consider before accepting messages from or conversing with people they don't know, Higman said.
It is "impacting their lives, impacting their spirit and impacting the community," Higman said.
---