Costa Mesa moves ahead with plan for temporary 50-bed homeless shelter; long-term site is still undetermined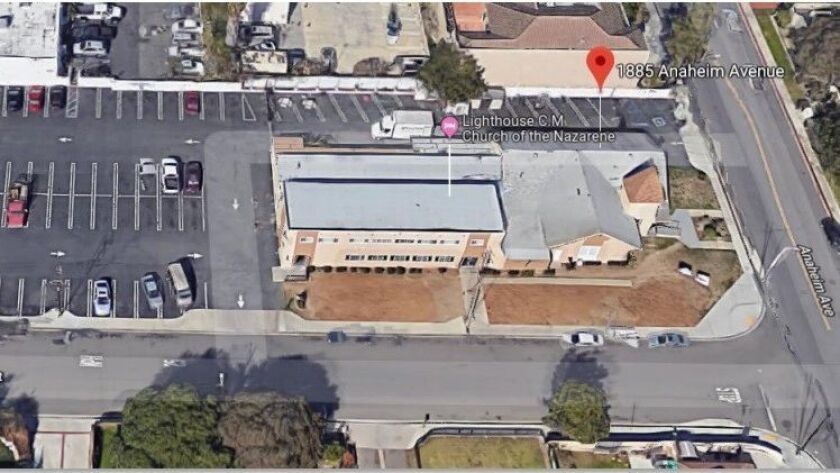 Officials and advocates hailed the dawn of a new day in Costa Mesa as the City Council unanimously agreed Tuesday night to move forward with developing a temporary 50-bed homeless shelter at Lighthouse Church of the Nazarene in the Westside.
The new-day sentiment was not only symbolic but literal, as the decision came at the tail end of a lengthy meeting that adjourned shortly after midnight.
"I have a mixture of hope and pride and guilt and shame because, quite honestly, this should have been done a long time ago," said Mayor Pro Tem John Stephens.
City staff now will work with Lighthouse Church at 1885 Anaheim Ave. to improve and expand the site's existing inclement-weather shelter and homeless check-in center to function as a "bridge shelter" for the next year or so. The hope is to open the facility in April.
However, Costa Mesa's plans for a longer-term solution remain unsettled. Council members said Tuesday that they are no longer considering buying and renovating a 12,000-square-foot office building at 1040 W. 17th St. for that purpose.
City Attorney Kimberly Hall Barlow said additional research determined that that property would have posed legal and land-use problems.
The city's focus instead has turned to property at 3115 Red Hill Ave., near John Wayne Airport. That site — currently used by the Orange County Health Care Agency to provide behavioral health services — is across from Mariners Christian School in a heavily commercial and industrial area.
"It seems to me that this is a unique opportunity where the county and the city could partner together in a place that is already being used to provide similar services, and it is the least impactful on our overall community in terms of it not being located near residential," said Mayor Katrina Foley.
The shelter at Lighthouse would be run by a professional third-party contractor and would be reservation-based — walk-ups would not be allowed.
The city also would look to install additional fencing and lighting, hire 24-hour security and conduct regular patrols in the area.
The city has had preliminary talks with the church about the idea, and several church representatives said Tuesday that they support it.
Council members are expected to review options for a shelter operator at their Feb. 5 meeting.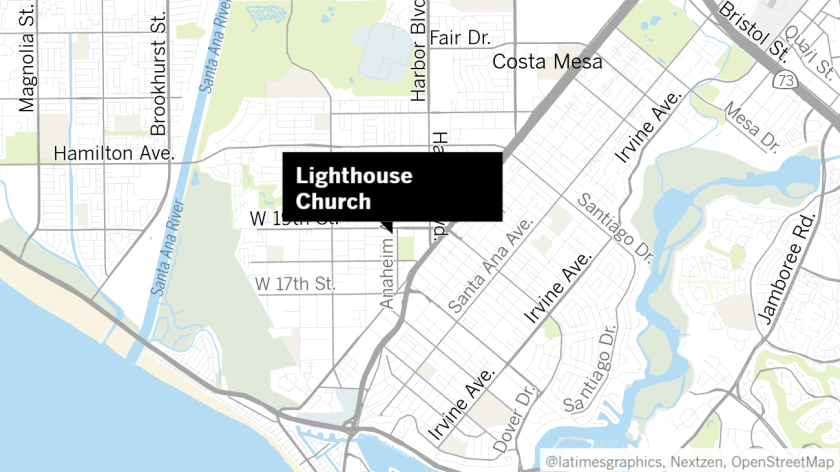 While local officials noted that opening a shelter has humanitarian benefits — giving homeless people a safe place to sleep and connect with services and support that can help them transition to more-stable housing situations — they said doing so also will satisfy direction from U.S. District Judge David Carter and allow the city to resume enforcing its anti-camping laws for the first time in months.
Carter is presiding over a lawsuit filed last January against Costa Mesa, Anaheim, Orange County and the city of Orange on behalf of homeless people cleared from a former encampment along the Santa Ana River trail. He has called for cities to develop enough transitional and emergency beds to serve 60% of the 2,584 unsheltered people documented during a 2017 countywide count. That survey found 103 unsheltered homeless people in Costa Mesa — setting the city's target at 62 beds.
The proposed shelter would account for 50 of those, with the remaining 12 provided through a partnership with College Hospital, an acute-care facility at 301 Victoria St. Those dozen beds would be available to people suffering a mental health crisis.
Another consideration is a recent decision from the U.S. 9th Circuit Court of Appeals, which ruled last year that it is unconstitutional to prosecute homeless people for sleeping on public property when they don't have access to shelter.
Barlow said the city is in a "dire legal situation" and would face costly ongoing litigation if it doesn't develop a shelter.
"At the end of the day, if we fight that fight … we're going to lose," she said. "I can't be any more blunt than that. We have to do something. Doing nothing is simply not an option."
Timing also is of the essence, she said — a status conference in the Carter case is scheduled for Feb. 4.
Council members said the temporary shelter is an important starting point but that the city's work is far from over.
"Today, we affirmed the belief that I've had my entire life — that this is the best city in the world, that everyone does have each other's backs in this city," said Councilman Manuel Chavez.
"We're headed in the right direction and so I really hope that this is our first step," added Councilwoman Sandy Genis.
While the Red Hill property appears to be the leader as a long-term shelter site, council members directed staff to pursue other possible locations and solicit feedback from the community.
The announcement that the 17th Street location is off the table seemed to blunt any significant community opposition to the overall shelter strategy. A few dozen people left the council meeting shortly after that disclosure, and what started as a near-capacity crowd steadily shrunk through the night.
Those who remained to speak were overwhelmingly in favor of using Lighthouse Church as a temporary shelter, saying it will be an important resource for addressing local homelessness. A few pointed to the evening's cold, rainy conditions as evidence of why such a space is needed.
The idea was not without detractors, however. Some questioned whether a shelter could create safety concerns or harm the quality of life for neighbors.
The city will hold a community meeting to further discuss the shelter strategy from 6 to 7:30 p.m. Jan. 30 at the Costa Mesa Senior Center, 695 W. 19th St.
This article was originally published at 12:10 p.m. and was later updated.
---
All the latest on Orange County from Orange County.
Get our free TimesOC newsletter.
You may occasionally receive promotional content from the Daily Pilot.