H.B. pulls plan for 50-bed homeless shelter amid pushback over location; new site sought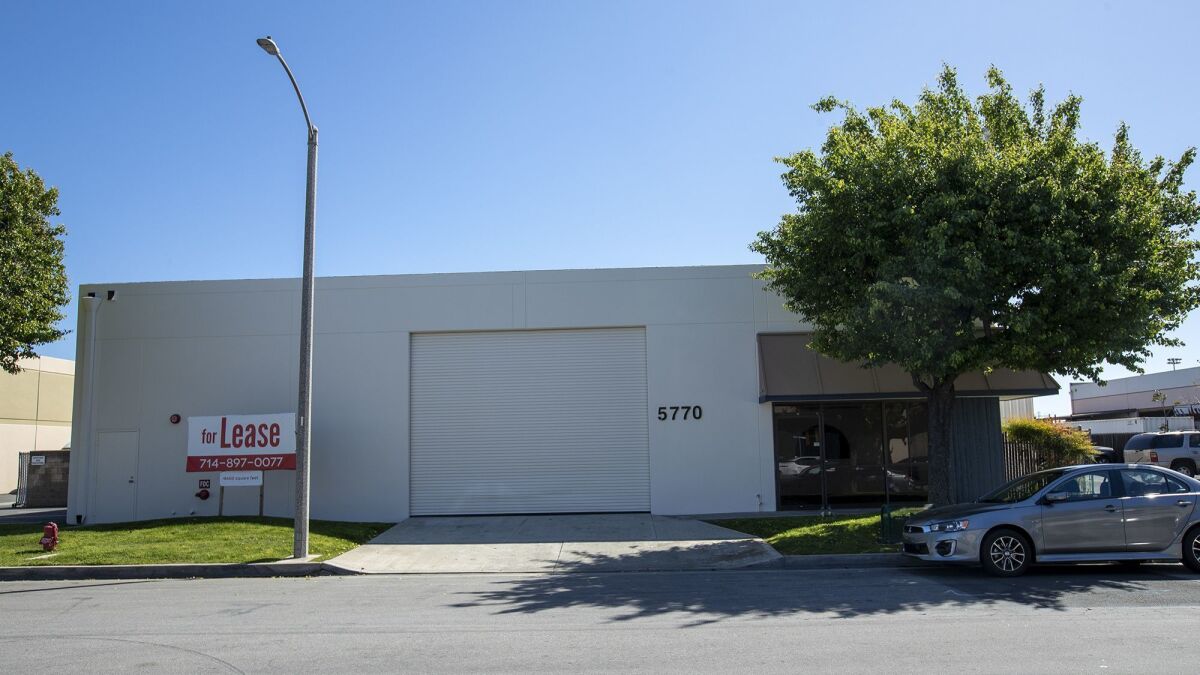 A plan to create a 50-bed homeless shelter near McFadden Avenue and Springdale Street in Huntington Beach was scrapped Monday after city officials received pushback from several community members, including school officials and parents from Marina High School.
The city proposal — developed in closed meetings and made public last week — called for a three-year, $330,720 lease agreement for a half-acre property at 5770 Research Drive, just behind Marina High.
But within the first few minutes of Monday night's City Council meeting, City Manager Fred Wilson asked to pull the proposal from the agenda and said staff will continue to search the city — and work with Huntington Beach Union High School District officials — to find a more appropriate location.
"It's clear to me and all of us that this site isn't going to work," he said to applause and cheers from the audience. "We heard from all of you."
Wilson said in an interview that he decided to pull the proposal earlier in the day after "overwhelming" comments from the community. He said there will be more "public vetting" and that information will be shared on the city's social media pages.
The city is eyeing two new potential sites, he added.
The City Council will discuss potential sites during a study session April 15 before a formal proposal goes to the council later that day.
Mayor Erik Peterson said U.S. District Judge David Carter granted the city time to search for a new spot.
Carter is presiding over a lawsuit filed in January 2018 against Costa Mesa, Anaheim, Orange County and the city of Orange by homeless advocates who sought to halt the removal of an encampment along the Santa Ana River trail. He tasked cities with identifying potential shelter sites after a county proposal for temporary ones in Huntington Beach, Irvine and Laguna Niguel was scrapped amid protests from residents and city leaders.
Though Huntington Beach hasn't been sued by homeless advocates, Wilson said the city had been scrambling to find a suitable site for a shelter since March, when Carter requested that representatives of all Orange County cities attend a hearing Tuesday to report any updates on emergency or transitional shelter sites.
Duane Dishno, president of the Huntington Beach Union High School District board, said in an interview Tuesday that the district was informed about the city's proposal two days before the council was scheduled to act on it. He said he hopes the city will establish a group of representatives of major organizations to look at possible sites and make a recommendation.
"We were surprised because we've always had a close relationship with the council and the city manager's office," said Dishno, who attended Monday's council meeting with two other trustees and the superintendent. "Something fell through the cracks this time."
Dishno said district officials aren't insensitive to homelessness but they didn't like the idea of a shelter close to a high school that is dealing with homeless people loitering on campus and congregating on the fields.
"We've had to call city police on various occasions to remove homeless individuals from that campus," he said. "We do not think it's appropriate for a shelter to be adjacent to a school campus where we have kids who are 12 to 13 years old up to 17. There's also a city park adjacent to that school, and they have issues with [homeless]."
The 50-bed shelter was expected to bring a long evening of debate Monday, but Wilson's announcement triggered a mass departure of people from the council chamber. Of the 65 speakers who had signed up to comment, fewer than than half addressed the council about the plan.
The majority — including students — seemed to favor helping the homeless population. But whatever the decision Monday night, residents made it clear they were upset with what they considered the city's lack of transparency.
Kevin Alt, a 20-year resident, said the city should have given residents more time to process the information instead of "rushing it behind closed doors."
Resident Ann Hough said it was "pretty clear … this has nothing to do with humanitarian [efforts]" but is a way to "avoid litigation and put something up so we can enforce anti-camping laws. So I don't want to be patronized."
According to a 2017 ruling by the U.S. 9th Circuit Court of Appeals, it's unconstitutional to prosecute homeless people for sleeping on public property when they don't have access to shelter. Until cities like Huntington Beach provide a shelter, they can't enforce their anti-camping ordinances.
Anthony Tran, a senior at Marina High, said several of his classmates volunteer at shelters and support the city proposal.
"We have to put a shelter somewhere, and if we want to help others, we have to accept some sort of change in our life," he said.
According to a city staff report, the 2017 Point-in-Time Count of the homeless population identified 119 people in the city as unsheltered. Seventy-three were male and 46 were female. Officials expect the number to increase when new Point-in-Time Count numbers are released later this year.
Shirley Dettloff, a former Huntington Beach mayor, commended city officials for taking on the homelessness issue, on which she said past councils have allowed churches and nonprofits to take the lead.
"You've done more than any council has done and I applaud you," Dettloff said. "I hope when the next site becomes available to you, you'll move forward on it and it'll be a site that can be accepted by people in the community. It's going to be difficult, but courage is making hard choices."
Pat Goodman, a longtime resident, said she was "truly disappointed" the proposal was scrapped. She urged people to remember when they were down on their luck and received help from a family member or friend.
Peterson said the city would keep residents informed. He also thanked speakers for sharing their opinions, saying "we're here for that — sometimes that's how we get the message."
---
UPDATES:
This article was originally published at 7:15 p.m. April 1 and was later updated with additional information and comments.
---
All the latest on Orange County from Orange County.
Get our free TimesOC newsletter.
You may occasionally receive promotional content from the Daily Pilot.