Man killed by H.B. officer is suspected in fatal beating of 80-year-old three days earlier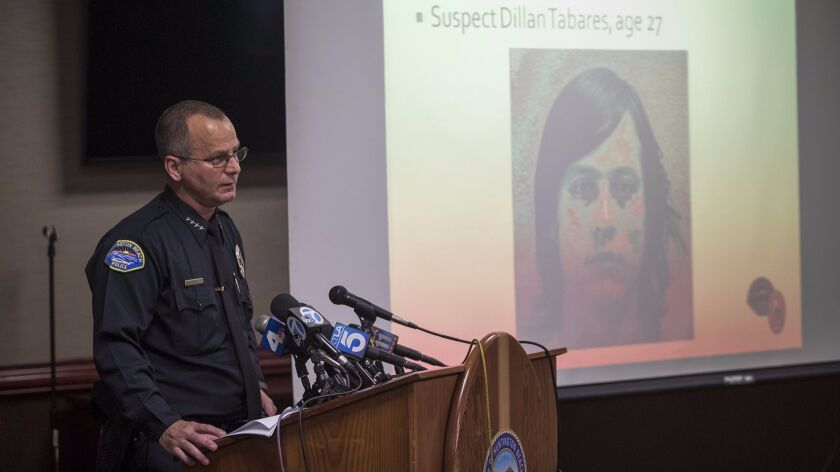 A man shot and killed by a Huntington Beach police officer in September was identified Tuesday as a suspect in the fatal beating of an 80-year-old man that occurred three days before the shooting.
Also Tuesday, Huntington Beach police identified the beating victim as Richard Darland, who was found about 5 p.m. Sept. 19 outside his home in the 7800 block of Ellis Avenue.
Authorities allege that Dillan Tabares beat Darland with his hands and feet as well as a small stick.
"This is one of the most brutal beating deaths many of us have ever seen in our law enforcement careers," Police Chief Robert Handy said at a news conference.
On Sept. 22, three days after the homicide, Tabares, 27, was fatally shot during a scuffle with a police officer outside a 7-Eleven store in Huntington Beach. The shooting was captured on video and widely circulated on social media.
The Orange County Sheriff's Department is continuing to investigate that case, which is the Huntington Beach Police Department's seventh officer-involved shooting this year.
Darland and his wife lived in Huntington Beach for 26 years. The couple had been married 53 years and had two daughters.
Darland worked on secret projects for Aerojet Rocketdyne while serving in the Army in the 1960s. After retiring from a career as an engineer, the devout Christian spent a lot of his time helping the homeless, Handy said.
"He was a humble man who never spoke of himself or his accomplishments but rather he focused on others," Handy said.
In the Sept. 19 attack, Darland suffered a broken back, broken neck, multiple skull fractures that punctured his brain, broken bones in his face, broken ribs, lacerations and injuries to both eyes, authorities said.
Officers provided aid at the scene and paramedics took Darland to UCI Medical Center in Orange, where he was pronounced dead, according to the Orange County coroner's office.
Detectives have been unable to determine a motive for the attack, Handy said.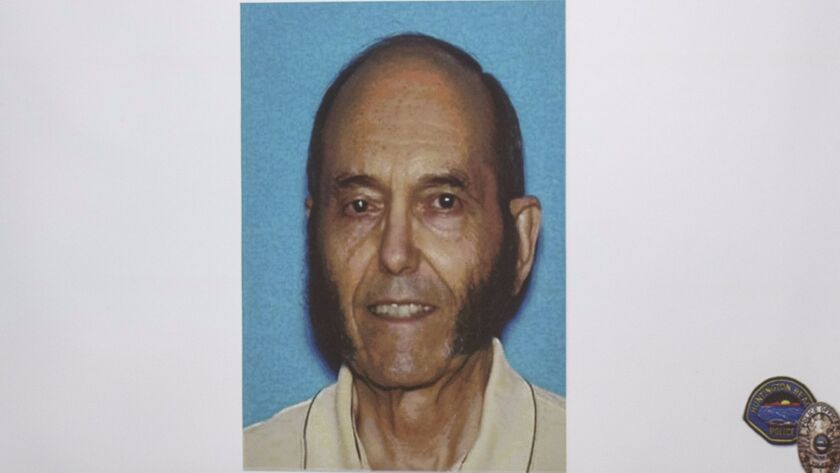 Handy said Tabares first met Darland in 2013 when Darland began helping Tabares, a homeless Navy veteran. He provided Tabares with food and transportation and allowed him to use his computer and shower in his house. He also let Tabares sleep outside the house.
Tabares had issues with drugs and mental illness and Darland tried to get him checked into drug rehabilitation and help him reconnect with his family, Handy said. He also encouraged Tabares to attend church.
In the weeks after the homicide, officers contacted possible leads and canvassed the neighborhood looking for video evidence from nearby homes and businesses. Hundreds of tips and pieces of evidence led police to identify 13 people, including Tabares, who might have a connection to the case.
But police had not connected Tabares to the homicide by the time Tabares was killed, Handy said.
Detectives found Tabares' name while scouring through 1,000 contacts stored in Darland's phone.
Once Tabares' name surfaced as a person of interest, Huntington Beach detectives asked the Orange County Crime Lab to analyze Tabares' clothing that was kept as evidence in the investigation of the officer-involved shooting.
"This case is a great example of the teamwork and synergy shared among different law enforcement agencies," said county District Attorney Tony Rackauckas, whose office worked with the Huntington Beach Police Department, the Sheriff's Department and the crime lab.
A crime lab examiner found blood on Tabares' pants that an analysis showed matched Darland's DNA, Rackauckas said.
"That confirmed that the shooting victim was indeed the murderer," Rackauckas said.
Also, Huntington Beach detectives identified Tabares through surveillance videos as being near Darland's home in the minutes before and after the fatal beating, according to Handy.
About 50 minutes after the attack, video footage shows Tabares appearing to have cleaned up with a fresh shirt and wet hair, Handy said.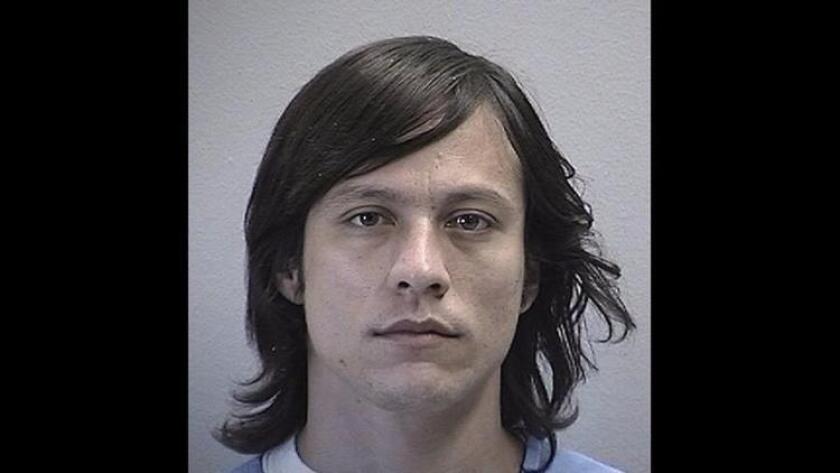 The confrontation outside the 7-Eleven wasn't Tabares' first run-in with Huntington Beach police. Officers had arrested him 12 times since 2014, Handy said.
From 2014 to 2016, Tabares bounced in and out of Orange County jails for misdemeanor convictions including disturbing the peace, carrying a dirk or dagger, possession of an opium pipe and resisting arrest, according to Orange County Superior Court records.
In May 2016, he pleaded guilty to a felony count of battery with serious bodily injury. He was initially sentenced to jail time and three years' probation, court records show.
Twice last year he was found to have violated his probation and was sentenced to additional jail time, records show.
In March this year, Tabares was arrested for violating probation a third time, and a Superior Court judge sentenced him to two years in state prison. However, with time served and other credits, he served about six months in Wasco and Centinela state prisons, according to court and California Department of Corrections and Rehabilitation records. He was paroled Sept. 14, five days before Darland was killed.
A day after the homicide, Tabares was considered to be absconded, or eluding supervision, according to Department of Corrections records.
Twitter: @HannahFryTCN
---
All the latest on Orange County from Orange County.
Get our free TimesOC newsletter.
You may occasionally receive promotional content from the Daily Pilot.