Man shot and killed by H.B. officer was homeless Navy veteran, mother says; new video surfaces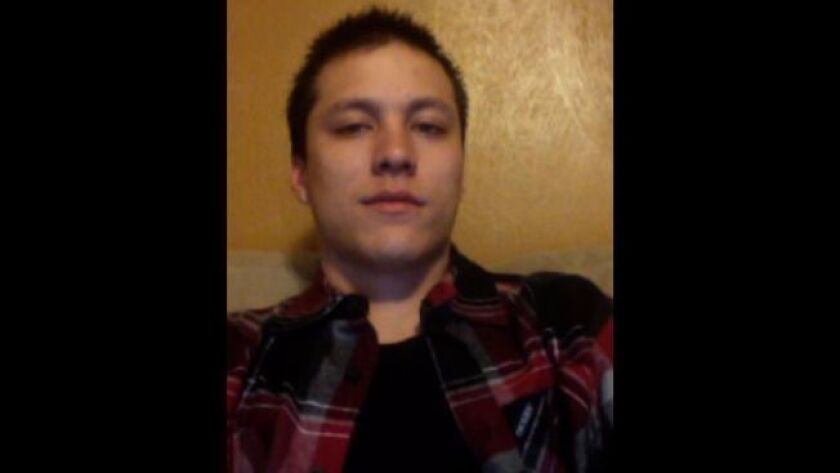 Tiffany Tabares isn't sure what to do, so she sits quietly outside the 7-Eleven store where her 27-year-old son was fatally shot Friday morning during a confrontation with a Huntington Beach police officer.
On Friday night she slept on the sidewalk. She's left a few times, she said, but always finds her way back to the spot where her second-youngest son, Dillan Tabares, was mortally wounded.
She knows that eventually she'll have to go about the business of picking a headstone and finding a place to bury him. But on Monday, she again assumed her post on a blue yoga mat next to dozens of candles, bouquets of flowers and a large photo of her son that had been placed on the sidewalk outside the store at 6012 Edinger Ave. The photo shows the Navy veteran on a naval ship gazing at an ocean sunset.
"My life is just surreal right now," Tiffany Tabares said. "I still don't know what to do with myself."
The sidewalk memorial, which began Friday afternoon with a few flowers and candles placed by passersby, has grown steadily.
A window that was pierced by a bullet during the confrontation has been boarded up, but shards of glass occasionally become dislodged, clanking against the metal window frame.
Every piece of glass that falls provides a jarring reminder for Tabares of the way her son was killed. She winces, but she doesn't leave.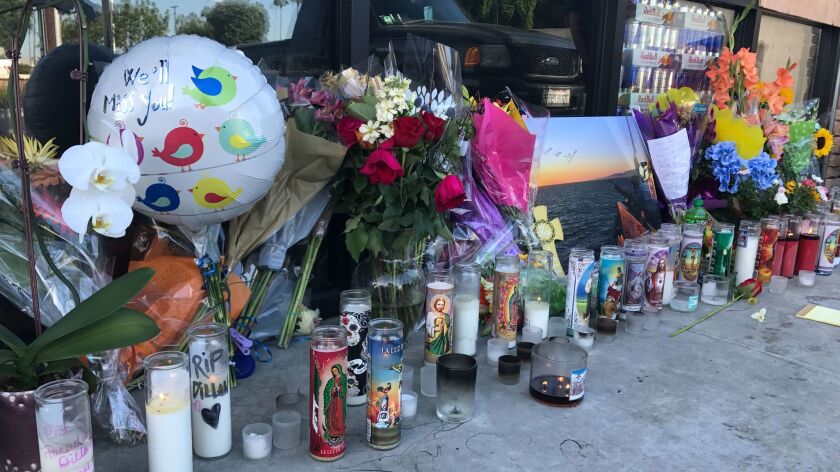 The situation unfolded at about 9:30 a.m. Friday when an officer contacted Dillan Tabares outside the store. That led to an altercation and ultimately the shooting, police said. The officer was not on a dispatched call, and it isn't clear why he approached Tabares.
The incident was captured on video by multiple bystanders.
A new 96-second video that surfaced over the weekend provides a longer view than earlier ones of the altercation that preceded the shooting. The video, taken from a parked car and later posted on social media, shows Tabares walking toward the officer, who appeared to have drawn a weapon — which police said was a Taser stun gun. The officer backed away, but Tabares continued approaching him and threw at least one punch.
The officer, whose name has not been released, grabbed Tabares in a headlock and both fell to the ground and continued to scuffle next to a parked car, the video shows.
Police Chief Robert Handy told reporters at the scene Friday evening that the man wouldn't obey any of the officer's commands. As the incident escalated and became violent, the officer used his Taser, but it wasn't effective, Handy said.
Another video shot at a different angle shows Tabares pulling an item off the officer's utility belt. It's not clear what he grabbed.
Videos show six shots being fired, causing Tabares to convulse and stumble. After a seventh shot, he collapsed on his side against the store.
Tabares was taken to UCI Medical Center in Orange, where he was pronounced dead at 10:13 a.m., according to the Orange County coroner's office.
An autopsy was scheduled for Monday.
Warning: The following video contains graphic content.
An 'old soul'
Tabares and his siblings grew up in Long Beach before the family moved to Huntington Beach. He attended Marina and Fountain Valley high schools but did not graduate, according to his mother.
He served in the Navy for three years and nine months as an information systems technician before receiving a dishonorable discharge for testing positive for marijuana, Tiffany Tabares said.
Dillan wrote on his Facebook page in 2012 that he was using marijuana to treat depression.
Most recently, Tiffany said, her son had struggled with untreated mental illness and substance abuse problems that left him homeless.
Tiffany remembers him as the smart, compassionate boy who once rescued dozens of snails outside his childhood home so they wouldn't eat the poison she had sprinkled in the garden.
She said he would get teary-eyed while watching television commercials soliciting donations for children who didn't have food.
"He was an old soul from the day he was born," she said. "He just felt the pain of the world too much. He was totally for the underdog."
The family is raising money on GoFundMe for funeral expenses.
Shooting spurs mixed reactions
Tiffany learned of her son's death by watching a video of the shooting circulated on social media.
"I watched it over and over," she said. "I couldn't believe what I was seeing."
Though she couldn't make out his face, she recognized his mannerisms and the way he flipped his hair when he got to his feet during the confrontation.
On Monday outside the store, Tiffany's recollections of her son were periodically interrupted by teary-eyed people who approached her to offer hugs and condolences.
"It doesn't matter how old they are, they're still your babies," one man said.
Tiffany said she has more questions than answers about what led to her son's death. She said she can't say definitively at this point whether the force was excessive, as some have asserted.
On Saturday night she and others who knew Dillan held a candlelight vigil outside the store. Tiffany told those who attended to offer a prayer for her son and the officer.
She said she wishes she could talk with the officer to find out exactly what happened.
"If he's a normal human being, he's going to be changed for the rest of his life," she said.
Dillan's older brother Brandon Tabares started a Change.org petition aimed at reforming police training in de-escalation tactics. As of Monday afternoon, more than 450 people had pledged their support online.
Tiffany said many people, including those who work at the 7-Eleven, have been very supportive of her.
On the other hand, one man told her her son "deserved to die," she said. Another screamed "seven more shots" from a passing car.
"I'm not going to jump in the fight," she said. "I'm not going to get angry."
'A last resort'
Friday's incident was the seventh officer-involved shooting in Huntington Beach this year — more than any other year this decade, according to department archives. It is the second such shooting this year in which a person was killed.
In the first fatal shooting March 9, Steven Schiltz, 29, was killed by police on a crowded soccer field in the Huntington Central Park Sports Complex on Goldenwest Street. Police and a witness said he had chased children and others with a baseball bat and a broken bottle.
Schiltz's mother, Angela Hernandez, has filed a lawsuit against the Police Department alleging excessive force.
On Friday, Handy stood behind the officer's actions in the Tabares shooting, saying, "The suspect was resisting and clearly the officer was defending himself and trying to take the suspect into custody."
Handy said Monday that there's no clear explanation for the number of officer-involved shootings this year. Huntington Beach police typically have had one or two such shootings each year since 2011, records show.
"We, along with departments all over the state of California, have experienced more violence toward police officers and more offenders on the street," he said. "I think that may be playing into it."
Handy said the department looks at each shooting individually to determine whether the use of force was necessary and whether there are trends or patterns in the shootings that need to be addressed.
"There are always things we can do better, but there's been nothing significant or alarming in these so far to indicate there's a pattern that needs to be looked at," he said.
Handy said officers also are encountering more instances of untreated mental illness, which creates a difficult and sometimes dangerous situation for the public and officers.
Though officers have received training for those situations, it doesn't eliminate the need for force if a situation becomes violent, Handy said.
Police officers are permitted to use their guns in defense of their own lives or the lives of others, and Handy said that in Friday's case and in another shooting Sept. 7 when Garrett Meyer, 29, was wounded by police gunfire after officers responded to a report of a man with a knife, the officers were trying to defend themselves.
After an officer is involved in a shooting, he or she is placed on leave and directed to see a police psychologist for an evaluation. The department then sends the officer back to training to gauge whether he or she is ready to return to work.
Typically, Handy said, such officers are back on duty in about a week.
"It's a significant emotional event for our officers," he said. "None of them ever wants to do this. It's always a last resort in their minds."
Twitter: @HannahFryTCN
---
All the latest on Orange County from Orange County.
Get our free TimesOC newsletter, coming in August.
You may occasionally receive promotional content from the Daily Pilot.