Man fatally shot by Huntington Beach officer had just been paroled from prison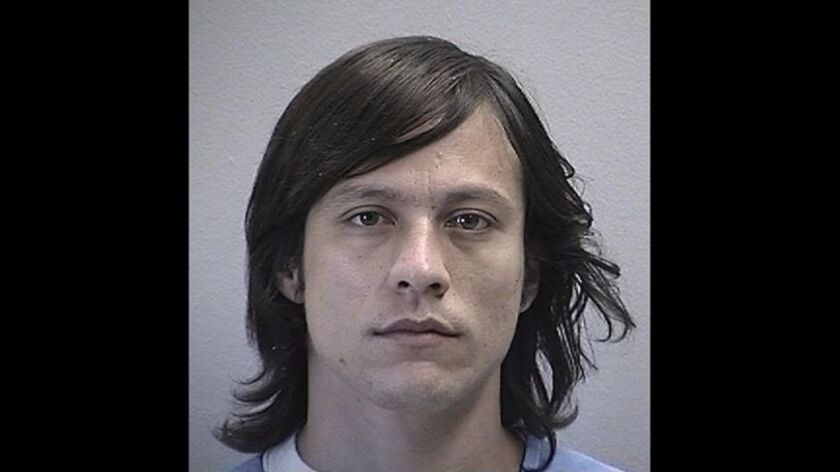 The 27-year-old homeless Navy veteran who was shot and killed last week in a scuffle with a Huntington Beach police officer had several previous run-ins with law enforcement and had been paroled from state prison eight days before the fatal encounter, public records show.
Dillan Tabares' criminal record in Orange County Superior Court began in May 2014 when he was charged with a misdemeanor count of possession of a leaded cane, which authorities consider a deadly weapon.
He pleaded guilty and was sentenced to 10 days in jail, according to court records.
From 2014 to 2016, Tabares bounced in and out of Orange County jails for misdemeanor convictions including disturbing the peace, carrying a dirk or dagger, possession of an opium pipe and resisting arrest.
In May 2016, he pleaded guilty to a felony count of battery with serious bodily injury. He was initially sentenced to jail time and three years' probation, court records show.
Twice last year the court found that he had violated his probation and he was sentenced to additional jail time, records show.
It isn't clear how much of the jail sentences he served.
In March this year, Tabares was arrested for violating probation a third time, and a Superior Court judge sentenced him to two years in state prison. However, with time served and other credits, he served about six months in Wasco and Centinela state prisons, according to court and California Department of Corrections and Rehabilitation records. He was paroled Sept. 14.
Just two days before the Sept. 22 shooting in Huntington Beach, he was marked as absconded, meaning he was considered to be eluding supervision, according to Department of Corrections records.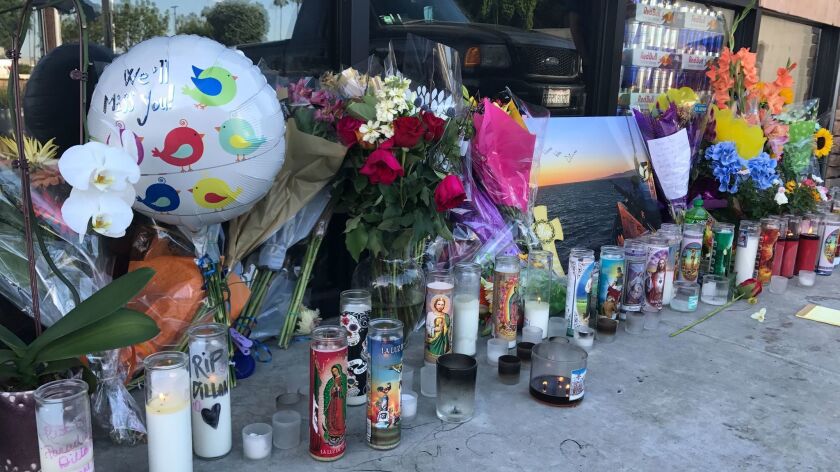 Tabares joined the Navy in 2008 and served as an information technology systems technician before he was dishonorably discharged in April 2012 after testing positive for marijuana, according to his mother, Tiffany Tabares, who spoke with the Daily Pilot on Monday.
While he was in the military, he bought a house in Norfolk, Va., and got married.
But after the failed drug test, his life began to unravel.
"At the beginning of this year, I had a four-bedroom house and three cars. A good job and a future," Dillan Tabares wrote on his Facebook page in March 2012. "Now I have nothing but my freedom, which will soon be taken away. I have ruined everything. I have lost the future I have worked so hard to get over these last four years."
Eventually, Tiffany Tabares said, he began living on the streets in Orange County and abusing drugs. He also had untreated mental health issues, she said.
Tiffany Tabares said she didn't know her son was out of jail until videos of the shooting outside the 7-Eleven at 6012 Edinger Ave. began circulating on social media.
A 96-second video shows Dillan Tabares walking toward the officer, who was pointing a weapon that police said was a Taser stun gun. The officer backed away, but Tabares continued approaching him and threw at least one punch.
The officer, whose name has not been released, grabbed Tabares in a headlock and both fell to the ground and continued to scuffle next to a parked car, the video shows.
Warning: The following video contains graphic content.
Huntington Beach Police Chief Robert Handy told reporters that Tabares wouldn't obey any of the officer's commands. As the incident escalated and became violent, the officer used his Taser, but it wasn't effective, Handy said.
Another video shot at a different angle shows Tabares pulling an item off the officer's utility belt. It's not clear what he grabbed.
Videos show six shots being fired, causing Tabares to convulse and stumble. After a seventh shot, he collapsed on his side against the store. He later was pronounced dead at a hospital.
The case is the seventh officer-involved shooting in Huntington Beach this year and the second in which a person died.
It has drawn mixed reactions from people who have seen the videos, with some believing the officer's actions were warranted and others asserting the use of force was excessive.
The Orange County Sheriff's Department is investigating, as is typical for officer-involved shootings in Huntington Beach.
Twitter: @HannahFryTCN
ALSO
Man shot and killed by H.B. officer was homeless Navy veteran, mother says; new video surfaces
Some Huntington Beach council members call officer's actions in fatal shooting warranted; others use caution
---
All the latest on Orange County from Orange County.
Get our free TimesOC newsletter, coming in August.
You may occasionally receive promotional content from the Daily Pilot.