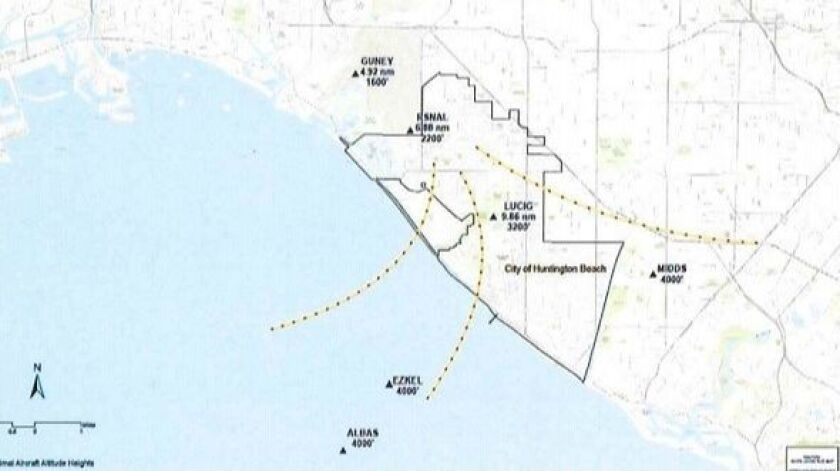 An Irvine-based aviation consultant is partnering with Huntington Beach to conduct an analysis that may be submitted to the Federal Aviation Administration as part of the city's efforts to address residents' concerns about increased airplane noise.
On a 6-0 vote, with Mayor Erik Peterson absent, the City Council authorized Landrum & Brown to conduct a series of tests and compile the results into a report for the city as part of a six-month, $48,370 contract. Funding for the project will come from the city manager's budget.
The consultant will work with staff at Long Beach Airport to monitor and measure existing noise levels at locations selected by Huntington Beach officials.
Landrum & Brown also will collect flight data at various points along the flight path to show existing and proposed altitudes for aircraft heading to Long Beach. The "glide slope" analysis must be done and submitted to the FAA before changes can be made to arrival patterns, according to a city staff report.
Aircraft typically fly into airports using a path on a 3-degree glide slope to apply minimal power to the engines, according to Landrum & Brown. Those that fly below that path may use more power, which increases noise and burns more fuel.
Landrum's management consultant, Christian Valdes, told the council Monday that the firm's report could serve as a document that Long Beach Airport could propose to the FAA as a permanent procedure.
Mayor Pro Tem Lyn Semeta asked Valdes if such studies have been successful elsewhere. Valdes said it isn't common in the United States for communities to gather resources to prove a glide slope. He cited a Seattle community that collaborated with the airport there to maintain the 3-degree glide slope.
Assistant to the City Manager Antonia Graham told the council that she and Councilman Patrick Brenden — one of the liaisons to the city's Jet Noise Commission — began meeting with Long Beach Airport staff in 2017 to try to facilitate a collaborative approach to benefit all parties.
Graham said the airport director told them the FAA would be open to altering approaches to the airport but that the city would have to do some work.
FAA spokesman Ian Gregor declined to comment Tuesday about "a study that hasn't been done, or speculate on any actions we may or may not take in the future."
Huntington Beach residents have increasingly complained about airplane noise — most of it linked to Long Beach Airport — since the FAA implemented regional flight path alterations in 2017. City officials, though, have said the issue dates as far back as 2007.
More than two dozen air routes have historically passed over Huntington Beach, according to the FAA.
Nearby cities Newport Beach and Laguna Beach sued the FAA in 2016 and reached settlements last year over noise related to John Wayne Airport, though residents are still upset with the amount of airplane noise in the area.
Huntington Beach's interim city manager, Dave Kiff, described the partnership with Landrum as having "remarkable potential."
Brenden said "most people across the country have tried suing the FAA and ran into a door being slammed in their face. … We saw from the very beginning that … we needed to approach this in a collaborative standpoint."
Airplanes are supposed to fly above Huntington Beach at 1,600 feet but frequently are seen coming in at 1,300 feet or lower, Brenden said. If planes followed the 3-degree slope, they would come in at a minimum of 2,200 feet, he said.
---