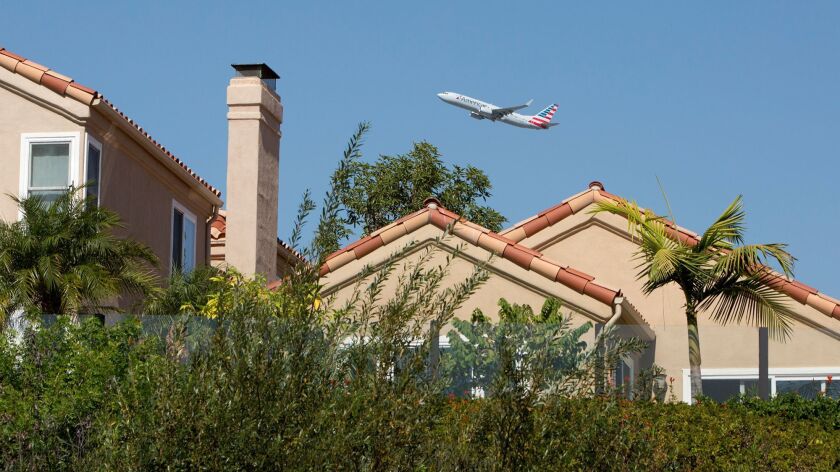 Laguna Beach has reached a settlement with the Federal Aviation Administration in the city's lawsuit over departure patterns at John Wayne Airport.
As part of the settlement, aircraft will be required to cross the coast south of Laguna Beach at an altitude of more than 10,000 feet. The requirement is expected to decrease airplane noise for residents, according to city officials.
The city and the FAA also agreed to work together on possible modifications to the commercial jet approach to John Wayne Airport during Santa Ana winds to lessen noise.
"For the first time, the FAA has made a formal, written commitment to keep planes on the entire JWA departure path that runs south over the ocean instead of allowing the planes to turn early over the city to get to their destinations to the east," Assistant City Manager Christa Johnson said Wednesday.
At the city's urging, Johnson said, the FAA already decreased the percentage of planes turning early over Laguna Beach from 55% of flights in 2014 to 11% of flights in 2017.
"The settlement agreement should continue that improvement trend, as the planes will only be allowed to deviate from the departure path in certain circumstances such as for safety and weather," she added.
The FAA also agreed to provide quarterly reports to the city documenting the percentage of flights that complete the departure path. The reports will allow the city to monitor the FAA's performance in accord with the settlement, Johnson said.
The City Council filed suit in 2016, challenging the FAA's plan to alter flight paths for planes leaving John Wayne Airport.
The FAA has said the alterations, which are part of the agency's Southern California Metroplex project, would save fuel and reduce inefficiencies, carbon emissions and flight delays.
However, Laguna Beach alleged in the lawsuit that the agency's environmental assessment lacked enough information to conclude that the project wouldn't have significant negative effects on the city.
In 2016, South Laguna residents claimed to see jets flying lower over their houses, though the FAA maintained that its procedures had not changed.
Some residents also voiced concern that flight paths in the Metroplex project would be concentrated over certain areas, exacerbating aircraft noise.
Newport Beach, which also filed a lawsuit against the FAA in 2016, announced a tentative settlement agreement earlier this month.
Under that agreement, flight paths in Newport Beach would stay between the existing noise monitors on the ground and along Newport Bay. The FAA also would design and study a curved departure procedure intended to allow planes to follow the bends of Upper Newport Bay and avoid as many residential areas as possible.
FAA spokesman Ian Gregor said Wednesday that the agency is not commenting about the settlements.
"We'll let them speak for themselves," he said.
Twitter: @HannahFryTCN
---