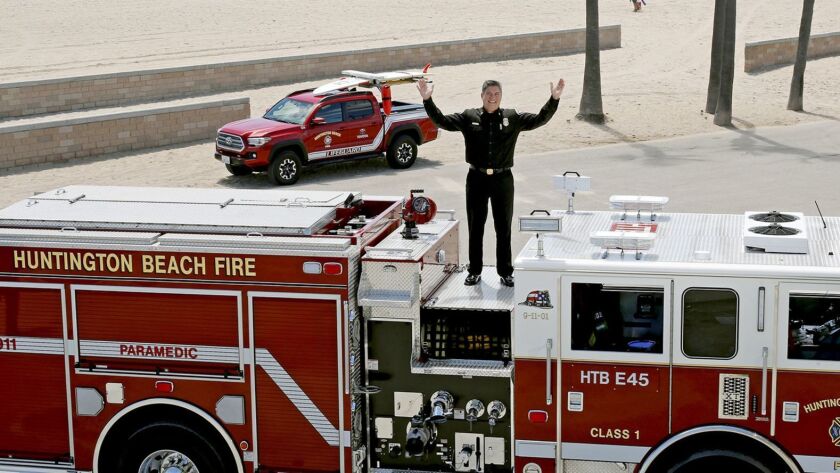 After leading a department of nearly 200 employees for three years, Huntington Beach Fire Chief David Segura is getting ready to retire and serve a new community — his family.
"It's difficult to leave something you love doing," Segura, 58, said during an interview this week.
The Huntington Beach resident said it was his childhood dream to become a firefighter. His self-described public servant's heart encouraged him to pursue the career after taking an introductory fire science class at Rio Hondo College in Whittier.
He started in Yucaipa before moving to Inglewood. He eventually made his way to the coast, serving in Redondo Beach and Long Beach — where he moved up the ranks from firefighter to deputy chief.
In 2016, Segura took the helm of Surf City's Fire Department, which now has an annual operating budget of about $49 million. His current salary is $221,124 a year.
So leaving his leadership role in one of Orange County's largest cities wasn't an easy decision.
"I am torn," Segura said. His last day is July 26, but he said he's prepared to stay longer if the city needs help with the transition.
Mayor Erik Peterson said in a statement Friday that the city is saddened to see Segura leave.
"He's done a tremendous job over the past three years and has led the department with fairness and consistency," Peterson said. "He's a strong leader that will be hard to replace. I wish him well but know where I can find him, being that he's a Huntington Beach resident."
Segura said his family was the main reason he decided to step away.
"It can be time-consuming and your family does sacrifice — especially because, in this position, I like to go to community events and get involved in nonprofit groups and those are … after hours," he said. "You put in a full day of work and you got [City] Council meetings after hours. Your family sacrifices."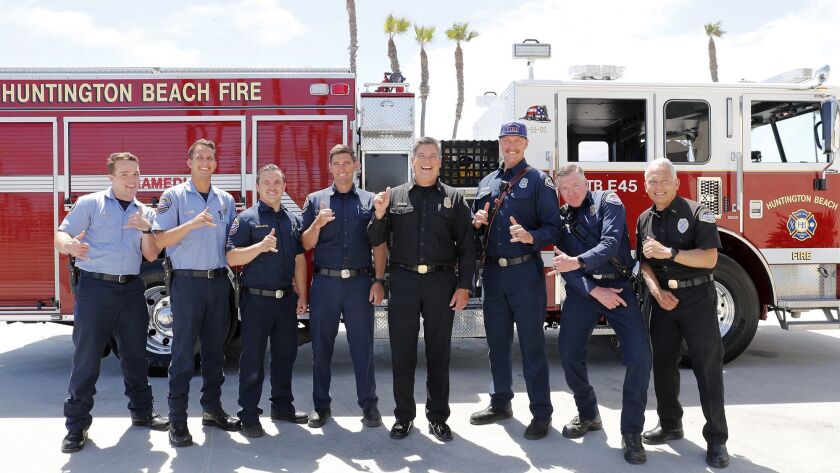 Segura's eyes glistened as he recounted some of his favorite memories in his 36-year-long career in the fire service.
During one of his first fires in Inglewood, Segura said he helped a team respond to a house where there were about five children inside. Neighbors managed to pull some of the children out through the windows, he said.
One group saved lives, but Segura was on the team that couldn't revive the children.
"We were not successful," he said. "As devastating as it was, I realized that it was in my DNA and [was] hoping that the next one, I could make a difference."
In Surf City, he took on a different role. He traded the adrenaline rush of 911 calls to try and address the needs of the community and his department beyond public safety.
Under his guidance, Segura said he implemented new safety programs such as providing two sets of equipment to help limit his employees' exposure to carcinogens. New policies also ensure employees aren't sleeping or sitting next to equipment before it has aired out, he added.
The city also fleshed out a peer support group program for those suffering from post-traumatic stress disorder, Segura said.
"I transitioned here as [an] outsider and never felt like one," he said, citing support from his employees, department heads, elected officials and the community. "I felt I had a home."
As he prepares for the new chapter in his life, Segura said he's looking forward to traveling with his wife and four sons, taking care of his parents and enlisting his two rescue dogs, Ivy and Ollie, in canine competitions such as dock jumping and fly racing.
Support our coverage by becoming a digital subscriber.
---
UPDATES:
This article was originally published at 4:20 p.m. and was later updated with additional comments.
---