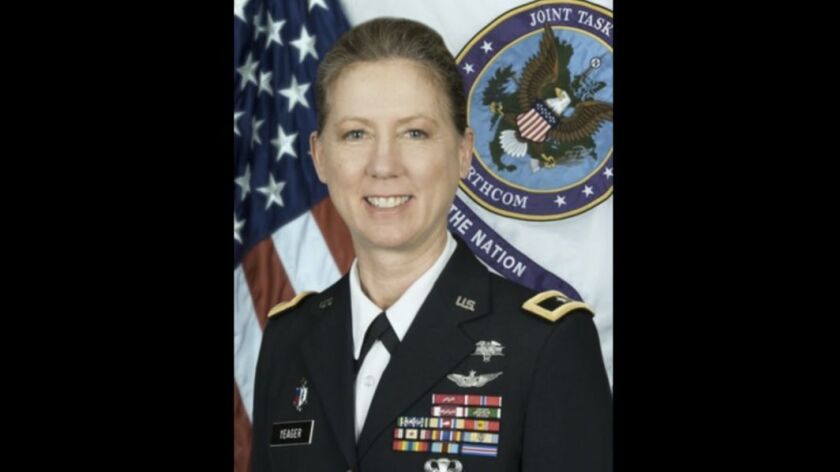 No woman has ever led a U.S. Army infantry division since its founding in 1917.
Brig. Gen. Laura Yeager is set to make history this month when she assumes command of the California National Guard's 40th Infantry Division, overseeing a 102-year legacy that spans every major war since World War I.
The Fountain Valley native and 1982 graduate of Fountain Valley High School began her 33-year military career in May 1986, when she received her commission for second lieutenant from the Reserve Officer Training Corps at Cal State Long Beach. She also has a bachelor's degree in psychology from UC Irvine and a master's from Chapman University in Orange.
Yeager has served as a UH-60 Black Hawk helicopter aeromedical evacuation pilot and in 2011 was deployed to Iraq as deputy commander of the California Guard's 40th Combat Aviation Brigade.
In 2016, Yeager became the fourth female general in California National Guard history when she was promoted to brigadier general.
"Clearly, females are in the minority within the military, yet in every assignment I have held, my mostly male peers, subordinates and superiors have supported me, treated me with respect, coached, mentored and advised me," she told the Department of Defense news service after her promotion.
"At the same time, I have been inspired by the incredibly strong and amazing women I have served with and for. Needless to say, I would not have achieved this rank without every one of them, from the professor of military science at Long Beach State to the platoon sergeant I served with as a platoon leader, ranging all the way up to brigade commanders and the adjutant general."
Yeager, the daughter of a helicopter pilot who served two tours in Vietnam, is a member of Whirly-Girls, a nonprofit dedicated to advancing women in helicopter aviation.
According to her resumé, she has logged more than 1,500 hours of flights and earned accolades including the Legion of Merit, Bronze Star and Meritorious Service Medal.
On Monday, Yeager relinquished command of the Joint Task Force North at Ft. Bliss, Texas, where she has served since 2017. She will take command of the 40th Infantry Division from retiring Maj. Gen. Mark Malanka during a June 29 ceremony at Joint Forces Training Base Los Alamitos.
Support our coverage by becoming a digital subscriber.
Shalby writes for the Los Angeles Times. Daily Pilot staff contributed to this report.
---