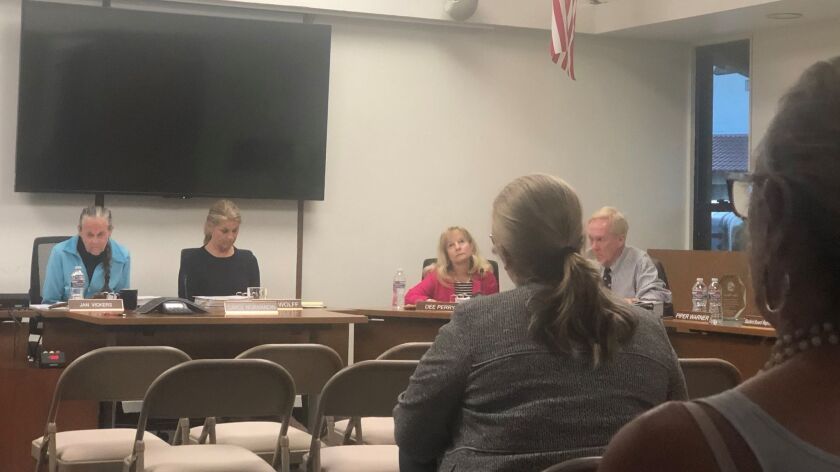 In the latest divide on the Laguna Beach Unified School District board, trustees voted Tuesday to form a subcommittee on confidential matters that excludes board member Dee Perry, who her colleagues said had breached confidentiality rules by disseminating a message from the district's attorney.
The board's decision was 4-1, with Perry dissenting. The subcommittee will consist of all the board members except Perry.
"I think this is shameful. I think it's a disgrace," Perry said.
The subcommittee is tasked with discussing confidential issues such as litigation and personnel, though the board has "sole discretion" to determine what constitutes confidentiality, according to a resolution establishing the committee. The panel is set for one year, but Laguna Beach Unified attorney Mark Bresee said the time could be extended or shortened on a majority vote by the board.
Bresee cautioned trustees that the intent of the subcommittee is to review specific issues on a case-by-case basis. "My recommendation to the board is that ... you think very carefully about what you're going to delegate to that subcommittee and not just say, 'OK, we're going to delegate everything to it,'" he said. "That's not the intent of it."
Board President Jan Vickers and member Carol Normandin proposed the resolution after a public records search of Perry's emails revealed she had forwarded a message from Bresee marked "confidential."
Assistant Supt. Leisa Winston said Wednesday that the district received a public records request April 26 through an anonymous email address and conducted the search over several weeks between then and May 31, "although the particular communication at issue was identified on May 20."
At the center of the issue, Perry said, is an email from Bresee "threatening litigation" against her. In an interview Tuesday afternoon, Perry said the email cited comments she had made in local newspapers that parents were afraid to speak up for fear of retaliation from administrators.
Bresee maintained the message was confidential under attorney-client privilege, and he declined to discuss its contents.
After receiving the email, Perry sought advice from multiple legal experts, who she said assured her it was not confidential. She said she then forwarded the message to the legal experts and a friend.
Bresee and the other board members said disseminating the attorney's email was a breach of confidentiality and warranted a special subcommittee to discuss current and future confidential matters.
"I am on this school board to serve students and members of this great community," Perry said Tuesday evening. "By forming this committee, you are infringing on citizens' right to their representation and you are prohibiting me from participating and voting on some of the most impactful areas of our job. This is harming the citizens of Laguna Beach."
Several parents in the audience agreed with Perry. If she did violate confidentiality rules, a few suggested, she should be penalized another way — not with the formation of a subcommittee that excludes her.
"I am blown away that this is the kind of behavior that is going on with this board," said resident Amy Kramer. "You guys don't have to go camping, you don't have to love each other. But you guys do have to get along."
The meeting grew testy at times as parents talked in the back of the room about the board members' responses to Perry. At one point, Normandin — who participated in the meeting via teleconference — and Perry had a back-and-forth exchange on the matter.
Parent Sheri Morgan called out from the audience, "This is not appropriate."
"This is an agenda item, it is in order," Vickers said.
"It's an interrogation," Morgan responded.
Vickers said the school board has a responsibility to maintain privacy on certain issues. She said she reviewed Bresee's email to Perry and did not deem it threatening.
"We had a confidential communication … bolded at the top," Vickers said. "We as board members know from day one … what that means."
Tuesday's vote is the latest in a string of disagreements between Perry and the four other trustees. Last month, board members thwarted Perry's motion to reevaluate grade-point average "weighting," to the chagrin of a group of parents who wanted to overturn the current policy.
Earlier in the year, Perry was at the heart of what she called a due process issue when the board voted to change a bylaw that Perry said would have made her its president.
"I feel that there has been a continual pattern of trying to silence Dee Perry," said parent Terri Meisberger.
But Vickers said Tuesday's decision "is not in any way reflective of any time that board member Perry has disagreed with the majority of the board."
Community input desired on live streaming
In other business, the board is seeking public input on whether to revive live streaming of its meetings. The board had been live-streaming meetings but stopped a couple of weeks ago after learning it was not compliant with the Americans with Disabilities Act because it didn't have closed captioning to assist hearing-impaired viewers.
A community survey on the topic is open until 8 p.m. Monday. To access it in English, visit my.thoughtexchange.com/?lang=en#885900757. To access it in Spanish, go to my.thoughtexchange.com/?lang=es#885900757.
The district's video system was called into question this year in another issue related to Perry. The recording of the board's Dec. 11 meeting, when it voted to reinstall Vickers as president instead of choosing Perry, is not available. The minutes show that Supt. Jason Viloria announced at the beginning of the meeting that the streaming service was "experiencing technical difficulties."
---