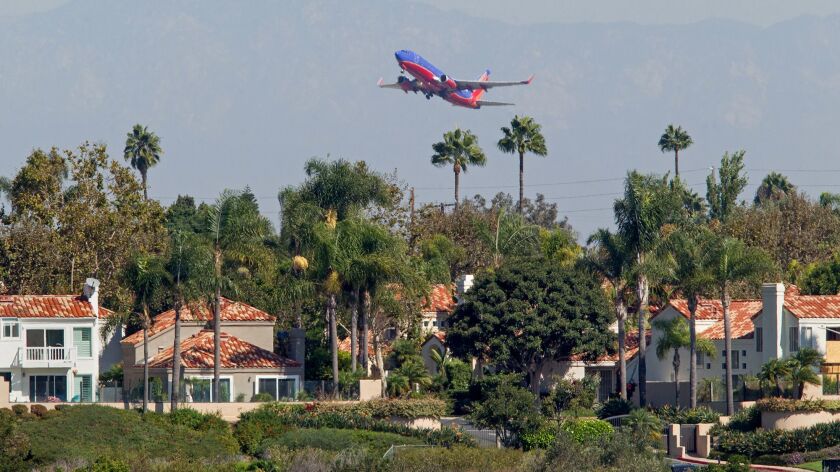 Relief could be coming soon for Newport Beach residents who live under departure paths from John Wayne Airport.
City Manager Dave Kiff, who works extensively with the airport and the Federal Aviation Administration, told the City Council on Tuesday that the aviation agency in October will again tweak its takeoff path for planes heading northwest.
He acknowledged he didn't know what next month's new path would look like, but he will be monitoring flights.
He'll also have his eyes peeled in December, when the FAA will nudge a departure path for eastbound planes and possibly implement a new path that navigates Upper Newport Bay's curves to minimize noise effects on both sides of the water.
The technology exists for the curving path, though only the newest planes can handle it, Kiff said. And he wasn't certain how noise levels could change.
Flight path alterations made earlier this year are part of the FAA's Southern California Metroplex project. The FAA says the new air traffic system covering the region's airports, including John Wayne, will shore up inefficiencies, saving fuel and reducing carbon emissions and flight delays.
But they're a source of angst for Newport Beach residents, especially those close to Upper Newport Bay, who say shifts a few hundred feet closer to homes have brought the roar from jets too close to their rooftops.
Because of a lawsuit the city filed against the FAA last year challenging the accuracy and efficacy of the agency's environmental assessment of the Metroplex project — which concluded there would be no significant effects on surrounding communities — the FAA is willing to try the curving procedure.
Kiff said the city's "most important goal" in its relations with the airport is to protect locals' quality of life.
Other objectives include protecting a longstanding agreement that caps the number of yearly passengers, enforces a curfew and limits the number of the loudest flights. The city also wants to get flights over the middle of Upper Newport Bay rather than off to the east or west, have more studies of noise and altitudes and help residents get their complaints to the FAA via a new form on the city's website.
The FAA prefers communications by postal mail, so the city will collect comments online, print them and send them in weekly batches.
And residents have plenty to say.
Norman Myers, a physician and resident of the Bluffs neighborhood on the bay's east side, told the council that articles in medical literature connect airport noise to serious health issues, including psychological stress that can lead to high blood pressure, heart disease, heart attacks and strokes.
"All of those things are higher in people who live near airports," Myers said. "And if you come in already having those diseases and you live near an airport, especially if you're near a flight path, those diseases progress more rapidly."
He said studies also show that children's cognitive development can be impaired by airport noise.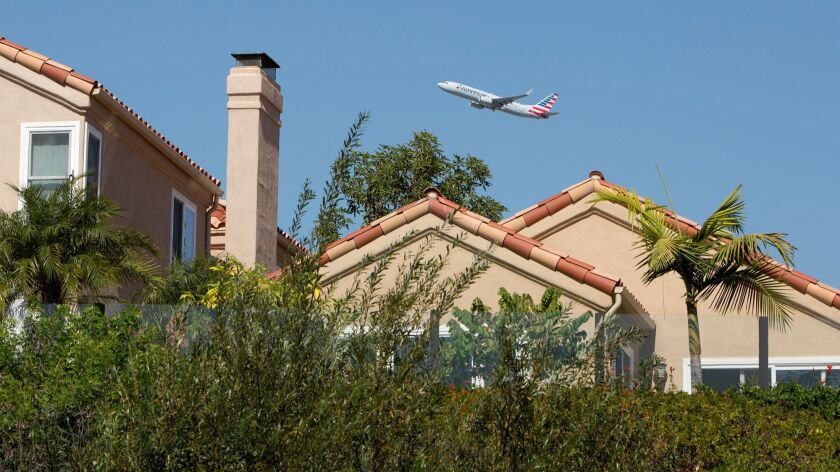 Kevin Calhoun, who lives to the east of the bay and just west of the Newport Beach Country Club, said he can now see many flights in his skylight. The planes appear to be flying lower and faster, he said, enabling him to more easily identify the airlines.
He asked the city for support in getting flights to fly directly over the noise monitor in the middle of the bay and not veer toward his neighborhood.
"This has had an adverse impact on our quality of life," he said.
Lee Pearl, representing the Balboa Island Improvement Assn., said the city generally doesn't pay attention to neighborhoods like his that aren't past the Back Bay, but all neighborhoods under the flight paths need a policy that grants them relief, he said.
"The policy should be designed to provide the highest quality of life to residents and should state that planes should fly over the most water and the least number of residents," he said.
As for now, Pearl said, 7,000 Balboa Islanders are getting "pounded" by the altered departure paths.
"If I sit on my patio now, all the planes go over my neighbor's palm fronds and it's very consistent," he said. "That's gonna doom us for a life of noise and pollution and pretty poor quality of life."
Balboa Peninsula resident Brian Ouzonian looked back on his time as an airport commissioner in Santa Monica and said public shaming of noise violators was an effective way of controlling loud planes (Santa Monica is a general aviation, not commercial, airport). The fines that followed two warnings became expensive, he said.
"What happened is the noisier aircraft started falling off and going to other airports," he said. "They didn't want to be known."
The City Council adopted a resolution Tuesday to update a departure noise impact study, formally encourage pilots and carriers to reach a higher takeoff altitude and use appropriate noise abatement procedures when safe to do so.
Mayor Kevin Muldoon recommended that the city retain a lobbyist to beef up advocacy with the FAA and members of Congress.
"I believe that the more noise we make as a city … the more likely we are to be heard," he said.
"In other words," added Councilman Will O'Neill, "the more noise we make, the less we receive."
Twitter: @Daily_PilotHD
---