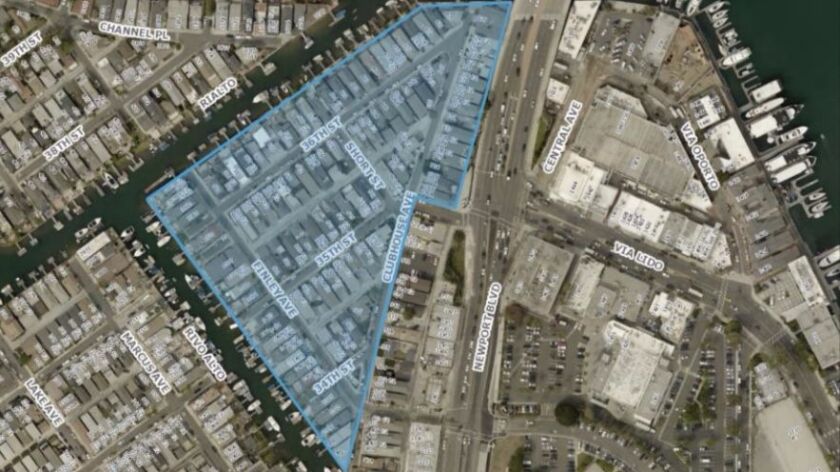 A neighborhood across from the revitalized Lido Marina Village and under-construction Lido House Hotel in Newport Beach could get its own parking permits.
Residents of what city staff calls the Finley Tract – so named for Finley Avenue, one of the neighborhood's main access roads – tell the city that their streets have become attractive free parking for Lido Marina Village employees.
The 164-home, triangle-shaped tract is just west of Newport Boulevard, bound on its other two sides by the Rialto and Rivo Alto channels.
Before granting residents parking permits, the city must first confirm supply and demand and gather feedback through a study and a neighborhood survey, then receive City Council approval. This process could take about six to eight months.
The council gave its initial support Tuesday by directing staff to initiate the process.
Permit programs are subject to state scrutiny.
Deputy Community Development Director Brenda Wisneski said the California Coastal Commission typically denies permit parking in coastal towns on the basis that it limits public access to the beach and other coastal resources.
The neighborhood has no direct beach access, but its public street ends are considered harbor access points, and Wisneski said city staff anticipates that the Coastal Commission would appeal the city's potential final approval.
This means that the city will have to clearly show that the permit program will not affect non-residents' ability to find adequate public parking elsewhere in the area.
In the meantime, the city will increase parking patrol, evaluate the striping in alleys to fit in more residential parking, and consider adjusting the time limits on metered parking spaces in nearby public lots.
Wisneski said Lido Marina Village ownership is also piloting a free employee parking program in the development's garage starting next week.
Twitter: @Daily_PilotHD
---