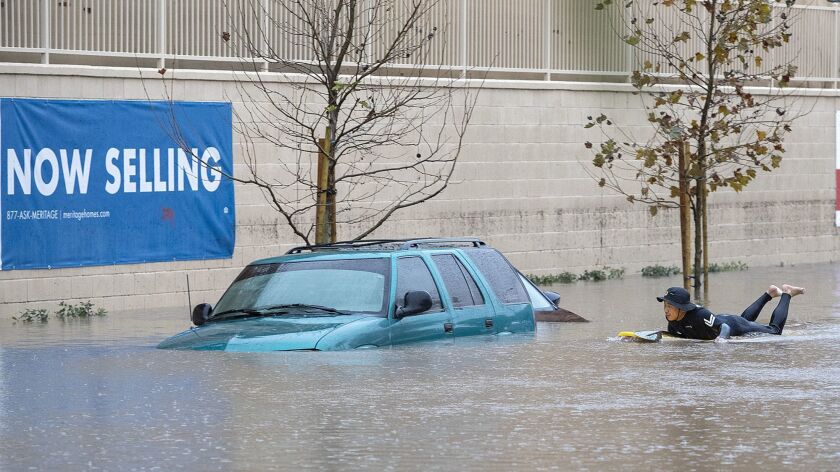 A storm that flooded streets, submerged cars and halted classes at some schools dumped 4½ inches of rain on Corona del Mar and more than 3 inches on Costa Mesa and John Wayne Airport, according to the National Weather Service.
Data from automated gauges posted on the weather service website show that in the two-day period ending at 4 a.m. Friday, CdM recorded the highest rainfall total in Orange County, with JWA second with about 3½ inches.
Totals for other local areas were 3.07 inches in Costa Mesa, 2.04 in Laguna Canyon and 1.5 in Huntington Beach.
The rain rolled into the area with scattered showers Wednesday and then intensified Thursday with a strength that caught forecasters by surprise.
"The difference was we had east winds that were drying things out, so not much rain was falling [Wednesday]," Keily Delerme, a meteorologist with the National Weather Service, told the Los Angeles Times.
On Thursday, however, the winds weakened, allowing more rain to fall, Delerme said.
The deluge flooded streets in Costa Mesa, Laguna Beach and Newport Beach and led to reports of flooding in some homes on the north side of Newport's low-lying Balboa Island. Cars were caught in up to four feet of water in Costa Mesa.
Newport Harbor High, Back Bay High and Corona del Mar High and Middle schools in the Newport-Mesa Unified School District halted classes early because of the weather. All the district's schools were open Friday.
The weather service forecast is for clear to partly cloudy skies through the middle of next week, with high temperatures in the upper 60s to low 70s and lows in the upper 40s to low 50s.
---