Restaurateur's journey takes her from Michelin stars in Chicago to tacos in Laguna Beach
What do a Michelin two-star restaurant in Chicago and a taco catering company in Laguna Beach have in common?
For restaurant operator Alexa Welsh, they both posed a mental challenge.
"I'm scratched, I'm bruised, I'm exhausted, I'm burned — it's, like, not a glamorous job whatsoever," said Welsh, 41, general manager and operator of Laguna's Rasta Taco. "But it's this really complicated little puzzle that I keep trying to figure out, and that's what keeps me entertained."
Welsh visited Laguna Beach for the first time a year ago to check out the taco shop on the corner of Beach Street and Ocean Avenue. She had no plans to move.
She was living in Chicago at the time and had recently closed 42 Grams, the Michelin-studded restaurant she opened in 2014 with her then-husband, chef Jake Bickelhaupt. The establishment was born from a dining experience Bickelhaupt and Welsh began hosting in their home in 2011.
The first time they hosted a dinner, two friends and two family members gathered in their dining room for six courses. Within three years, the weekend dinners had transformed into an exclusive fine-dining restaurant in uptown Chicago.
They served at least a half-dozen courses per meal for about 24 people a night. Each person paid around $200.
Welsh was reservationist, host, server, accountant, communications director and all-around operations manager, while Bickelhaupt oversaw the food.
Meanwhile, filmmaker Jack Newell followed them around with a camera, gathering clips for a documentary he made about Welsh and Bickelhaupt's evolution from underground kitchen to brick-and-mortar restaurant. He released the film in 2017.
"One of the things you get to experience when you watch the documentary is this crazy ride alongside Alexa and Jake as they go from being insurgents to being one of the best restaurants in the world," Newell said Friday in a Facebook message from Ethiopia, where he is working on his next documentary. "It could sound clichéd if it wasn't true that it's a real underdog story."
Welsh said 42 Grams was "the coming together of two souls to create something." The name was predicated on a theory that each human soul weighs 21 grams.
In less than a year after opening in January 2014, 42 Grams earned two coveted Michelin stars. Reservations stacked up months ahead of time.
"It was kind of surreal," Welsh said. "We had done something pretty friggin' cool."
But soon after their marriage fell apart in 2017, 42 Grams did as well. The restaurant closed abruptly in June 2017 after a physical attack on Welsh for which Bickelhaupt pleaded guilty to battery.
Welsh became more vocal about general abuses in the restaurant industry and called kitchens "boys' clubs."
After taking a few months to relax and recuperate, Welsh, a Pennsylvania native, was planning to move back to Texas, which she considers her home state. Then she received a private message on Instagram.
"I remember exactly, it was a couple of simple words: 'Do you want to run a taco shop in Laguna Beach?'" said Mario Melendez, owner of the Rasta Taco restaurant and catering company and two Rasta Rita beverage catering trucks.
"That was it. It wasn't even 'Hello,'" he said with a laugh.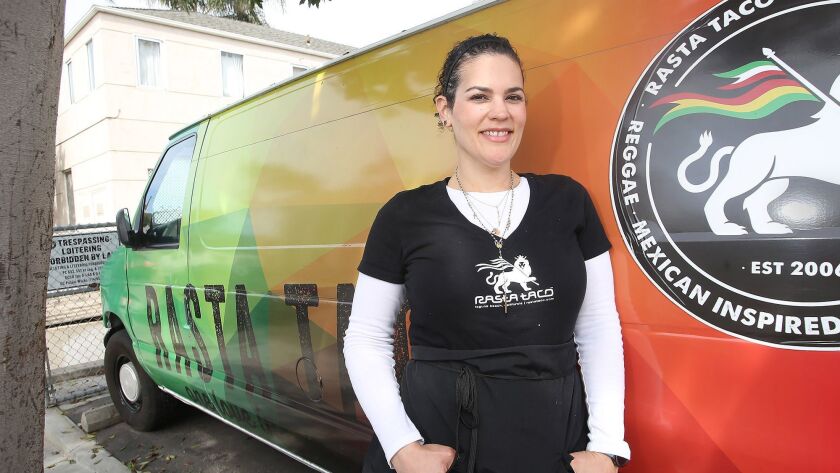 Melendez had just finished watching the 42 Grams documentary on a flight back to California from Rasta Taco's second location in Jamaica. He wanted Welsh on his team, but he knew it was a long shot.
"Of course I was not expecting a response," he said. "I just figured I would throw it up to the universe and see what happened. But I certainly was hoping. I liked her style and I recognized her talent."
To his surprise, Welsh wrote back asking for more details. The two chatted for the next several weeks, and then Welsh flew to California in March 2018 to consult for Rasta Taco for a few months.
"Mario just came around at about the right time," she said. "I said, 'Let's take a peek under the hood and see what's going on.'"
Soon she was working full time as the taco shop's operations manager.
Welsh reordered Rasta Taco's kitchen operations, pored over its financial books and revamped the menu. Melendez said he had always been deficient in restaurant operations and needed a strategic partner.
"The whole thing was really just an evolution based on need," Welsh said. "When I got here, I was like, 'Look, you need a lot. There's a lot that needs to happen here.'"
Business at the restaurant, which has only outdoor seating, has flagged somewhat during the recent rains, but the pair has high hopes for the future.
"With her onboard, the possibilities are endless," Melendez said.
---
All the latest on Orange County from Orange County.
Get our free TimesOC newsletter.
You may occasionally receive promotional content from the Daily Pilot.