Sides in Peotter recall fight report a combined $120,000 in fundraising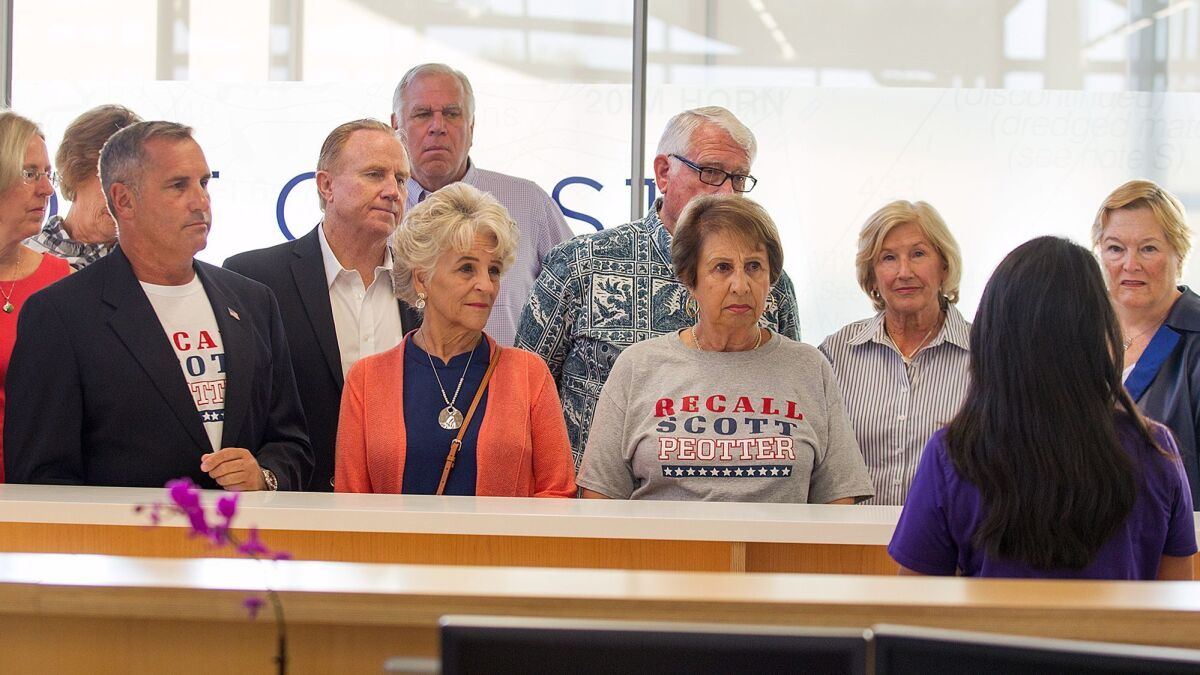 Detractors of Newport Beach City Councilman Scott Peotter have raised close to $80,000 toward their effort to recall him, while the pro-Peotter camp has countered with more than $40,000.
Since the Committee to Recall Scott Peotter formed in April, it has collected $78,672, mostly in cash donations from individuals but some in the form of loans and in-kind gifts, according to the most recent campaign statements filed last week detailing activity through September. It has spent $81,603.
Contributors to the cause include three former Newport Beach mayors and two residents who plan to challenge for Peotter's District 6 seat should enough petition signatures be validated to prompt a special recall election next spring.
Peotter is scheduled to be up for reelection in the regular vote in November 2018.
Recall organizers dropped off 10,688 signatures to the Newport Beach city clerk's office on Oct. 27 — more than enough to qualify for an election if the Orange County registrar of voters office verifies that at least 8,445 are from registered Newport Beach voters. That number represents 15% of the city's registered voters.
Here are the top five recall donors so far:
Petros for City Council, the campaign committee for former Newport Beach councilman Tony Petros: $9,500
Paul Blank, Newport Beach harbor commissioner and a vice president of Urban Decay cosmetics: $8,179
Marilyn Brewer, former California assemblywoman: $7,125
Fred Ameri, former Newport Beach planning commissioner, 2016 council candidate and retired civil engineering consultant: $3,460 ($2,000 cash and underwriting a reception that cost $1,460)
Sharon Wohl, homemaker: $3,000
Additionally, Mike Toerge, a former planning commissioner and a potential recall election candidate, has given $5,000 (a $1,000 contribution and a $4,000 loan). Peotter defeated Toerge in the 2014 race for the District 6 seat.
Another potential recall race entrant, Corona del Mar resident Joy Brenner, has given $300.
Former mayors who have donated include Mike Henn ($2,000), Keith Curry ($1,000) and Rush Hill ($500).
The majority of the fundraising was in the third quarter, covering July 1 to Sept. 30. In that time, the committee gathered $43,409.
More than half the recall committee's expenses have been for services for petition circulation. Records show the committee has made nine payments to Calabasas-based PCI Consultants Inc. totaling $42,727. As of the time of filing, the committee owed the petition-management firm an additional $7,699.
The next-largest expense is for newspaper ads. Records show $6,834 was paid to the Daily Pilot and its parent, the Los Angeles Times.
Pro-Peotter funding
Two Peotter support committees are actively pushing back.
Newport Beach Residents Against Recalling Councilman Peotter raised $27,000 through September. Of that, $17,000 was from Fieldstead & Co., an Irvine-based philanthropy run by savings and loan heir Howard Ahmanson Jr. and his wife, Roberta. Fieldstead contributed $15,000 in cash and $2,000 worth of campaign consulting, records show.
An additional $8,000 came from Larry D. Smith, president of Newport Beach-based MHI Real Co.
The committee has spent $29,099, almost entirely on campaign literature, mailers and automated phone calls.
The Committee to Oppose the Recall of Scott Peotter is run by Peotter himself. With $14,148 in contributions and $14,125 in expenses, it has focused on a counter-petition for people to withdraw their signatures from the recall petition.
Only $2,500 of the committee's contributions were in cash. The rest were earmarked for petition services funded by the Scott Peotter for City Council 2018 committee.
A third committee, called Save Free Speech in Newport, A Committee Opposed to the Recall of Councilman Peotter, has filed a statement of organization with the city but has not reported any fundraising or expenses.
Twitter: @Daily_PilotHD
---
All the latest on Orange County from Orange County.
Get our free TimesOC newsletter.
You may occasionally receive promotional content from the Daily Pilot.