Fountain Valley will join law group's 'sanctuary' brief and says it won't need money from Rohrabacher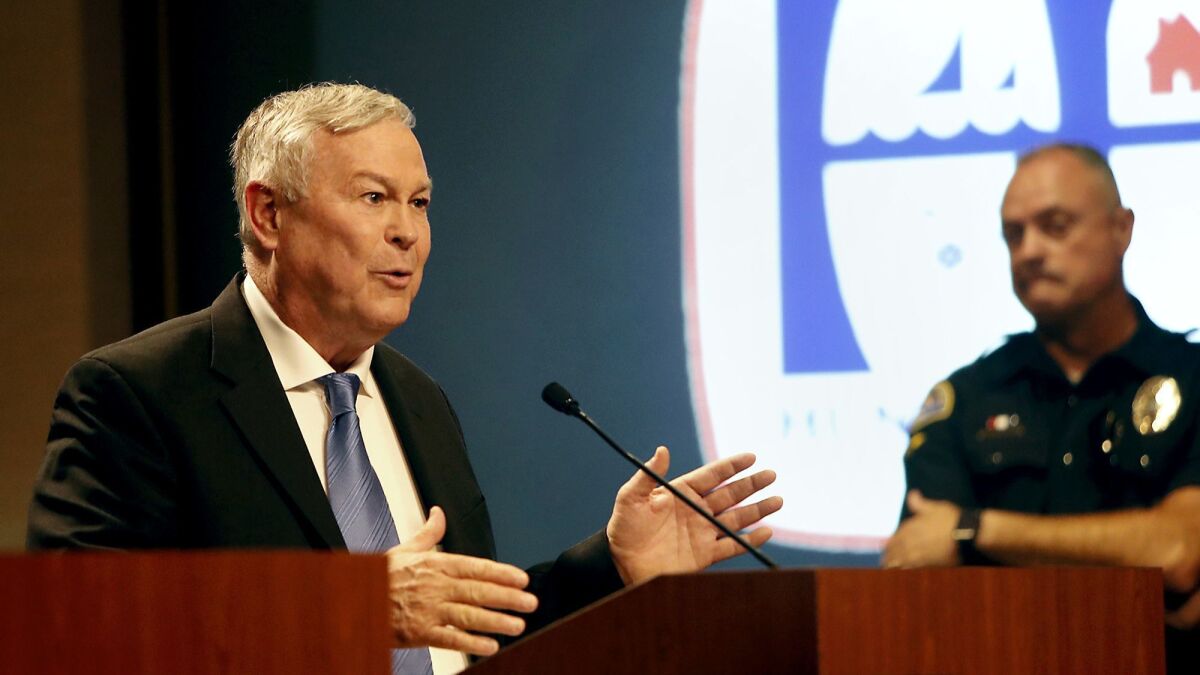 Fountain Valley will sign on to a law group's legal brief supporting a federal lawsuit against California's "sanctuary state" immigration laws, meaning it won't be needing the money that U.S. Rep. Dana Rohrabacher offered the City Council this week to draft its own brief.
Instead, Fountain Valley will join several other Southern California cities attaching themselves, at no cost, to a brief prepared by the Washington, D.C.-based Immigration Reform Law Institute, according to a city statement.
Fountain Valley City Manager Rob Houston called it "the taxpayer-friendly way to get the job done."
The Immigration Reform Law Institute is the legal affiliate of the Federation for American Immigration Reform, which says on its website that it "seeks to reduce overall immigration to a more normal level."
FAIR describes the law institute as "the only public interest nonprofit law firm in the United States devoted exclusively to protecting the rights and interests of Americans in immigration-related matters."
However, the Southern Poverty Law Center has designated FAIR as an anti-immigrant hate group, saying its "leaders have ties to white supremacist groups and eugenicists and have made many racist statements."
A representative of the Immigration Reform Law Institute did not immediately return a message seeking comment Thursday afternoon.
Rohrabacher (R-Costa Mesa) appeared before the Fountain Valley City Council on Tuesday as it was considering whether to take a stance on the pending U.S. Justice Department lawsuit challenging the sanctuary laws, which expand protections for undocumented immigrants at risk of deportation.
The laws include a mandate that in many cases prohibits state and local police agencies from notifying federal officials when immigrants in their custody who may be subject to deportation are about to be released. The Trump administration lawsuit contends that obstructs federal immigration law and thus violates the Constitution's supremacy clause, which gives federal law precedence over state law.
Fountain Valley council members initially said they were against the sanctuary laws but were leery about spending city money even to prepare a "friend of the court" brief backing the lawsuit. That would have cost an estimated $5,000 to $6,000 in lawyers' fees.
Rohrabacher offered to donate some of his own funds. So did one resident.
After about three hours of council and public discussion, a majority of the council seemed encouraged by the potential donation and agreed to file a brief.
Councilman Larry Crandall led the 3-1 decision, saying he wanted the city to accept the offer of outside funding so Fountain Valley could go on record as supporting federal law.
Crandall could not immediately be reached for comment Thursday evening.
Fountain Valley would join Mission Viejo, Yorba Linda, Aliso Viejo, Escondido and Hesperia in signing on to the Immigration Reform Law Institute's brief.
The brief will be submitted in federal court Friday.
Twitter: @Daily_PilotHD
---
All the latest on Orange County from Orange County.
Get our free TimesOC newsletter.
You may occasionally receive promotional content from the Daily Pilot.