Rouda unseats Rohrabacher in 48th Congressional District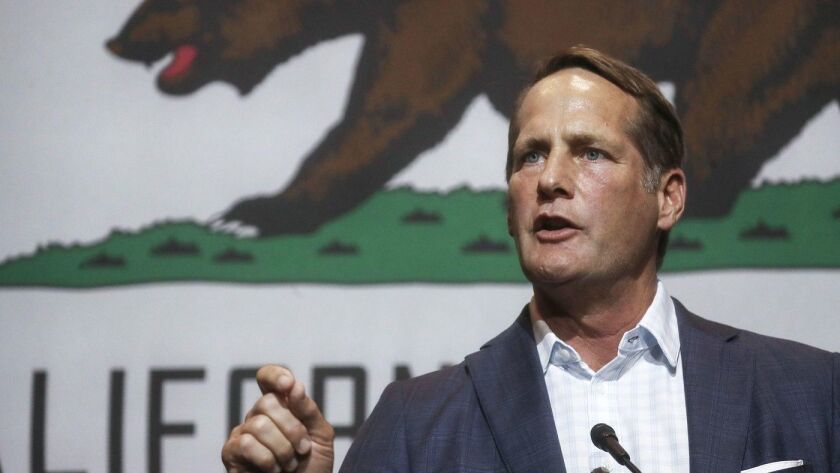 Rep. Dana Rohrabacher has lost the congressional seat he has held for 30 years.
The Costa Mesa Republican's defeat in the 48th Congressional District to Democrat Harley Rouda, a real estate entrepreneur from Laguna Beach, was projected Saturday night by the Associated Press. Rouda, 56, a former Republican, had already declared victory Saturday morning, saying he was "deeply humbled and honored to have the opportunity to serve."
The 48th District includes Huntington Beach, Costa Mesa, Fountain Valley, Newport Beach and Laguna Beach.
Dale Neugebauer, a spokesman for Rohrabacher, 71, noted there were more ballots to be tallied and said the campaign would not have an official statement until the count was complete.
More than 360 Orange County employees have been working 12 hours a day six days a week to process uncounted ballots since Tuesday's election. Rouda's edge over Rohrabacher had been expanding since Election Day, and Saturday's tally gave him a lead of more than 8,500 votes.
Rouda's win in a district where Republicans have a 10-point voter registration advantage came after two decades of erosion in the Republican base and at a time when Rohrabacher's ties to Russians have become more controversial.
"The Russian thing was ridiculous," said Tony Quinn, a demographer and California campaign analyst. "That didn't help him."
Neither, apparently, did his support for President Trump.
During the campaign, Rohrabacher, a speechwriter for former President Reagan, doubled down on his advocacy for Trump and his hard-line immigration policies — neither of which are popular in the 48th District suburbs. And his vocal support for Russian President Vladimir Putin became a heavy liability after Russia's alleged meddling in the 2016 presidential campaign.
Rohrabacher hadn't had a serious challenge for his seat until this year. Few members of Congress have been as enigmatic as the Hawaiian-shirt-wearing Orange County surfer who has crusaded with equal passion for the Kremlin and federal marijuana legalization and once took up arms with the mujahedin in Afghanistan.
He has been an avuncular presence in his district, going to Eagle Scout badge-pinning ceremonies, speaking at junior high schools and opening yacht club sailing seasons in Newport Harbor.
However, "the district became much more of an anti-Trump suburb and he no longer connected to the people there," Quinn said. "He had an opponent who was a former Republican businessman, not some wild-eyed lefty. And for at least two years, people were willing to try something new."
Meanwhile, in the state's 74th Assembly District race, Cottie Petrie-Norris, another Laguna Beach Democrat, extended her lead Saturday over incumbent Matthew Harper (R-Huntington Beach) to 1,817 votes.
On Friday evening, figures from the Orange County registrar of voters office had shown Petrie-Norris leading by 1,642 votes. Harper had led slightly earlier in the week.
The 74th District includes Costa Mesa, Laguna Beach, Newport Beach and part of Huntington Beach.
In the tight race for the District 3 seat on the Newport Beach City Council, challenger Tim Stoaks continued to hold a 330-vote lead over incumbent Marshall "Duffy" Duffield.
The next vote-count updates are scheduled for 5 p.m. Monday. They are posted at ocvote.com.
---
All the latest on Orange County from Orange County.
Get our free TimesOC newsletter.
You may occasionally receive promotional content from the Daily Pilot.