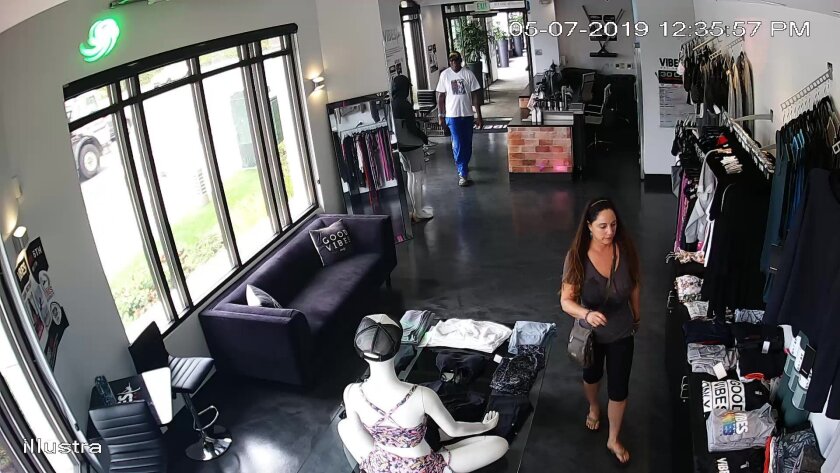 An arrest warrant has been issued for a woman seen on security footage with former NBA star Dennis Rodman and two other people in an upscale Newport Beach yoga studio where the owner alleged they stole clothing and a 400-pound crystal.
Misty Anne Sacapano, 44, was charged June 6 with one count of felony grand theft and one count of shoplifting in connection with alleged thefts May 7 and 8 at Vibes Hot Yoga at 100 W. Coast Hwy., according to court documents.
The Newport Beach Police Department is "not moving forward with [investigating] anyone else" in connection with the case, spokeswoman Heather Rangel said Wednesday.
Newport Beach yoga studio alleges Dennis Rodman and others stole clothing and a 400-pound crystal »
Ali Shah, who with his wife, Ariana, owns Vibes Hot Yoga, said he watched the May 7 events unfold on live security video.
The video shows two women and two men, one of whom Shah identified as Rodman, enter the shop and stay about 20 minutes. As others speak to an employee, one of the women is seen apparently putting articles of clothing in her bag and placing their hangers under other merchandise.
The employee told the Daily Pilot shortly afterward that the four told her the "ginormous geode amethyst crystal" that was for sale for $2,500 belonged to one of them and they were there to retrieve it.
"They gave me false information," she said.
The next day, a different employee arrived to open the studio for afternoon and evening yoga classes and found two people outside.
According to Shah, surveillance video shows Rodman, whom the employee didn't recognize, trying to distract the worker as a woman who Shah said was there the day before grabbed three or four articles of merchandise, hangers and all. The two were in the studio for about 10 minutes, Shah said.
Shah said a total of $3,500 in merchandise was taken in the two incidents, including a pair of $359 leggings, a $300 top and items priced at $100 to $118 from upscale brands such as Spiritual Gangster and Lululemon.
Rodman told TMZ on May 10 that he and his companions didn't steal from the studio. "They gave us the clothes," Rodman said.
In a separate interview, he told KCBS-TV/2 that he was told at the studio, "Dennis, get anything you want."
"I said, 'OK, great,'" Rodman said.
Shah reacted to Rodman's statement by saying, "If that was the case, why didn't you do it like normal human beings … instead of stuffing it in your purse?"
"They should treat people the way they want to be treated," Shah said Wednesday. "It's just really unfortunate that it happened."
---