Fullerton's Ashley Sanford is a standout on the national hot rod racing scene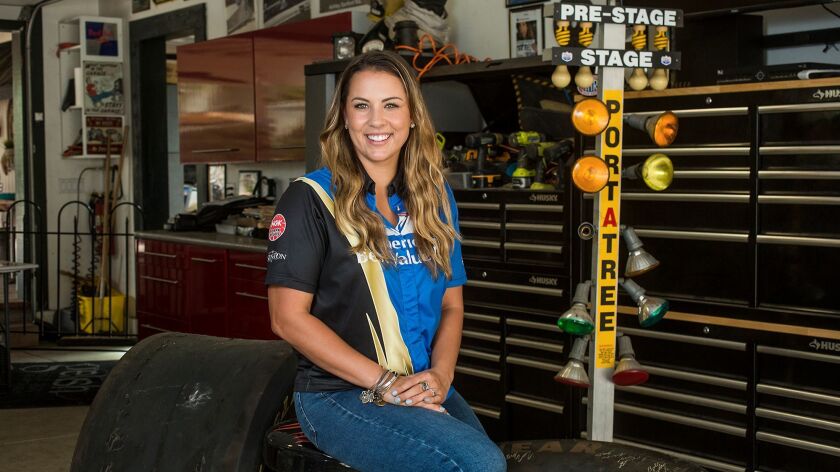 Ashley Sanford is moving up in the world.
From 273 to 323 miles per hour.
As a driver in the National Hot Rod Assn., the 23-year-old Fullerton resident recently made the jump from the top-alcohol class to top-fuel class, the sport's highest level.
That's like going from minor league baseball to the major leagues, from college football to the NFL.
Sanford, who has been competing in the top-alcohol class for the past five years, made her top-fuel debut Aug. 30 at arguably the most prestigious NHRA event of the season: the U.S. Nationals at Lucas Oil Raceway in Indianapolis.
"I'm still running on high from it," Sanford said. "It was literally the most incredible experience of my life. That pure power that pushes you against the seat and then again when you hit the parachutes. You feel like you are an astronaut. It was beyond incredible."
Sanford is in a minority, not only as one of the youngest drivers competing in an NHRA top-fuel dragster, but also as one of the few women.
The hot rod association is one of the few sports in which men and women compete head-to-head.
"You feel like there are more eyes on you," Sanford said. "Whether it's being a girl or whether it's being young. All I can do is go out there and do my best, show them what I've got and let that speak for itself."
But women in the NHRA are not merely competing.
They are winning.
Brittany Force of Yorba Linda and Leah Pritchett of Redlands are currently in third and seventh place, respectively, in the NHRA top-fuel season standings.
Pritchett defeated Force in the finals of the Arizona Nationals in February, the first all-female final since 1982.
"Women have proven we are so capable of doing it," said Sanford, who will compete in her second top-fuel event this weekend — the NHRA Midwest Nationals in St. Louis.
To earn a top-fuel license, Sanford had to make two successful runs in a top-fuel dragster. She reached a speed of 318 mph in her first run and hit 317 mph in the second.
"The cars are incredibly hard to drive," Sanford said. "You have to do everything perfect."
In the U.S. Nationals, Sanford qualified 14th of 18 drivers.
But in her second qualifying pass, the left tire malfunctioned. Sanford managed to maintain control and force the dragster to a stop, averting potential disaster.
"That is why drag racing is so insane," Sanford said. "Anything can happen and you have a millisecond to react."
In the first elimination round, Sanford lost a close race to No. 3 qualifier Steve Torrence, the eventual winner of the competition.
"There was not an emotion I did not feel that weekend," said Michele Sanford, Ashley's mother. "You are scared. You are nervous. You are happy. Everything. She proved herself."
Sanford drew plenty of attention from the media at Indianapolis, as well as praise from her peers.
"Ashley is doing a bang-up job representing this sport so well," Pritchett said.
Win or lose, Sanford is living a dream she has had since her childhood, and living it with the full support of her family.
Sanford's father and grandfather both raced competitively and her earliest memories are watching her dad, Shane Sanford, compete.
"To me, that was normal," Sanford said. "Seeing him race and having that feeling of wanting to be like my dad."
She raced quads in the sand for 10 years starting at age 8.
When Ashley was 19, Shane Sanford spent $150,000 to purchase her top-alcohol dragster, selling his racing vehicles to help raise the money.
She's been competing in NHRA events ever since.
"She's proven she can handle a top-fuel dragster," Shane Sanford said. "She is really good in all aspects."
With the season winding down, drivers, including Sanford, are courting sponsors for the next season, which begins in February.
"When everything started falling into place, we knew it was meant to be," Michele Sanford said. "We knew once she started racing top alcohol she could race top fuel. We said give it five years and it's been five years."
LOU PONSI is a contributor to Times Community News.
---
All the latest on Orange County from Orange County.
Get our free TimesOC newsletter.
You may occasionally receive promotional content from the Daily Pilot.