Brea school will retain name that appears on list of possible KKK members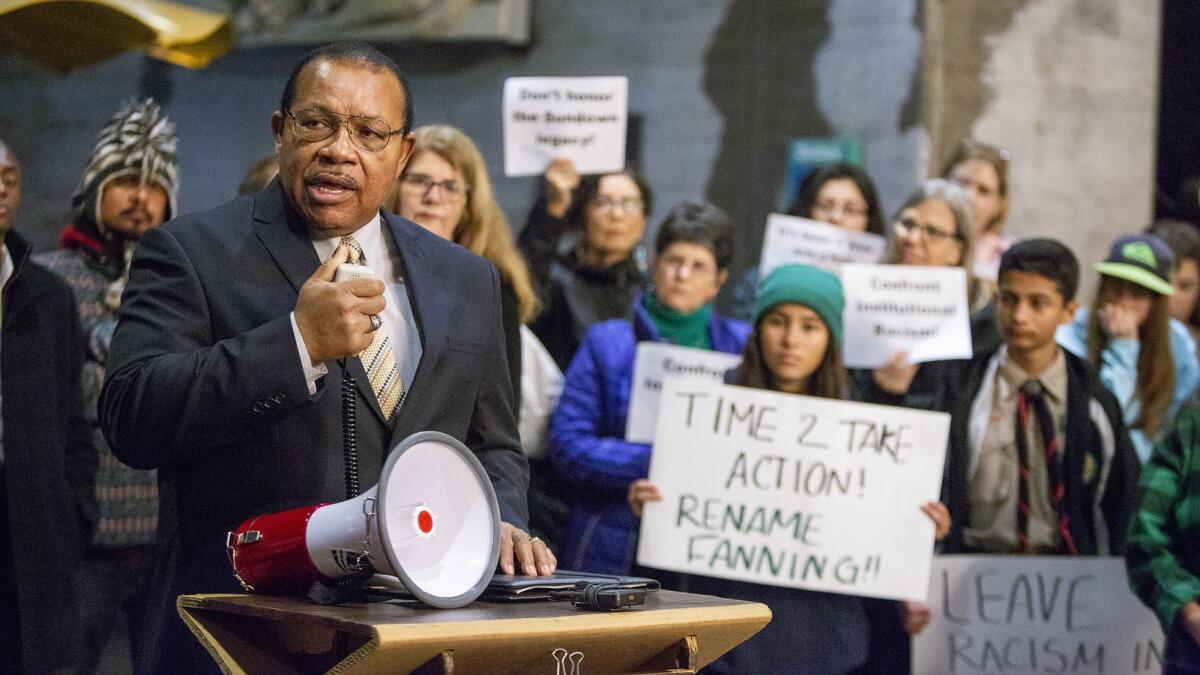 Despite challenged claims that he belonged to the Ku Klux Klan, a former superintendent's name will remain on a Brea elementary school.
The Brea-Olinda Unified School District board voted 4-1 Monday to change William E. Fanning Elementary School to the Fanning Academy of Science and Technology. Board member Keri Kropke dissented.
A group of activists formed a campaign to rename the school about a year and a half ago. They claim William E. Fanning, a former Brea-Olinda superintendent, had ties to a local KKK chapter in the 1920s.
Opponents of jettisoning his name argued that there is insufficient evidence to tie Fanning to the klan. A local historian and a member of the Fanning family supported this assertion but many in the crowd remained unconvinced over the course of the four-hour meeting.
Some who supported keeping Fanning in the name wore blue shirts and sweatshirts emblazoned with his name. Those who wanted the name change held up signs in protest. Board President Gail Lyons asked for civility while others spoke.
Board member Carrie Flanders and Vice President Paul Ruiz agreed that there wasn't enough evidence to disassociate Fanning's name with the school.
Flanders said it didn't seem possible to prove the assertion.
"We have to sift through truth and find what a reliable source is," Flanders said.
Groups battle over renaming Brea elementary school possibly linked to racist past »
The primary source used to link Fanning with the KKK is a list of names on file at the Anaheim Heritage Center that some believe is made up of former klan members. Fanning's name appears on that list.
However, the origins of the list, including who authored it, are unknown.
The board considered five choices to suit its new science and technology focus: Brea Academy of Science and Technology, Falcon Academy of Science and Technology, Heritage Hills Academy of Science and Technology, Fanning Academy of Science and Technology and William E. Fanning Academy of Science and Technology.
Initially, Kropke and board clerk Nicole Colon agreed the district should disassociate itself with Fanning.
They voted for Heritage Hills Academy of Science and Technology.
"Nobody is trying to condemn the Fanning family," Kropke said. "This isn't a trial. This is about a school we can give new life to and extricate it from controversy."
Lyons said she struggled with the decision, calling the Fanning name a community "lighting rod."
"When you have a flash point, what do you do to solve that?" Lyons said.
In clarifying her last-second switch after the vote, Colon said she changed her decision as a symbolic gesture to show support for the school because she knew the Fanning Academy name would be approved. She said her preference for the school name remains Heritage Hills Academy of Science and Technology.
"I wanted to be in support of the school," Colon said. "My point was never to condemn Fanning."
William Fanning, grandson of the elder Fanning, was visibly emotional after Monday's decision. He has surveyed family members — none of whom recall an an association with the KKK.
"We're pleased with the board's decision," Fanning said. "Now the attention should be placed back on the students of the school."
Members of the renaming campaign were frustrated with the outcome.
"We are very disappointed obviously," said Mike Rodriguez, an original member of the group supporting the renaming. "But we started a conversation about the city's racist legacy. We brought it out in the open."
A major reference for the group was a 2011 OC Weekly article by Gustavo Arellano which details Fanning's potentially divisive past. Arellano, who now writes for the Los Angeles Times, wrote a series of articles exposing possible members of the KKK in Orange County using the list at the Anaheim Heritage Center as a reference.
Rodriguez said he wasn't sure what the group's next steps will be.
"We will go back to the drawing board," he said.
All the latest on Orange County from Orange County.
Get our free TimesOC newsletter.
You may occasionally receive promotional content from the Daily Pilot.