Goodwill of Orange County's shopgoodwill.com combines charity with business acumen
A 35,000-square-foot warehouse in Santa Ana filled with donated items serves as a testament to human kindness and business savvy.
The building, owned by Goodwill of Orange County, houses materials that are sold on shopgoodwill.com, which was recently ranked the second best auction site, only to eBay, by Lifewire, a technology publication.
The difference between the two auction sites is that more than 90% of every Goodwill sale goes back into the organization's programs to help struggling people find jobs. Many of the Shopgoodwill.com employees are program participants.
The site has sold more than 20 million items for $516 million since Goodwill of Orange County created it in 1999.
With recent renovations to the site making it more user friendly for computers and mobile devices, it's expected to continue growing, said Frank Talarico, president and CEO of Goodwill of Orange County.
Currently, 160 of the 162 international Goodwill territories are contracted with the Orange County group to resell items on the website. At any time, 116 of them are actively selling their donated goods.
Each Goodwill then collects the money it makes from its own sales.
In return for using the service, the Orange County branch charges an average sales fee of 2 to 2.5% to each territory. Talarico said most e-commerce sites charge about 10%.
"The reason for this is we are Goodwill and we are doing this for other Goodwills," Talarico said. "The priority for us is to maximize each reseller's income."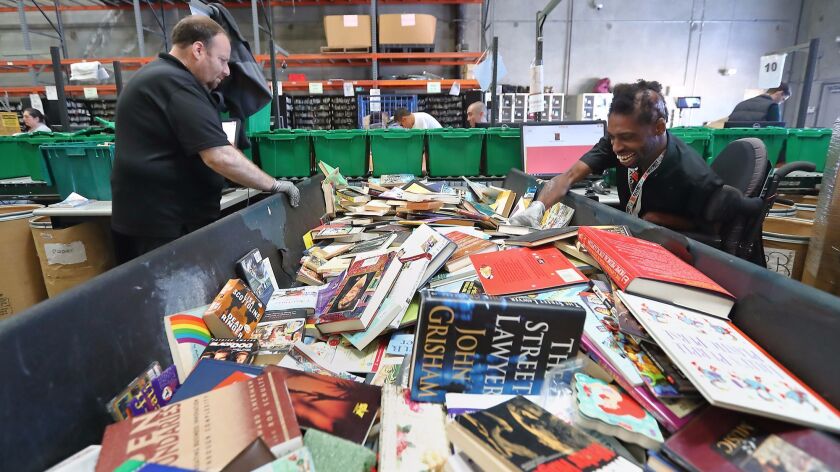 Talarico said his organization started the auction site to adapt to an evolving media landscape. He's been with the group for about six years.
While the group is charity driven, it has to compete within the market in order to maintain its services.
"While this is owned and operated by a charity, we are a social enterprise," Talarico said. "If we don't conduct business as a traditional for-profit, with the eye towards maximizing revenue of donated goods, then we can't satisfy our programs and services.
"It's important that people understand we are very much a serious retailer and that we have to keep our eye on how to maximize our revenue. We can't make good on our promises otherwise."
Talarico said the Orange County group has been known as an innovator within the larger umbrella organization.
Apart from the auction site, they've opened several upscale boutique stores within the past few years as a means to sell their luxury donated items.
The group was recently selected to receive the 2018 Guardian of Justice award from the Hispanic Bar Association of Orange County, which promotes the local Hispanic legal community. Goodwill of Orange County served about 5,800 Hispanics in the county within the last year.
Talarico said the group will continue innovating.
They'll soon be launching a companion application to the auction website that can be downloaded onto a phone to further streamline the shopping experience.
"The cornerstone to what we do is we have always believed in a hand-up, not a handout," Talarico said. "That resonates with folks."
Twitter:@benbrazilpilot
---
All the latest on Orange County from Orange County.
Get our free TimesOC newsletter.
You may occasionally receive promotional content from the Daily Pilot.