Goodwill goes upscale with new boutiques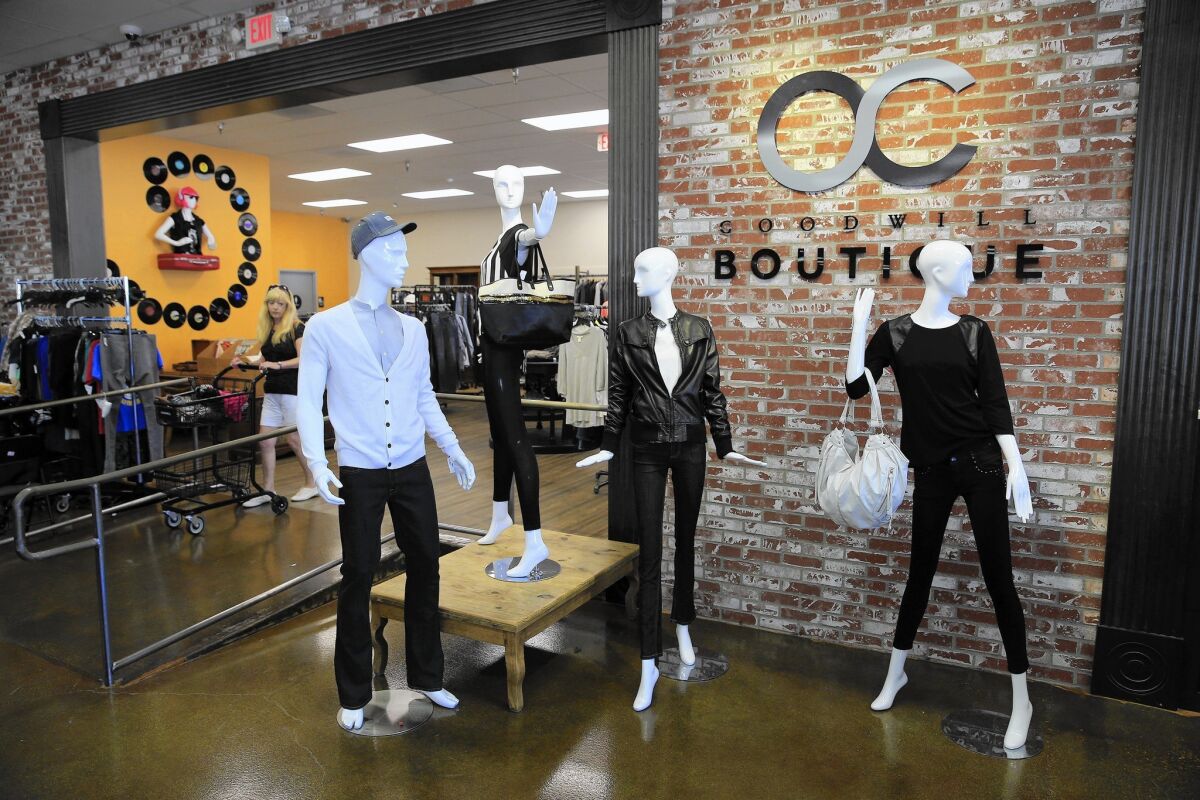 The trappings of an upscale boutique are there: exposed brick, mannequins draped with flashy clothing and designer brands.
But the prices are decidedly cheap chic — the Stuart Weitzman black pumps that go for $350 at Bloomingdale's are a steal at $12.99 — and the store's owner is the last many associate with glitz: Goodwill.
Indeed, the new Huntington Beach outlet is part of a little-known national initiative by the nonprofit provider of employment services to boost revenue and distinguish itself as it faces increased competition from other thrift stores and online retailers. It's a strategy distilled in the store's name — O.C. Goodwill Boutique.
The Orange County group has opened four high-end stores in the last two years and has plans for more, especially in the southern part of the county, where rents tend to be higher and residents wealthier.
"The boutiques set us apart," said local President Frank Talarico Jr. "This is a really nice way to expand. We are definitely not going to stop."
NEWSLETTER: Get the day's top headlines from Times Editor Davan Maharaj >>
The number of boutiques has doubled to about 60 nationwide since Goodwill Industries International about four years ago began encouraging its independent regional organizations to roll out higher-end stores in certain markets.
The goal is to take advantage of luxury donations and get a leg up on the competition, including for-profit thrift stores such as Buffalo Exchange and Savers that proliferated following the recession.
But as the economy improves, there's another potential head wind. Many shoppers are expected to migrate back to traditional retailers, according to a 2014 report from IBISWorld. It forecasts thrift industry revenue to decline, even though young adults are expected to increasingly look for "vintage" and "unique" clothing.
Part of the threat comes from auctions websites and e-retailers such as Amazon that offer a bevy of used goods in a flash.
"They need to give people a reason to go into thrift stores again, because they have the disposable income to shop where they want," said IBISWorld analyst Andrew Alvarez. "It forces them to step up their game."
The upscale locations haven't yet reached Los Angeles County, but the L.A.-area Goodwill Southern California held a pop-up boutique sale last weekend at its Santa Monica store and is evaluating the idea of permanent high-end locations.
The first Orange County boutique opened in Tustin in 2013, selling brands such as Prada, Burberry and Chanel, said Corrine Allen, vice president of retail operations for the Orange County organization. Then came another in Lake Forest a year later, and in December, Goodwill launched "Rare," a downtown Anaheim boutique that caters to the hipster crowd with a vinyl record listening station and clothing that skews younger, including a "great selection of flannels," Talarico said.
"When you walk into one of our boutiques stores ... the typical reaction we receive is, 'This feels like Abercrombie' or 'This is like Anthropologie,'" Talarico said.
The Huntington Beach boutique that opened in June on Beach Boulevard welcomes shoppers with wooden floors and artfully arranged clothing displays.
On a recent weekday afternoon, bargain hunters sifted through a variety of higher-end hand-me-downs, including a pink Ted Baker dress shirt for $9.99 and 7 For All Mankind women's jeans with frayed cuffs for $19.99. New at a department store, those goods likely would have fetched around $150 and $200, respectively.
"Oh my God, it's beautiful," said shopper Lourdes Ennis as she surveyed the store.
But while the goods are nicer, and better displayed than at most Goodwills, it's not all luxury. Ennis picked out a black blouse from fast-fashion retailer H&M discounted to $3.99.
"I will be back," the 49-year-old Huntington Beach resident said, a Chanel purse slung across her shoulder. "I do like high end. If I am here, you know they have good stuff."
Upscale donations aren't new for Goodwill, especially in Orange County, where the median income of $75,500 is nearly $15,000 higher than California as a whole.
But the initiative is allowing Goodwill to sell donations previously scattered at its typical warehouse-like stores at the boutiques — in wealthier communities and at higher prices. For example, the same pair of jeans may cost $7.99 at a traditional Goodwill, but fetch $15 or $19 at a boutique, Allen said.
Gregory Stoffel, a shopping center consultant based in Irvine, said the strategy makes the consumer experience less of a scavenger hunt, but Goodwill may face difficulty finding quality locations, because landlords usually prefer new goods retailers that attract customers less focused on a bargain.
"A lot of developers, on a really good center, might not consider a Goodwill concept," he said.
Allen acknowledged it can be a struggle for Goodwill to open its traditional stores because many shopping centers aren't zoned for thrift stores.
SIGN UP for the free California Inc. business newsletter >>
Even the Tustin boutique, which opened in 2013, faced some pushback. A local property owner said in an email to the planning commission that the upscale thrift store would "downgrade" the area. And a Tustin councilwoman appealed the planning commission's approval just because of its location. Goodwill, however, emerged victorious.
"It was like an eight-year process to get into the city of Tustin," said Allen, who said officials and the community now "love it."
The bottom line for the new boutiques is, of course, more revenue. So far, customers on average are spending between $5 and $9 more than the $15.45 shoppers tend to spend per trip at a traditional Orange County store, she said.
That will help Goodwill provide more services to its clients, who have difficulty getting jobs, whether because of disabilities, drug addiction, criminal records or other barriers to employment.
"The only reason retail is relevant is because we are using the money to serve," Talarico said.
Shoppers at the boutiques may find suits by Newport Beach-based designer Mark Pomerantz that typically start at nearly $2,900.
Pomerantz describes his regular customers — businesses executives, athletes and celebrities — as clothing "connoisseurs." He said he encourages and helps such "gentlemen" donate their old Pomerantz suites when he updates their wardrobes. His company also frequently drops off samples for Goodwill.
He said the boutiques not only boost revenue for the nonprofit, but they ensure his suits are viewed in the surroundings they deserve — even if the price tag might be $100.
"This," he said, "is the right spot to donate."
ALSO:
Is Amazon's hard-charging workplace exploitative?
Despite rocket explosion, aerospace firm Orbital ATK's profits are soaring