Will road capacity keep up with Rancho Mission Viejo's rapid growth?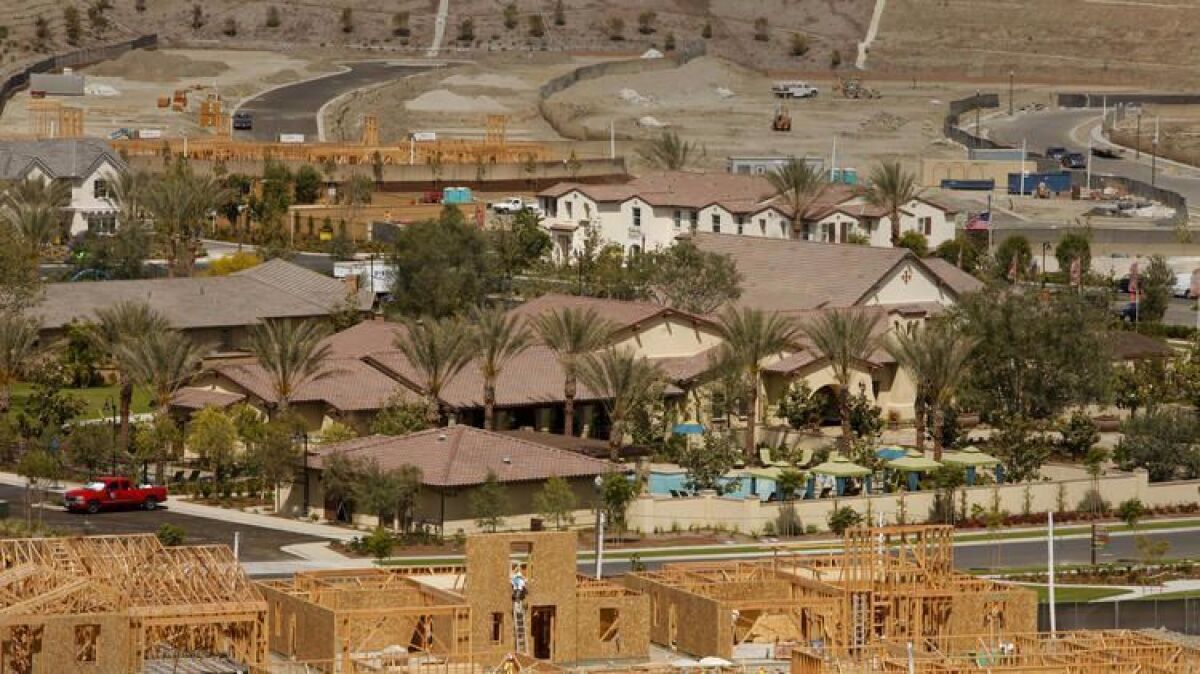 As home sales continue to boom in Rancho Mission Viejo's last planned community, officials in neighboring cities are questioning how they'll withstand an influx of cars and people.
"We are rapidly acquiring a city," San Juan Capistrano Mayor Kerry Ferguson said at a recent City Council meeting.
But as development continues in what will eventually be a 14,000-home community twice the size of Ladera Ranch, new roadways are taking shape that planners say could alter traffic habits in south Orange County.
Businesses are coming too, with a 98,000-square-foot business center hosting Gelson's grocery store, Rite Aid and Chevron set to open at Ortega Highway and Antonio Parkway this summer.
The destination fast food restaurant In-N-Out Burger also is considering space there, according to vice president for development Carl Arena, who cautioned, "we are still in the very, very early stages of that process." The company tried opening in San Juan Capistrano but withdrew in 2011 amid opposition from the City Council.
All this comes amid an ongoing struggle to complete the long-planned widening of Ortega Highway within San Juan Capistrano and brewing battles there and in San Clemente over new options from the Transportation Corridor Agency for extending the 241 Toll Road.
But it also comes on the heels of last summer's opening of La Pata Road between San Juan Capistrano and San Clemente and amid a widening project on the 5 Freeway. It's also part of a plan approved by the county Board of Supervisors in 2004 that will include new east-west and north-south arterials for the growing Rancho Mission Viejo population.
"We are not a bedroom community," said Richard Broming, Rancho Mission Viejo's senior vice president of planning and entitlement. "This is for a thriving area that provides housing and jobs."
Construction began in March on the next phase of Cow Camp Road, which by the end of 2020 will extend five miles from Antonio to Ortega, near Casper's Wilderness Park.
Grading also recently started on the north-south Los Patrones Parkway, which will connect Oso Parkway to Cow Camp. It will extend 4 ½ miles on the east side of the eventual 2,800-home Esencia area, providing a new northerly connection for Ortega commuters.
Broming called Los Patrones, which is expected to be complete by mid-2018, "significant not only for our residents but the surrounding areas."
It will serve a commercial area northeast of the soon-to-open Gelson's and Rite Aid center that will include a sports park, shopping and business center and a 75,000-square-foot medical center that will offer a range of employment, Broming said.
We are not a bedroom community. This is for a thriving area that provides housing and jobs.
— Richard Broming, Rancho Mission Viejo's senior vice president of planning and entitlement
But a potential hurdle remains: While the 2004 approvals call for the road to be public, the TCA is proposing designating it a Toll Road as part of the 241 extension.
Patrones is not among the 16 options for the 241 extension announced in December, but Ranch spokeswoman Diane Gaynor said TCA recently announced its intent to designate it a toll road.
The agency already has a financial stake in the parkway: While the Ranch is putting $85 million toward construction, TCA is contributing $15 million.
Ranch officials, though, appear unswayed: they noted in interviews and documents that their current county approvals for Patrones "designate it as a free, county-operated arterial."
TCA's other proposals to extend 241 have sparked sharp opposition in San Clemente, including a unanimous vote against them by the City Council. The San Juan Capistrano City Council also is considering formally opposing.
Meanwhile, people continue to buy homes in Rancho Mission Viejo at a rate faster than sellers originally anticipated. Rancho officials hoped to sell 300 a year when the first batch opened west of Antonio Parkway, which is named for Ranch CEO Tony Moiso.
Nearly four years later, all 286 apartments and 941 houses there accounted for, and 830 homes have sold in Esencia, where construction continues on what will eventually be 2,470 homes and more than 260 apartments. The 483 homes sold in 2016 was the 16th highest for master-planned communities in the United States.
"We've sold 200 homes in just the first four months of this year," said Gaynor, noting the $300,000 to lower $1 million price range. "The home pricing speaks volumes."
More development originally planned for a hillside west of the first 1,227 homes can be built elsewhere after the Ranch last year sold that land to Spieker Senior Development Partners for a retirement center that will include all levels of medical care and 480 independent living units.
San Juan Capistrano rejected the project in 2015 amid traffic and over-development concerns, but Troy Bourne, a partner at Spieker, isn't concerned about traffic from or to Reata Glen, expected to open in 2018.
Nearly 300 of the homes below Reata Glen are required to be occupied by people 55 or older, and Reata Glen's residents will be retired people with optional shuttles taking them to activities, Bourne said.
"They're not on the arterials at rush hour trying to get to freeways," Bourne said. "They'll be bee-bopping around town going to farmers' markets and what else."
Bourne lives in San Juan Capistrano and regularly drives Ortega Highway. He agrees widening the one-mile stretch that's currently two lanes makes sense, but he also envisions it staying congested during rush hour and the easterly developments becoming a north-south alternative to the 5.
San Juan Capistrano repaid OCTA $705,095 this year after the City Council in 2016 cancelled the widening. Caltrans is now proceeding with the $53 million project, though the agency still is working to secure full funding, said Lindsey Hart, a Caltrans spokeswoman.
The Orange County Transportation Authority in April allotted $14 million.
Other local residents say they mostly expect congestion on Ortega and other arterials during rush hour.
Mark Zonarich commutes from his home near Antonio and Ortega to Santa Ana and said he isn't bothered by the stop-and-go traffic. He's looking forward to businesses opening in the area, as well as the K-8 school that's scheduled to open in Esencia in fall 2018.
"That's why we bought out here," Zonarich said as he and his wife and two sons enjoyed a festival organized by the Ranch last month.
MEGHANN M. CUNIFF is a contributor to Times Community News.
All the latest on Orange County from Orange County.
Get our free TimesOC newsletter.
You may occasionally receive promotional content from the Daily Pilot.