Mailbag: Orange County does not need Poseidon's Seawater Desalination Plant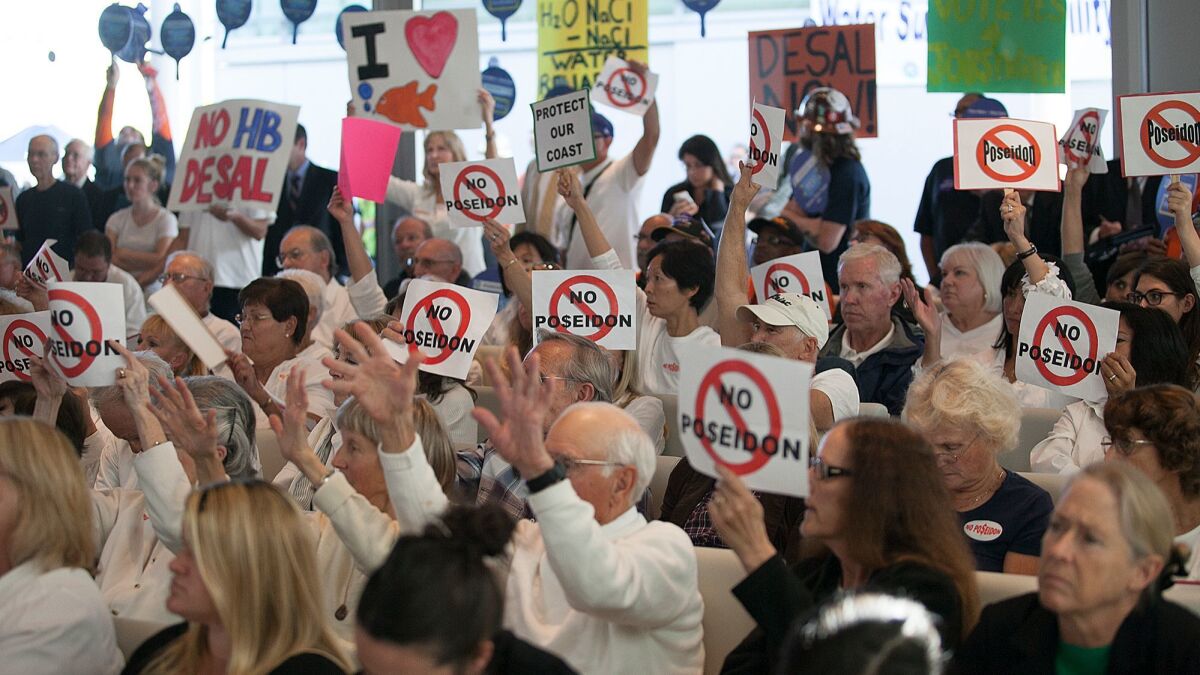 You probably don't need a 40-year career in engineering consulting in water resources management to tell you that bringing an iceberg or a huge bag of Columbia River water down to Southern California is not a sensible drinking water solution ("Commentary: Huntington Beach Seawater Desalination Plant will receive $585 million in credit assistance," Nov. 25). You don't need one to see that the Poseidon desalination proposal makes no sense in Huntington Beach either, but take it from someone who does when I say that this project is a foolish luxury Orange County does not need.
There are plenty of other nearby sources of water we have available that cost far less. The Orange County Water District manages an enormous groundwater basin that contains over 60 million acre feet of fresh groundwater beneath the northern two-thirds of the county. That's enough water for almost 480 million people to live on comfortably for a year.
OCWD has managed the Orange County groundwater basin very conservatively, only allowing pumping about 300,000 acre feet per year, about 0.5% of basin storage. OCWD captures Santa Ana River flows in large percolation ponds to regularly recharge the basin. Outside imported water supplies are also purchased for routine basin replenishment.
This groundwater basin is Orange County's ace up our sleeve. It provides huge comfort to know we will not be short of good fresh groundwater supplies to maintain our great economy and quality of life, even in a long-term drought emergency situation. Pumping down the groundwater basin a mere 5%, or 3 million acre feet, is enough of a water supply for 10 years, without any other outside sources of water to replenish the basin.
With this affordable, local and reliable water supply already in the bank, why is Orange County entertaining a proposal for 56,000 acre feet of desalted ocean water a year at triple the cost of other sources? No wonder only an insignificant 3,000 acre feet of Poseidon's water has purchase agreements from prospective water agencies.
The only plans for use of the remainder of this costly water is to inject it into freshwater aquifers to keep the seawater from getting in.
The problem with this plan? OCWD already uses up to 30 million gallons a day from its Ground Water Replenishment System. It is the largest wastewater purification project in the world that can treat up to 100 million gallons a day, at a fraction of the cost of desalination.
Plainly put, Poseidon's proposal is as incredibly stupid as it is expensive and unnecessary.
And yet Poseidon's salespeople keep spending their investors' money to push their insane project further, jostling for millions in public subsidies and loans they don't deserve.
In 2010, Huntington Beach approved what is now an outdated and deeply flawed environmental impact report. It completely missed important connected actions, such as the reality that nobody wants to buy Poseidon's expensive water — given the abundance of cheaper water that is already available — and that there is no plan to distribute the water in the local pipeline distribution systems.
Despite these deep flaws, the recently released draft permits released show very little effort made to address concerns raised by environmental and consumer advocates, and in fact, seem poised to give Poseidon everything they've asked for.
Why should we reward this private, for-profit company and expect anything other than the same poor performance they've delivered here and in other parts of the country?
When needed in the distant future, OCWD, as a public non-profit agency, will surely be able to build and operate a suitably designed and lower-cost alternative than what Poseidon Project is prematurely proposing today.
As I told Poseidon representatives 20 years ago, I wish they would take their salespeople and leave Orange County for good.
Kelly E. Rowe
Orange County Water District Division 7
Fountain Valley
Salt the desalination plant proposal
As a 35-plus year resident of southeast Huntington Beach, the area directly affected by the proposed Poseidon Desalination Plant, I take great exception to the commentary by Orange County Water District board member Jordan Brandman ("Commentary: Huntington Beach Seawater Desalination Plant will receive $585 million in credit assistance," Nov. 25.)
First of all, Brandman is a Democrat In Name Only (DINO) West Anaheim councilman. He is not affected by all of the negative impacts the Poseidon project would bring to coastal Huntington Beach. He also soft-soaps the costs that OCWD ratepayers would incur for the ultra-expensive water being produced and for the very expensive participation by the OCWD in constructing and maintaining the necessary water transmission lines.
Brandman crows about the Environmental Protection Agency low-interest credit assistance that he claims will save us millions. He is either ignorant of or ignores the fact that when Poseidon first came to town almost 20 years ago, they claimed their project wouldn't cost the taxpayers a dime.
To add insult to injury, Southeast Huntington Beach residents will have to put up with the major problems associated with tearing up streets and installing the huge pipeline for a boondoggle project that is not needed and not wanted. Brandman also claims that project construction will create 700 jobs over four years, few of which will go to Huntington Beach workers and almost all of which will be very temporary.
Is that worth mortgaging our coastal environment and condemning our ratepayers to decades of avoidable financial burden? The answer is no.
It is clear that this lipstick-on-a-pig effort to distract the public from the underlying truths surrounding this project is right out of the Poseidon propaganda playbook.
We are being sold right down the outfall pipe. The public needs to wake to the fact that Poseidon is a house of cards and all of them are jokers.
Tim Geddes
Huntington Beach
It's time to house those without shelter
I want to thank Galen Pickett for his heartfelt and important contribution about our homeless ("Mailbag: Though I live in a well-to-do neighborhood, I have gotten to known those without shelter," Nov. 25). My hope is that thousands of people read his letter.
Living near Mothers Market off of Adams Avenue, I see victims of homelessness, wondering what happened. What is their story?
Though I try to avoid Beach Boulevard but when necessary, I often pass a man who has one entire leg missing. I see him in his wheelchair next to a cart of all his worldly belongings, wondering where he sleeps and how he manages.
Recently I passed him too quickly to stop. I decided to go to the dollar store and put some things in a plastic bag for him along with cash. When I returned, he was gone.
As the powers of Huntington Beach discuss where they might put up a shelter, every day our homeless struggle in a way none of us in our warm homes could imagine.
Lynn Copeland
Huntington Beach
Spyglass residents thank NBPD
Residents of Spyglass Hill led by the Neighborhood Watch coordinator Therese Loutherback organized, planned and attended an appreciation day for our Police Department on Nov. 20. The main goal was to continue to have a close relationship between the Spyglass Hill community residents and the police who protect us.
Close to 60 officers headed by Police Chief Jon T. Lewis attended the event. Deputy chiefs Jay Short and Dennis Birch and Cmdr. Keith Krallman of Area 4, which patrols Spyglass Hill, were among the officers. Mayor Pro Tem Will O'Neill and Councilman Kevin Muldoon attended as well.
O'Neill is someone we are so thankful to, for his genuine care for the betterment of our community and also for his leadership in upkeep, safety and security.
Events such as these put community values in front, reestablishing the necessary bonds between the people and those who serve them.
K.E. Mehrfar
Newport Beach
How to get published: Email us at john.canalis@latimes.com. All correspondence must include full name, hometown and phone number (for verification purposes). The Pilot reserves the right to edit all submissions for clarity and length.
---
All the latest on Orange County from Orange County.
Get our free TimesOC newsletter.
You may occasionally receive promotional content from the Daily Pilot.