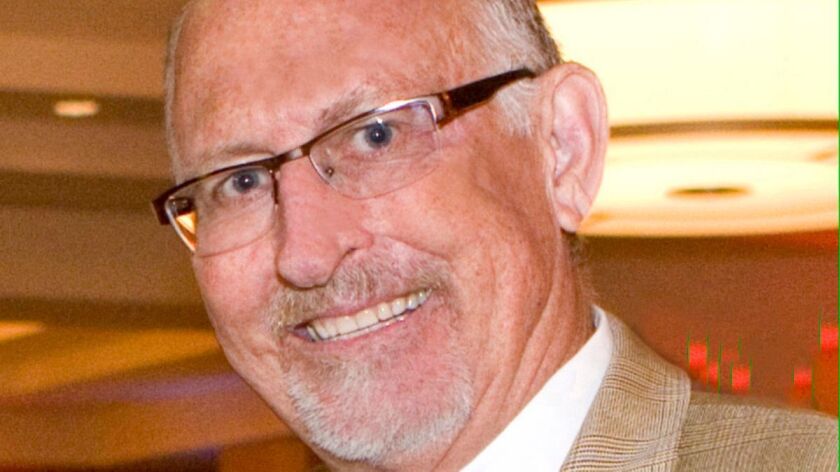 In an era when journalism is challenged on many levels, "The Orange County Press Club exists to support, promote, and defend quality journalism in Southern California," reads its mission statement. "We believe that a free press is crucial to a free society."
OC Press Club board member and Voice of OC Publisher Norberto Santana Jr. tells me it's important to "ensure a vibrant OC Press Club, especially in this era of fake news and questions about our trade."
Santana says there's value in journalists coming together by recognizing our craft, helping younger journalists get started and advocating for transparency and First Amendment issues.
The press club, founded in the 1950s, has about 175 members, according to Board President Roger Bloom.
Bloom, who worked for the Orange County Register and Daily Pilot, served as club president from 1992-93 and says, "I'm kind of like the Jerry Brown of the press club; every 20 years I come around."
The annual Press Club Awards Dinner takes place May 15 at the Balboa Bay Club. Local journalists will be honored for achievements in about 50 categories, including print, advocacy, blogs, broadcast and photography.
Even my Stasha the Wonder Dog, who "writes" a monthly column "Stasha Speaks" for Stu News Newport, entered the Best Lifestyle/Family Blog category.
Bloom welcomes the entry, quipping, "We're a big tent club. If you're interested in journalism, we're not going to count the number of your legs."
Entrees were submitted in March and then parceled out to be judged by press clubs in Cleveland, Idaho and San Francisco. The OC Press Club judges these clubs' awards as well.
Winners don't know if they've won prior to the dinner, but let's face it, this isn't the Oscars and protocols here are a bit different.
"We let people know it might be worth their while to show up, but we don't tell them if they won or not," Bloom says.
The most coveted award is the Sky Dunlap Lifetime Achievement Award. It's the highest honor bestowed by the club and is named for John William "Sky" Dunlap, 1912-1968, who owned and published The Globe, an independent O.C. newspaper, with his wife, Velma Bishop .
Past recipients include Frank Mickadeit, formerly of the OC Register; Gustavo Arellano, editor of OC Weekly; and Steve Churm, former chief executive of Churm Media.
This year's winner is my mentor, the man who gave me my first writing job: Tom Johnson, former publisher of the Daily Pilot.
Johnson is now publisher of Stu News Newport, a twice-weekly online news source launched in September. He also serves as president of the Costa Mesa Chamber of Commerce and is the on-air radio personality on KOCI with Stu News Newport, a Sunday program to which I contribute.
He's received many awards for his involvement in the community, including Newport Beach Citizen of the Year, 2011; Costa Mesa Man of the Year, 1998; and Newport Beach Commodore of the Year, 1999.
Johnson also was publisher of the Daily Pilot from 1991-2008.
He certainly is well-deserving of this award and respected by his peers.
"The Daily Pilot continues to benefit from the foundation Tom Johnson put down so many years ago when we were on Bay Street," says John Canalis, who oversees the Pilot as executive editor of Times Community News. "He lifted what was then a struggling paper and turned it into one that is not only financially viable but also journalistically sound and deeply connected to the communities it serves. The work he did here was lasting."
Santana adds, "Tom represents the best of our field and local community. With deep roots in Orange County over the course of so many years, he's worked energetically both as a publisher and writer, across numerous platforms (print, online, radio, mainstream, and nonprofit) to get people news about their community, I admire his dedication to his craft and community as well as his accessibility and adaptability over his career."
Johnson has a long legacy as a newsman in O.C.
"I'm very pleased and excited that the club will be honoring Tom Johnson for his decades of service to journalism and the Newport-Costa Mesa community," says Bloom, who worked with Johnson at the Newport Beach Independent. "Tom is a great man who embodies the spirit of professionalism and service, and countless people's lives are better because of his efforts."
The public is welcome to attend the dinner. Tickets are $65 for nonmembers and can be purchased at https://www. orangecountypressclub.com
BARBARA VENEZIA lives in Newport Beach. She can be reached at bvontv1@gmail.com.
---