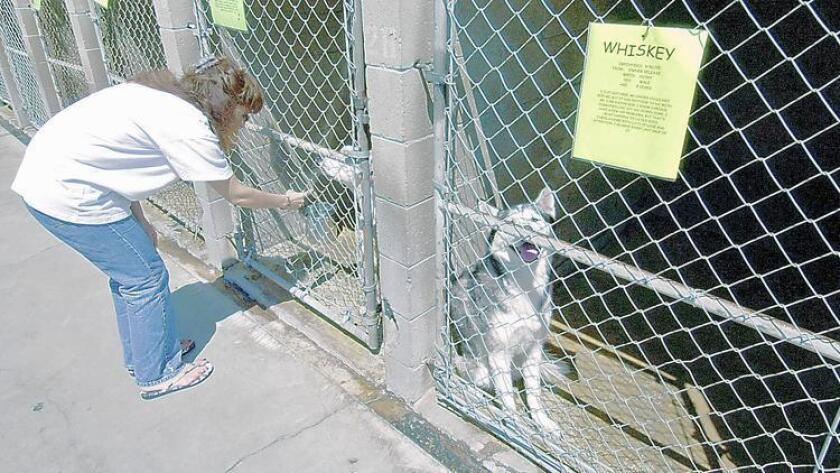 The good news is Costa Mesa is moving toward getting its own animal shelter.
The bad news is the city's Planning Commission voted Monday to get in bed with the Orange County Humane Society to develop and operate a shelter at 642 Baker St.
To give you some background, Costa Mesa's strays are currently taken to the Humane Society's shelter in Huntington Beach. That contract has been in place since 2009.
The facility, at 21632 Newland St., also serves the city of Garden Grove.
Readers may remember that Newport Beach canceled its contract with this shelter back in 2015 over concerns about how animals were treated there.
Afterward, the city began using its own shelter at 20302 Riverside Drive, in West Santa Ana Heights. The area is zoned for kennels.
In 2007, I was chairwoman of the Santa Ana Heights Redevelopment Agency Project Advisory Committee while negotiating the annexation agreement for this area.
We fought hard to keep this zoning in the agreement when West Santa Ana Heights was annexed by the city from the county in 2008.
Little did the committee know then that years later, this would pave the way for Newport to take care of its own animals.
Now it's up to Costa Mesa to take a cue from Newport and create its own shelter. However, I strongly believe it shouldn't be with this organization from Huntington Beach.
Why get in business with people who have a sketchy past?
Based on Yelp reviews of the Huntington Beach shelter, things there are not good. Users rate it two stars out of five.
Reading the 56 online reviews should give Costa Mesa's council reason alone to pause and rethink this Planning Commission decision.
I also looked at Humane Society's website expecting to see links or mention of other nonprofit rescue organizations affiliated with a shelter. I saw none there. That raises a red flag for me.
And what of the OC Animal Care investigation into the Huntington's Humane Society this year?
Has Costa Mesa studied it?
Costa Mesa Councilman John Stephens tells me he is aware of the study. We also talked about the fact that the shelter was denied a kennel license in 2017.
Stephens said he visited the shelter recently with other officials and found conditions there to be good, which seems to have put his concerns at rest.
But as I told Stephens, doesn't everyone clean their house when expecting company?
Stephens tells me since the Planning Commission decision, he's gotten emails from residents opposing the idea of the Humane Society running a Costa Mesa animal shelter. He's taking those concerns into consideration.
So will he be the one to lead an appeal here?
He says he's still thinking about it, but he's open to the idea.
"Appealing something doesn't necessarily mean that you disagree with it. It means that you want to look at it on the City Council level because it is important to residents," he says.
Are there alternatives the city could look at if it decides not to go ahead with the current plan?
Stephens says Costa Mesa could create something from the ground up as Newport did. It could also explore partnering with Newport's facility.
As Stephens and I discussed the issue this week, he certainly acknowledged the success Newport has had with its effort and how the community has embraced the shelter effort.
As I wrote last week, the nonprofit Friends of Newport Beach Animal Shelter (FONBAS) has raised an estimated $30,000 so far just by word of mouth. The group is having its first "Howl-O-Ween" costume party fundraiser Saturday at Marina Park.
It's a fine example of a public-private partnership initiated by residents.
Is there that same passion for animals among Costa Mesans?
I think there is.
One thing you can say about the folks in that city is they take every opportunity to get involved to better their community.
They also initiate change when need be.
I feel the time is right for residents and the city to work together in creating a shelter that's truly something to be proud of.
It doesn't make sense to have outsiders with baggage run a shelter when Costa Mesa could do it better.
Stephens estimates about 75% of residents have dogs. He felt that way based on his precinct walks as a candidate.
As an advisory board member of FONBAS, I've seen a great outpouring of support from the community. I believe Costa Mesa would see the same if it had its own shelter.
As stated by Nobel Prize-winning novelist Pearl Buck, "The test of a civilization is in the way that it cares for its helpless members."
It's time for Costa Mesa to step up and do the right thing.
BARBARA VENEZIA lives in Newport Beach. She can be reached at bvontv1@gmail.com.
---