UC Irvine men's basketball hopes to defend Big West crown
The UC Irvine men's basketball team will look to build off its most successful season in program history during the 2019-20 campaign.
Coach Russell Turner is the second winningest coach for UCI, but by some measures, he already stands alone.
Entering his 10th season in charge, Turner has guided UCI to 188 wins and its only two appearances in the NCAA Tournament.
The Anteaters punched their ticket into March Madness last season by winning the Big West Conference Tournament, which came as part of a school-record 17-game winning streak. After going 31-6 overall and 15-1 in the Big West last season, UCI earned its first NCAA Tournament victory with a 70-64 upset of fourth-seeded Kansas State.
In the second round, the Anteaters were knocked out by Pac-12 Tournament champion Oregon 73-54.
"What I remember most about last year was definitely the [NCAA] tournament," returning senior guard Evan Leonard said. "It was the first experience for a lot of the guys on our team.
"I just felt like our team was ready, as a whole. We had a rough year two years ago, but we knew we were bringing back the same team. I feel like we were ready, and we were able to show how good [we were]. We were able to improve throughout the season, and we were able to get a couple of good wins."
An all-senior starting backcourt will lead the way for UCI this season. Leonard, a Cerritos High alumnus who led the Anteaters in shooting from the three-point line (41.4%) and free-throw line (85.4%), will be accompanied by Eyassu Worku. Formerly a standout at Los Alamitos, Worku led the Anteaters in assists (2.9 per game) last season.
Turner, whose Anteaters open the season at the University of San Diego on Nov. 5, has seen his teams finish with winning records for the past seven seasons. He preaches the importance of defense, rebounding and depth, especially when postseason hopes come down to the three-day conference tournament.
"That's been the key to our sustained success is we've never been a team that is about one or two guys," said Turner, whose team hosts UC San Diego in an exhibition game at Bren Events Center on Friday at 7 p.m. "We're a team that is about the whole group. We defend and rebound every year, and we play a bunch of guys.
"Over the course of three days, I think that matters. Last year, clearly, the championship game, we were the freshest team, and that helped us win in such a convincing fashion."
UCI beat Cal State Fullerton 92-64 in the Big West Tournament final at Honda Center last season.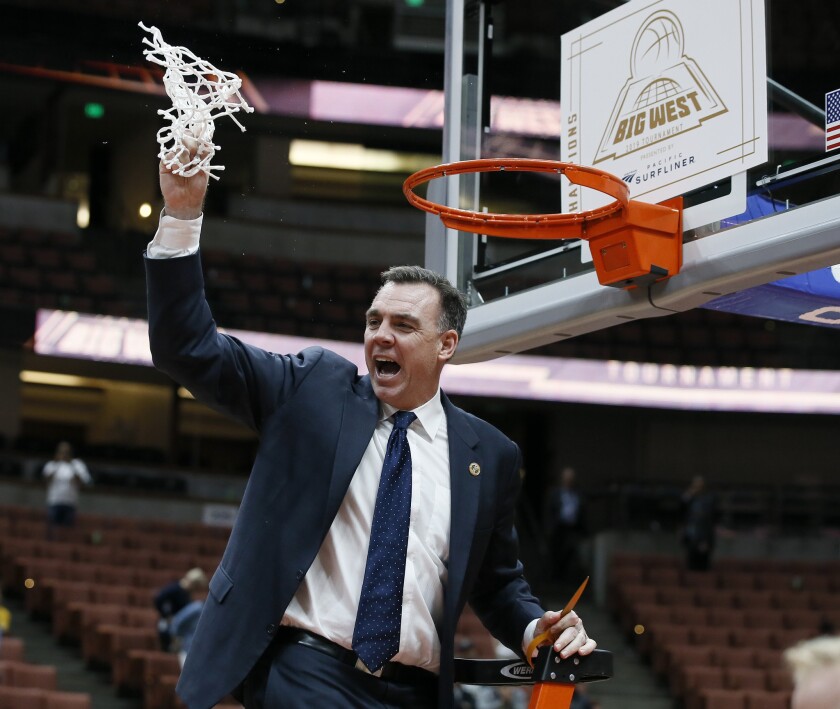 Senior forwards John Edgar (Chino Hills Ayala) and Tommy Rutherford (El Cajon Grossmont), along with the team's starting backcourt, are part of a Southern California core that Turner is high on.
"Having those four guys as seniors gives me great hope for this season because those four guys all were starters back when they were sophomores," Turner said. "They've grown in our program and are champions now, and I think we have a chance to be really good again."
For the past six seasons, an Anteater has taken home the Big West Conference Defensive Player of the Year Award. Recent graduate Jonathan Galloway did it three times, Mamadou Ndiaye twice and Will Davis II once.
Turner said that incoming freshman Jeron Artest, the son of Metta World Peace, has shown promise as an on-ball defender.
"On the ball defensively, he is a problem for even some of the best players on our team," Turner said of Artest. "I know if he can do that to them as a freshman, he's going to continue to get better in that area."
Two road games against Colorado (Nov. 18) and Harvard (Jan. 4) may present some of the tougher tests for UCI during nonconference play. Both the Buffaloes and the Crimson come into the season receiving votes in the Associated Press poll.
Conference play begins on Jan. 11, when UCI hosts Hawaii.
Long Beach State handed UCI its only loss in conference last season. The teams meet on Jan. 22 at Long Beach State and on Feb. 19 at UCI.
Leonard pointed to the Anteaters' season opener next Tuesday as one that has special meaning for him.
"Personally, I like the matchup our first game versus the University of San Diego," Leonard said. "That's actually where my dad, [Efrem], played basketball in college [from 1987-1989]."
::
Support our sports coverage by becoming a digital subscriber.
For more sports stories, visit latimes.com/socal/daily-pilot/sports or follow us on Twitter @DailyPilotSport.
---
All the latest on Orange County from Orange County.
Get our free TimesOC newsletter, coming in August.
You may occasionally receive promotional content from the Daily Pilot.