NCAA tournament: UC Irvine can't keep pace late in game and falls to Oregon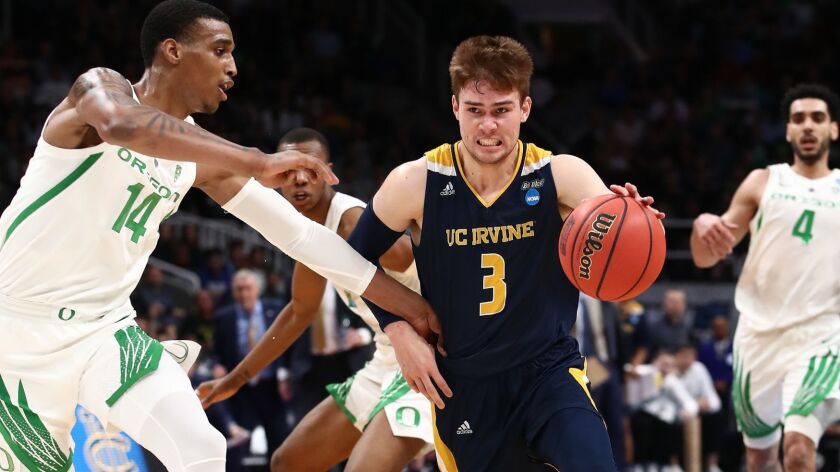 Reporting from San Jose —
For about two minutes of a suddenly frenetic second half, it looked like 'Eater Nation might go even more national.
But UC Irvine's historic season instead reached an abrupt conclusion Sunday night at SAP Center in a 73-54 loss to Oregon in the second round of the South Regional.
The final score hardly told the tale of how close the Anteaters were at one point to making more magic.
"It was definitely a special run," junior guard Max Hazzard said. "It's something I'm going to look back at and reflect on and really realize how cool it was. We did something that was pretty cool that no one expected."
The Anteaters finished 31-6, setting a school record for single-season victories. The defeat also ended their 17-game win streak, which was the best in school history and tops in the country.
But Irvine didn't fall without fighting. The Anteaters overcame a 12-point halftime deficit by scoring the first 14 points of the second half and had a 37-35 lead with 14:28 remaining. Oregon missed its first 11 shots and Irvine hit six of seven en route to a run that hijacked a game the Ducks appeared to have in their control.
"This team has that ability to continue to fight and believe and stay together," Irvine coach Russell Turner said. "That's a special ability for a team to have… That's a credit, really, to every person who's a part of it…I knew we'd come back."
Ehab Amin finally scored Oregon's first points of the second half on the three-pointer after 7:32 had elapsed. Teammate Louis King followed with another three-pointer to put the once-reeling Ducks up 41-37.
Oregon wouldn't relinquish control again, finishing the game with a 38-17 push that featured a series of highlight lob dunks and high-arching three-pointers.
The Ducks, who start four players listed at 6 feet 9, limited Irvine to 39.2% shooting and had eight blocks, seven of them by Kenny Wooten.
Accentuating all that size, they hit 13 three-pointers, stretching the Anteaters' tiring defense in the game's deciding moments and preventing more unlikely history to be made.
On Thursday, Irvine beat Kansas State 70-64 in the opening round for the school's first NCAA tournament victory in its second appearance.
"We advanced in the NCAA tournament," Hazzard said. "That was one of the goals that we had. We made everybody back home proud. We made ourselves proud, as well."
Oregon advances to the Sweet 16 to face No. 1 seed Virginia on Thursday in Louisville, Ky.
By reaching the Sweet 16, Irvine would have received even more attention as a 13th-seed from a school not known for its basketball prowess.
But the program is trending in the right direction, the Anteaters reaching the final of the Big West tournament in each of the past three seasons and winning the regular-season conference title four times in six years. Irvine's previous NCAA tournament appearance came in 2015 when it lost in the first ound to Louisville.
"This is a special platform," Turner said. "So we've made some progress, clearly, by being here again and by advancing. I know we've brought great pride to the students of our university, to the alums of our university, to the faculty of our university, to the people who live in our community. And that's special."
The Anteaters on Sunday were ultimately unable to overcome the height, length and athletic ability of an Oregon team that is enjoying its own surge.
The Ducks, a 12th seed, have won 10 in a row, a streak that includes claiming the Pac-12 tournament title.
Robert Cartwright led Irvine with 14 points and Evan Leonard had 11. Tommy Rutherford added 10.
Hazzard, Irvine's leading scorer this season, struggled with his shot and finished with seven points. He missed seven of eight three-point attempts. In the victory over Kansas State, he made five three-pointers.
"I gave it everything I had," he said. "Obviously, tonight, it didn't go my way, didn't go our way. But that's life. That's basketball. One-game eliminations are always tough."
Early on, Oregon twice built a nine-pint lead before a 7-0 Anteater push cut the difference to 17-15. But the remainder of the first half unraveled on Irvine behind a rash of turnovers and offensive rebounds yielded. Eleven of the Ducks' 21 first-half rebounds came on offense.
The Anteaters trailed 35-23 after 20 minutes and appeared to be clinging for their very survival.
But they came out in the second half and showed why they entered this tournament convinced they could advance and went into Sunday believing they could win.
"It's going to hurt, but my heart is full," Cartwright said. "I feel like we gave everything we had, and I know the final score isn't indicative of how hard we played tonight and our entire season. But looking back on it, we're extremely grateful that we've had this experience."
Sign up for our daily sports newsletter »
Twitter: @JeffMillerLAT
---
Get the latest on L.A.'s teams in the daily Sports Report newsletter.
You may occasionally receive promotional content from the Los Angeles Times.