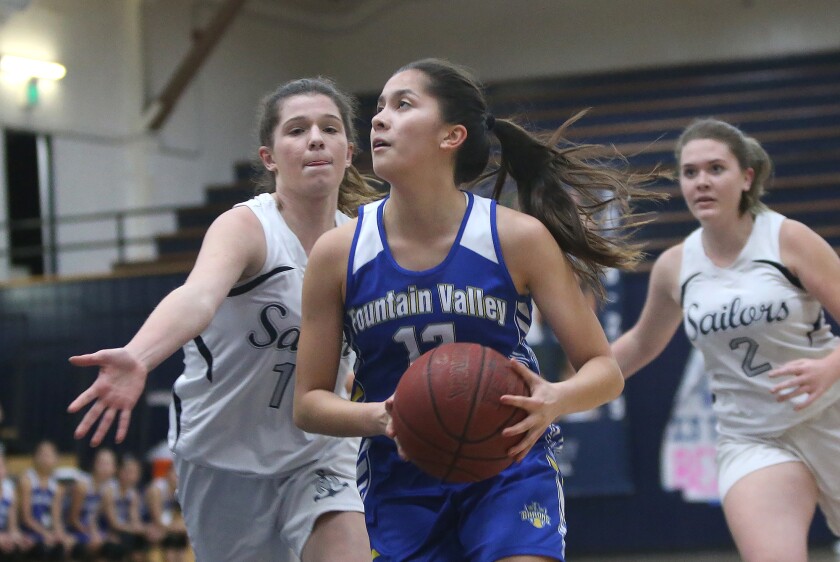 Margaret Tengan had 10 points, four steals and three assists to lead the Fountain Valley High girls' basketball team to a 62-17 win over visiting Katella on Thursday night in a nonleague game.
Kat Luu produced 11 points and five steals for the Barons (1-1), who had 19 assists and 15 steals as a team.
Zoe Ziegler and Sandy Lam each scored eight points, and Kristen Ho added six points.
Fountain Valley returns to action on Tuesday for a nonleague game at Santa Fe at 5 p.m.
Laguna Beach 32, Orange 28: Kenna Rudolph had 14 points, including four three-pointers, to lead the host Breakers in a nonleague game on Thursday.
Anna Cheng added nine points, and Julia Henry had five points.
Laguna Beach (2-1) plays at Santa Monica St. Monica on Saturday at 3 p.m.
Estancia 29, Santa Ana Valley 28: Mackenzie Sanchez and Alejandra Meza both scored six points for the host Eagles on Thursday in their season opener.
Melia Kenneth added five points for Estancia, which plays in the Santiago Tournament on Friday and Saturday.
BOYS' BASKETBALL
Lakewood 80, Ocean View 54: The host Seahawks fell in the Jim Harris Classic tournament quarterfinal game on Thursday.
Ocean View (1-1) plays Portola in a fifth-place semifinal game Friday at 9 p.m.
Godinez 51, Costa Mesa 49: The Mustangs dropped their season opener Thursday on the road.
Costa Mesa hosts Santiago on Tuesday at 6 p.m.
BOYS' SOCCER
San Bernardino Public Safety Academy 4, Pacifica Christian Orange County 0: The host Tritons dropped their season opener on Thursday at Vanguard University.
::
Support our sports coverage by becoming a digital subscriber.
For more sports stories, visit latimes.com/socal/daily-pilot/sports or follow us on Twitter @DailyPilotSport.
---