High school senior athletes face uncertain college futures due to coronavirus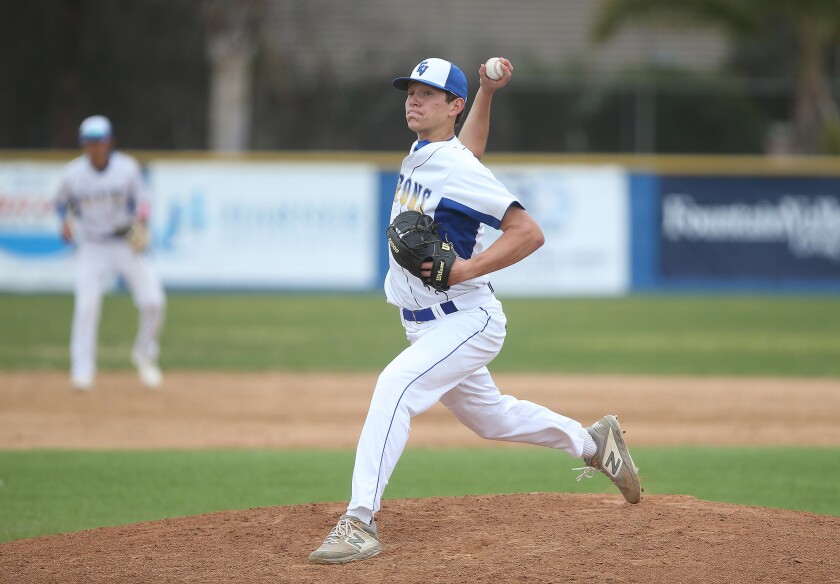 Jake Brooks was ready for a big senior baseball season at Fountain Valley High.
The right-handed pitcher and infielder had a 4-0 record when the season was cut short due to the coronavirus pandemic two weeks ago.
Brooks is holding out hope that the Barons, who were ranked No. 2 in the CIF Southern Section Division 3 poll, will be back on the field at some point. If not, he will start getting ready for the next level at UCLA.
Or so he hopes.
After canceling winter and spring Division I championship events on March 12, the NCAA announced extended eligibility for spring athletes the following day. That has led some to wonder the role that incoming freshmen, who have already signed their national letter of intent, will have on their respective teams.
The NCAA is giving spring sports athletes whose 2020 seasons were majorly disrupted by the coronavirus another year of eligibility.
Brooks is part of a 12-member recruiting class for the Bruins that was ranked No. 4 in the country by Baseball America. Huntington Beach senior outfielder Jake Vogel is another member of the class.
"I've been talking to the guys in my recruiting class at my school, and kids that are going to other schools, too," Brooks said. "Everybody's just sitting back and waiting to see what happens. There's nothing that we can do, that's what everybody's saying. We all signed our letters [of intent] before this whole thing happened, so I don't know how the rules work, if they're branched to us no matter what. Whatever the NCAA decides, I guess."
Brooks said he has been in contact with UCLA coach John Savage via the phone. The Bruins have just four seniors on their roster.
"[Savage] said he's just excited to get all of us on campus," Brooks said. "My mind was eased when I heard that. I'm not too worried about that. And the NCAA was also talking about expanding roster spots, so more kids could be on a team."
The CIF State office and the 10 CIF section commissioners held a meeting Tuesday, and CIF executive director Ron Nocetti left the door open for the spring sports postseason to potentially take place.
Estancia senior center fielder Troy Huber, who has signed to play baseball with Hardin-Simmons University in Abilene, Texas, is in a similar situation.
"They haven't really said anything yet, but I think I still have a spot," Huber said. "I'm definitely looking at it as another challenge. It's a challenge to get into college in the first place, then you finally get offered a scholarship and something big like this happens. I've got to work even harder now, but I'm going to just keep getting better at hitting and getting faster in the outfield. It's always good to have that little extra push, I guess. This might just be a blessing in disguise, you never know."
Newport Beach resident Max McKennon, who played at Newport Harbor High as a freshman and has been home-schooled since then, is headed to play for the Arizona State men's tennis team next year. McKennon, a blue-chip prospect who has three singles titles and six doubles titles on the ITF junior circuit, said he has been in contact over the phone with Sun Devils coach Matt Hill throughout the coronavirus scare.
"I think I'm playing well enough right now that it shouldn't really affect me that much, but for sure I've talked to other incoming freshmen at other schools and they're worried about what they're going to do," he said. "I don't know what [the NCAA is] going to do with scholarships. At Arizona State, it will be fine, because it's a pretty big school and we have a lot of money, but I don't know how the smaller schools are going to be able to deal with carrying the load of a few extra players in each sport financially. But they already announced it, so they're kind of in a pickle right now, logistics-wise."
Laguna Beach senior girls' water polo player Grace Houlahan is bound for Princeton after helping the Breakers win back-to-back CIF Southern Section Division 1 titles. Women's water polo in college is a spring sport, but Houlahan said she has not been in contact with the Tigers coaches about her role on the team.
"Obviously, it'll be more competition in the pool, but I don't know if any of our spots would be given away to [seniors given another year of eligibility]," Houlahan said. "It's kind of understood that we're the freshmen, we're the bottom of the barrel, we have to start all over like we did when we entered high school. I'm honestly just happy to hear that they get their season next year, if they're going to be able to."
Costa Mesa High senior Malia Tufuga said she feels secure in her spot as a setter on the Stanford women's volleyball team next fall, but she's also been impacted. She is unsure of the status of the club season; the USA Volleyball Junior Nationals were recently pushed back from May to June for the 18-and-under girls.
Malia's mother, Yvette, said that the NCAA may also need to cancel preseason matches, with a decision expected by mid-April. Other than that, she is concerned that Malia could have to leave home this fall if the coronavirus is still going strong. Malia's older brother, Mason, who plays for the Stanford men's volleyball team, took this year off but plans to be back on campus next year as a senior.
"There are so many worries when you send them off, away from home," Yvette Tufuga said. "[The coronavirus] would be just one more layer, I think."
Two local multisport athletes have given their commitment to Stanford University to play volleyball in college.
Support our sports coverage by becoming a digital subscriber.
For more sports stories, visit latimes.com/socal/daily-pilot/sports or follow us on Twitter @DailyPilotSport.
---
All the latest on Orange County from Orange County.
Get our free TimesOC newsletter.
You may occasionally receive promotional content from the Daily Pilot.