For UCLA's players, the university's longstanding rivalry with USC offers a game that "kids dream about." Chip Kelly knows exactly what that means.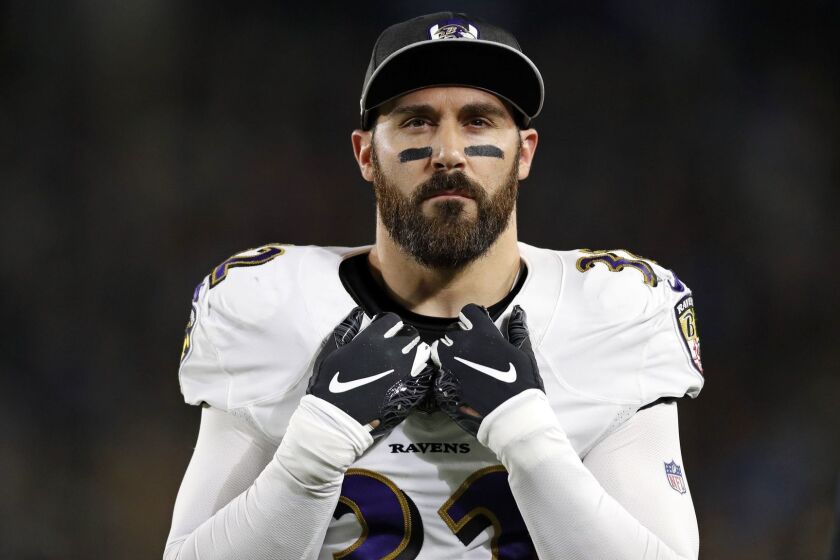 Rams' Eric Weddle has such great ties to Ravens that safety would not think of divulging trade secrets as his new team prepares for "Monday Night Football."
Chargers coach Anthony Lynn says he's "evaluating everything" amid the team's 4-7 season, but stresses that Philip Rivers remains the starting quarterback.
Rams' revamped offensive line was regarded as a potential weak link, an inexperienced group facing dire straits. Instead, it handled the Bears' front with aplomb.
Baltimore Ravens cornerback Marcus Peters says his first game against a Rams team that traded him away last month won't serve as a source of extra motivation.
The Lakers' stellar defense has played a big role in the team's hot start, but they showcased their explosiveness on offense against the Thunder on Tuesday.

Lakers forward Kyle Kuzma is expected to play Friday against the Oklahoma City Thunder despite sustaining an eye abrasion in Tuesday's win.
It's been a long road, but the Clippers finally got both their stars in Kawhi Leonard and Paul George together on the court in a scrappy victory over the Celtics in overtime.

For the first time, Kawhi Leonard and Paul George are expected to be on the court together for the Clippers tonight against the Boston Celtics.