The Pac-12 canceled its sports schedule through the end of 2020 because of the coronavirus crisis. The Pac-12 and Big Ten hope to hold football seasons in the spring.
Kyle Kuzma's heroics saved the day for the Lakers on Monday against the Denver Nuggets. Here are five takeaways from the Lakers' 124-121 win.
Kyle Kuzma hits a three-pointer with less than a second remaining to push the Lakers to a 124-121 win over the Nuggets, snapping L.A.'s losing streak.
Harrell indicated Monday he has returned to the NBA's Disney World campus and is in the process of rejoining the Clippers ahead of their playoff push.
The Clippers have struggled against three-point shooting since the NBA season restarted, and the Brooklyn Nets exploited that weakness Sunday.
Despite the Padres entering the game with a precarious pitching plan, the Dodgers fail to muster little offense to support Dustin May in a 2-1 loss.

Dodgers second baseman Kiké Hernández offers a first-person account of life on the road during the coronavirus crisis.
At 82, Jerry West doesn't try to hide the cracks in a fabled life. "I wish I would have done something really important in my life."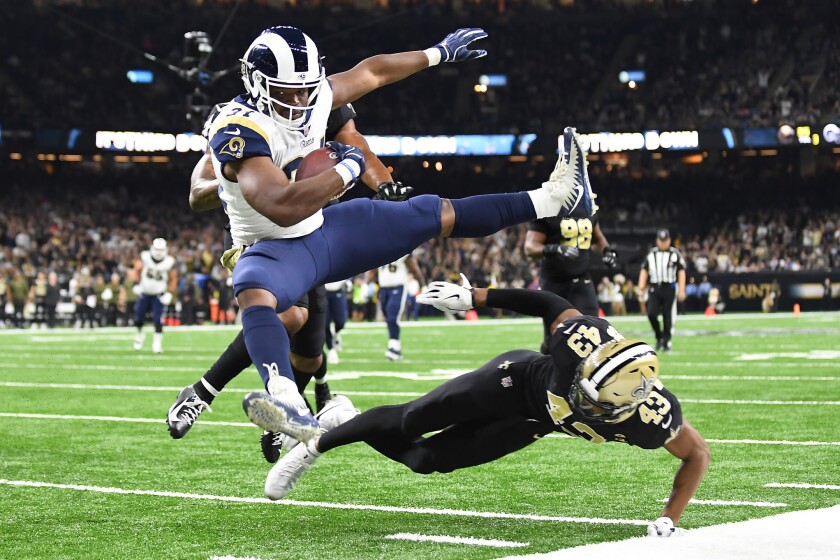 Once the young upstart who made the Rams' roster as an undrafted free agent, Brown is now the veteran of the running backs group.
While the Chargers are set with Tyrod Taylor as their quarterback, the battle at left tackle between Sam Tevi and Trey Pipkins offers the most intrigue.

Tyrod Taylor says he knew the Chargers would draft a quarterback, and he isn't worrying about losing his starting job to rookie Justin Herbert.
UCLA football players Elisha Guidry and Otito Ogbonnia are in favor of moving the college football season to the spring.
The college football season is in serious peril because of the COVID-19 pandemic. But what spurred the Big Ten to push for the season to be canceled?
For Martin Jarmond, the unexpected death of his mother has given UCLA's new athletic director an added perspective as he embarks on new challenges.
Many of college football's most prominent stars make their case for saving the 2020 season as administrators mull what to do amid coronavirus crisis.
Sign up for our daily sports newsletter