Kyle Kuzma hits a three-pointer with less than a second remaining to push the Lakers to a 124-121 win over the Nuggets, snapping L.A.'s losing streak.
Harrell indicated Monday he has returned to the NBA's Disney World campus and is in the process of rejoining the Clippers ahead of their playoff push.
The Clippers have struggled against three-point shooting since the NBA season restarted, and the Brooklyn Nets exploited that weakness Sunday.
By resting Paul George, Clippers coach Doc Rivers makes it clear that keeping his star players healthy is a priority in the team's 129-120 loss to the Nets.
Lakers coach Frank Vogel has thought about separating players to help their mental well-being. Is bubble life having an adverse effect on the team?
Dodgers second baseman Kiké Hernández offers a first-person account of life on the road during the coronavirus crisis.

The Dodgers placed Joe Kelly on the injured list Monday because of shoulder inflammation. They recalled left-hander Adam Kolarek to take Kelly's spot.
Anthony Rendon, the Angels' prized off-season acquisition, is hitless in his last 28 plate appearance and his batting average has dropped to .103.
B.J. Armstrong played with Michael Jordan and shared an agent with Kobe Bryant. One night he watched the legends lead a master class in basketball.
'Hard Knocks' is attempting to chronicle both the Rams and Chargers. Because of COVID-19 and no preseason games, the HBO show must stretch and tell a broader story.
Tyrod Taylor says he knew the Chargers would draft a quarterback, and he isn't worrying about losing his starting job to rookie Justin Herbert.

Chargers coach Anthony Lynn resorted to taking his players' cleats in an attempt to tone down the intensity during the team's first day of conditioning.
Many of college football's most prominent stars make their case for saving the 2020 season as administrators mull what to do amid coronavirus crisis.
Bru McCoy was in a bad frame of mind as he battled a mysterious illness. It took a one-on-one meeting with USC coach Clay Helton to help McCoy turn a corner.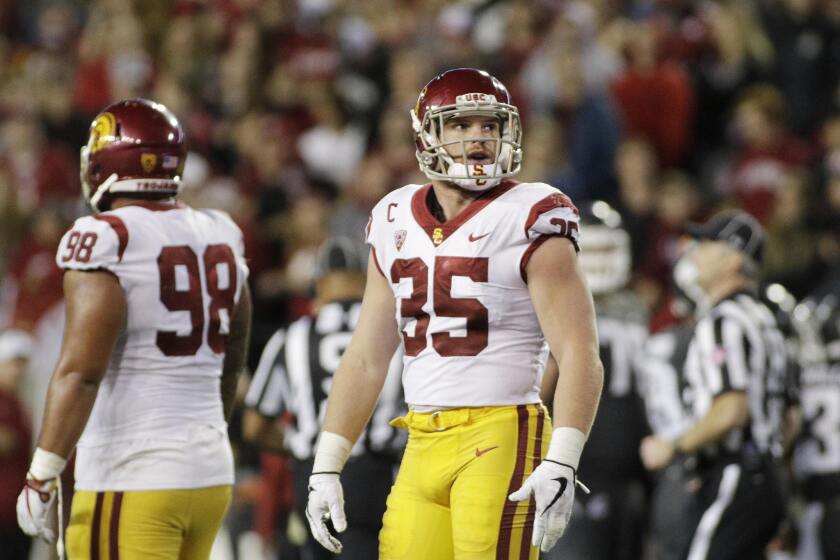 Minnesota Vikings linebacker Cameron Smith announced on Instagram that he has an enlarged heart and needs surgery. Smith started for four seasons at USC.
A group of Pac-12 players sent a letter to Larry Scott saying they didn't think the he was taking their concerns over the coronavirus seriously.
Collin Morikawa pulled away from a crowded field at the top Sunday with a birdie and an eagle in his final five holes to win the PGA Championship.

Sign up for our daily sports newsletter