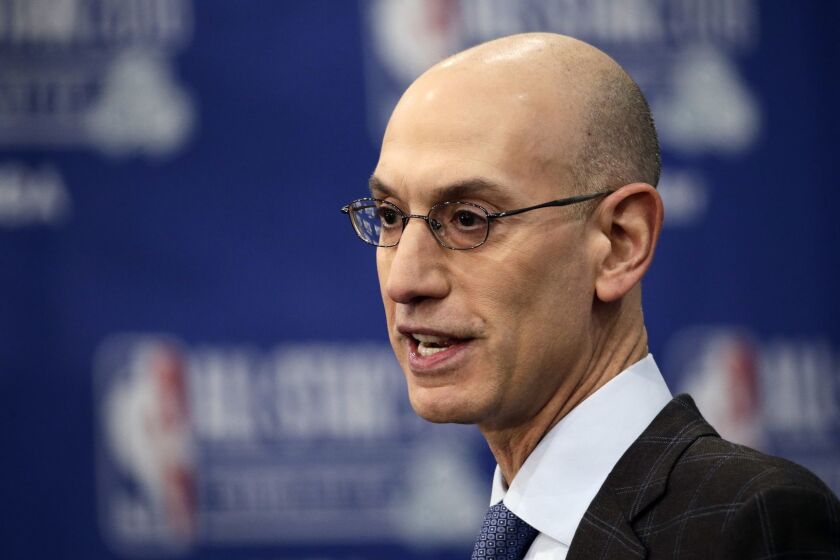 NBA Commissioner Adam Silver will present his restart plan to the league's board of governors on Thursday. The 22-team plan is expected to be approved.
The West Hills Chaminade couple, one headed to Stanford, the other committed to Vanderbilt, are in this together.
The UCLA-bound pitcher aspires to be a journalist: 'Usually when I think of an angle to write a story, I'll put myself in the player's shoes.'
The Agoura hurler's future plans took a hit with the logjam of college seniors who will return: 'I just kind of take what's given to me.'
Crescenta High pitcher Will Grimm had thrown 24 scoreless innings when the season was canceled. He found an escape in the piano and cooking burritos.
Casey Wasserman, leader of the sports and entertainment division of an L.A. county task force, authored the plan along with all nine major pro sports teams.

After major league players said they had no interest in a revenue-sharing plan, owners on Tuesday proposed a sliding scale of pay cuts for players.
UCLA coach Chip Kelly's message on the recent protests on the death of George Floyd and the riots have been criticized by former players on social media.
Quarterback Miller Moss of Bishop Alemany High chose USC on Monday, marking another major recruiting victory for the Trojans and a blow for UCLA.
USC distanced itself from a booster after 'abhorrent and blatantly racist tweets' in the wake of mass protests over the death of George Floyd.
The Chargers need running back production and are likely to get it from Joshua Kelley, a rookie out of UCLA with vision, speed and cutting ability.
With the NBA deciding later this week on the format for its return to play, here's a look at what might happen based on different options for the playoffs.

In the wake of George Floyd's death, NBA players and coaches are speaking out once again about racial injustice and what must change.
In wake of George Floyd's death, Dodgers manager Dave Roberts blamed U.S. leaders for not doing enough when it comes to stopping racism.

Jordan Lorenz and his groundskeeping crew have kept the field at Dodger Stadium in immaculate shape, just in the case the season starts soon.