Cody Bellinger breaks out of his slump with a pair of home runs and Clayton Kershaw allows one hit over seven innings in the Dodgers' 7-4 victory.
The NBA playoffs will take place this year in the Orlando, Fla., bubble without the presence of one of the league's most devoted fans, James Goldstein.

The college football season is in serious peril because of the COVID-19 pandemic. But what spurred the Big Ten to push for the season to be canceled?
Damian Lillard and the Portland Trail Blazers will face Ja Morant and the Memphis Grizzlies for the final Western Conference playoff spot.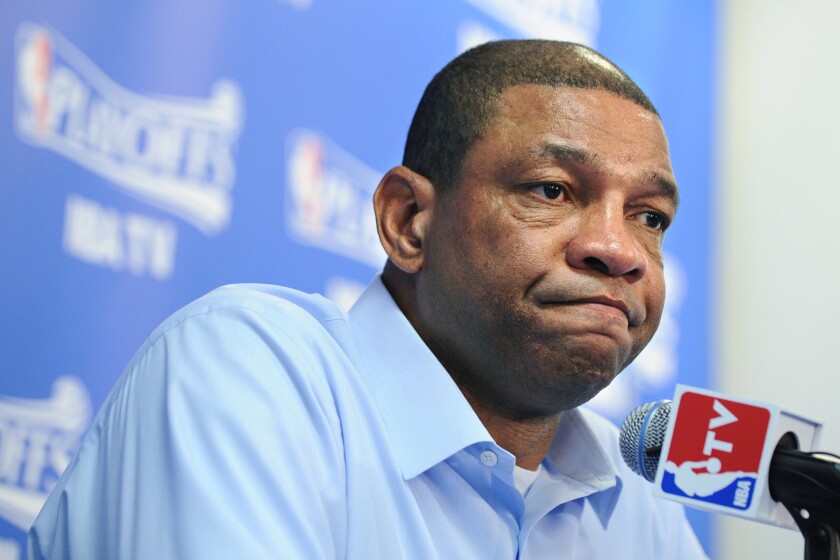 Clippers coach Doc Rivers discusses years of battling voter suppression as L.A.'s playoff schedule is released.
The Sacramento Kings seemed motivated to get out of the NBA bubble in Orlando, Fla., with a win, beating LeBron James and the Lakers 136-122.
We now have an idea of the NBA playoff matchups ... except for that pesky eighth seed in the West, where the Lakers and Clippers are Nos. 1 and 2.
Mookie Betts returned to the leadoff spot for the Dodgers and responded with an MLB-record sixth three-home run game.

Mookie Betts hits three home runs during the Dodgers' 11-2 victory over the Padres, tying the MLB record for most games with three homers.
At 82, Jerry West doesn't try to hide the cracks in a fabled life. "I wish I would have done something really important in my life."
Rookie outside linebacker Terrell Lewis, a third-round draft pick from Alabama, was activated to the Rams' roster from the COVID/IR list.
Olympic sports athletes and coaches, like those at USC and UCLA, are dealing with more disappointment as their fall seasons are being canceled.
10 U.S. senators say they'll propose a bill seeking to compensate college athletes through revenue-sharing deals and additional health protections.
Two members of the NCAA's COVID-19 advisory panel voice their concerns about playing in the fall.
Can the Pac-12 hold spring football? It is unknown whether there'll be a vaccine or mitigated cases of COVID-19 come spring.
Sign up for our daily sports newsletter