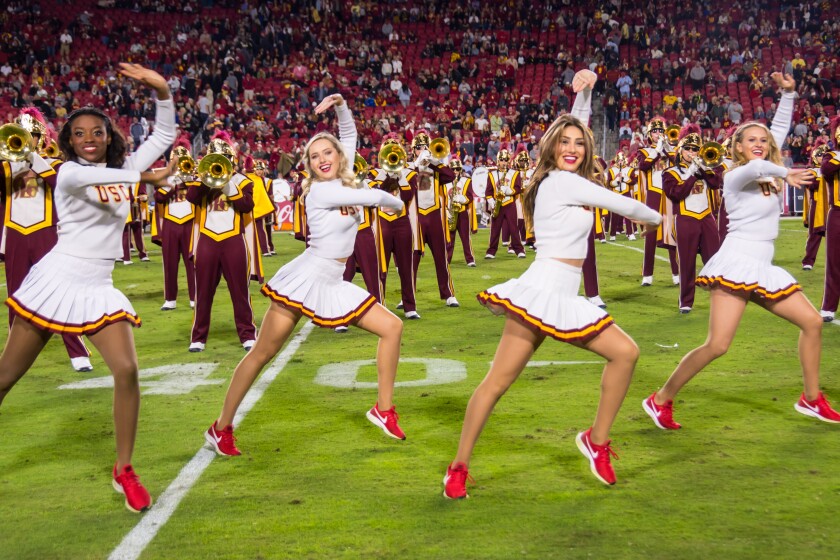 Ten former USC Song Girls described to The Times a toxic culture within the famed collegiate dance team that included longtime former coach Lori Nelson rebuking women publicly for their eating habits, personal appearance and sex lives.
Perhaps nobody in sports had a tougher job than Elgin Baylor when he was an executive with the Clippers under the ownership of Donald Sterling.

The Padres have long lived in the shadow of the Dodgers. But this season, the city of San Diego is convinced it will be a season to remember.
LeBron James deleted his tweet that read 'YOU'RE NEXT #ACCOUNTABILITY' with a photo of the officer who shot and killed 16-year-old Ma'Khia Bryant.
Luke Kennard made six three-pointers and finished with 28 points in the Clippers' 117-105 win over the Memphis Grizzlies on Wednesday at Staples Center.
A report that Lakers fan Vivian Flores went missing Sunday unlocked a wormhole of catfishing possibilities that pulled Markieff Morris and Kevin Durant into its maw.
Lakers' Anthony Davis tells reporters he plans to play Thursday and feels '100% healthy' after missing more than two months with a leg injury.
For Saturday's game against the Padres, the Dodgers are opening what they're calling a 'fully vaccinated fan section,' where social distancing won't be required.
Before their 1-0 victory over the Mariners on Tuesday, the Dodgers learned that Mookie Betts should not miss much time after being hit with a pitch on Monday.
Dodgers star Mookie Betts takes a pitch off his right forearm during a 4-3 loss to the Seattle Mariners. It's unclear whether he will play Tuesday.
The Dodgers got back their winning ways on Tuesday thanks to a strong pitching effort in a 1-0 victory over the Seattle Mariners.
Gary Cunningham, a senior captain of the 1961-62 UCLA team, noted the similarities between this season's Bruins and his edition nearly 60 years ago.
Sign up for our daily sports newsletter