Anthony Davis got to 50 points against the Timberwolves the old fashioned way, with post-ups, drives and jump shots without making a three-pointer, which has become a boring staple of today's game.
Thomas Davis served as the Chargers' unofficial offensive coordinator — at least for one play — during the team's blowout win over the Jacksonville Jaguars.
Breaking down what we learned from Chargers' 45-10 victory over the Jaguars on Sunday.
The Rams' disciplined pass rush combined with tight coverage kept the Seahawks offense out of the end zone for sixth time in Russell Wilson's 125 career starts.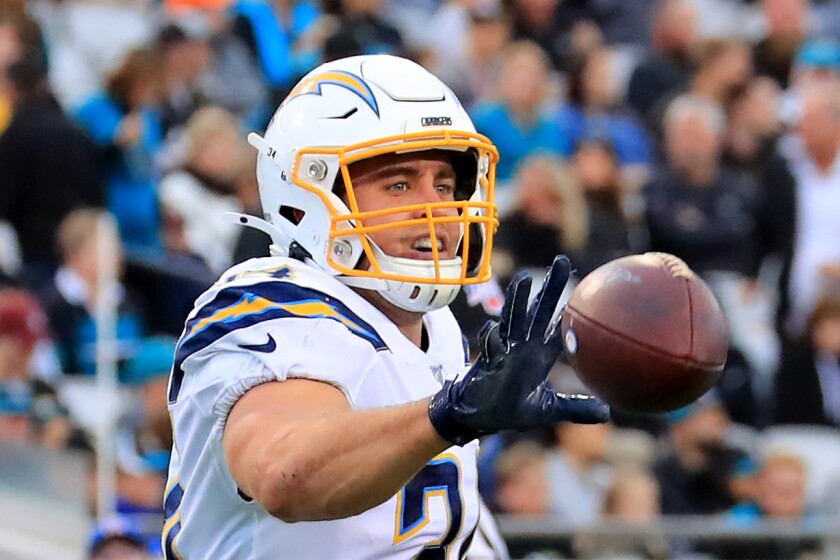 Chargers fullback Derek Watt does a dog impression for his celebration after scoring his first NFL touchdown in a 45-10 rout of the Jaguars.
Full-Court Text gives you the opportunity to receive text messages and interact with Times NBA national beat writer Dan Woike. You'll get exclusive, behind-the-scenes insights on the league, your favorite teams and players.
One day after dropping 50 points on the Timberwolves, Los Angeles Lakers forward Anthony Davis is named the NBA Western Conference player of the week.
Kawhi Leonard finishes with 34 points and 11 rebounds as the Clippers bounce back from their loss to Milwaukee with a 135-119 win over the Wizards.

The new-look Clippers have been getting by on talent early this season, but their ugly defeat to the cohesive Bucks proves they have a ways to go.