Five years ago Tuesday, Kobe Bryant closed out his Hall of Fame career with a 60-point performance. A look back at the magical moments of that game.
"Fernandomania @ 40" is a multi-episode documentary series that examines star pitcher Fernando Valenzuela's impact on the Dodgers, Major League Baseball and the Latino community in Los Angeles 40 years ago.
Before golfers could bring their own staff to the Masters, Black caddies in August, Ga., played key roles supporting the green jacket winners.

Soccer-wise, Carli Lloyd did not have a happy 2020. However, the year turned out to be one of her best once she reunited with her family from which she was estranged.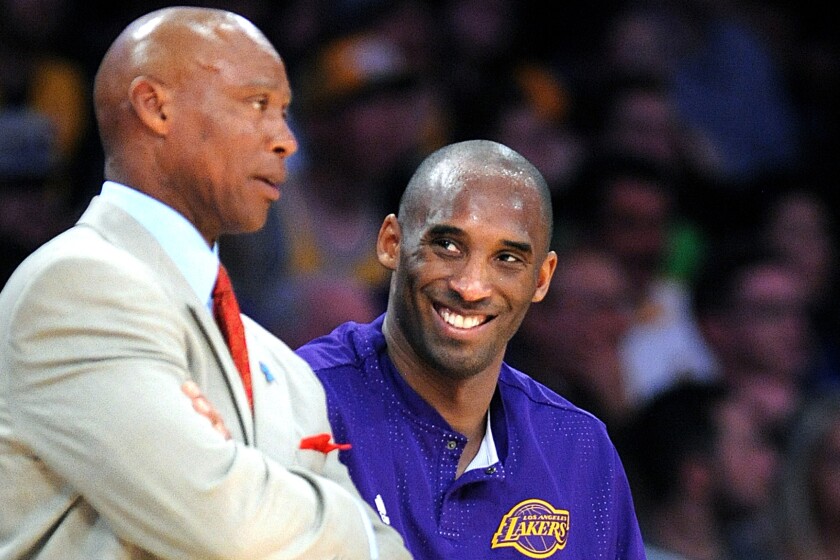 Byron Scott coached Kobe Bryant in his final season and was a mentor when the Lakers great entered the NBA. What he and others remember.
Marcus Morris had 33 points and Paul George added 32 to lead the Clippers to a victory over Detroit that wasn't secured until a late push on defense.
The Lakers need Andre Drummond to be on his game with LeBron James and Anthony Davis injured, and he provided that in win over the Brooklyn Nets.
The Lakers cruised after Dennis Schroder and Kyrie Irving were tossed early in the third quarter, picking up a 126-101 victory over the Brooklyn Nets.
Walker Buehler, Clayton Kershaw and Trevor Bauer are set to take the mound when the Dodgers open their three-game series against the Padres on Friday.
Dodgers rookie Zach McKinstry, known as Z-Mac to teammates, hits a two-run home run and doubles in a run in a 3-0 win over the Washington Nationals.
The Dodgers scored five second-inning runs, including a three-run homer by Chris Taylor, and AJ Pollock later added a three-run double in a 9-5 win.
On the day after the Dodgers received the 2020 championship rings, fans could buy a replica of the ring from the company that made it.
Veteran right fielder Dexter Fowler will undergo surgery on his left knee and miss the rest of the season. For now, the Angels won't promote a prospect.
USC football doesn't have many options at cornerback at the moment, so Isaiah Pola-Mao is spending time playing at nickel corner this spring.

Jalen Hill struggled daily with the pressures of life before he realized that by quitting the UCLA basketball team he could concentrate on himself.
Horse racing fans got a big sign that things are starting to return to normal when they tuned to TVG and saw popular analyst Simon Bray on location at Keeneland.

Sign up for our daily sports newsletter