Newport Beach's Max McKennon sees coronavirus affect Grand Slam tennis dreams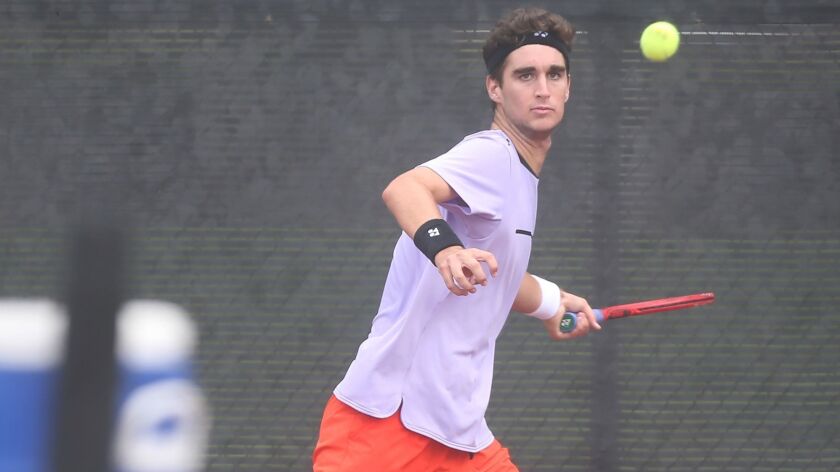 Newport Beach resident Max McKennon has never been to the All England Lawn Tennis and Croquet Club in London, England, the home of the prestigious Wimbledon tennis tournament.
McKennon, 17, planned to go this year as a competitor, not just a spectator. His International Tennis Federation juniors ranking is No. 62, high enough to enter the boys' singles draw at the grass court event for the first time.
"Wimbledon is just so special," McKennon said. "It's probably my favorite tournament of out of all of them, because it's just so special and so prestigious."
McKennon, a blue-chip prospect who played at Newport Harbor High as a freshman before taking online school through Laurel Springs School the last three years, is signed with Arizona State. He looks forward to college tennis, but Grand Slams are a chance to make your mark on the international stage.
This was supposed to be the year that McKennon plays on the clay at Roland Garros for the French Open, then Wimbledon before hitting the hard courts at the U.S. Open. The three junior Grand Slams were on the schedule for McKennon, who has come back strong after tearing the meniscus in his right knee during an ITF tournament last July in Vancouver.
Schedules are a perilous thing in the time of the novel coronavirus pandemic.
ITF tournaments are on hold, and Wimbledon is expected to cancel the tournament for the first time since World War II following a meeting on Wednesday.
The French Open, originally scheduled to start in May, has been pushed back until September because of the coronavirus pandemic.
The French Open has been postponed from May until late September, leaving McKennon hopeful that his Grand Slam dreams are still in the cards.
"I was planning on playing in the Grand Slams and having the U.S. Open be my last tournament before I go off to school," McKennon said. "I'm obviously very upset about it, but I'm pretty lucky compared to other people in the world who don't have jobs, who are dying, who can't support their family. I'm trying to put into perspective, but I'm obviously pretty upset about it as well."
McKennon has moved his way up the ITF rankings. When he was hurt last summer, he had just cracked the top 200 in the world.
He won ITF juniors tournaments in El Salvador and Costa Rica earlier this year. In the latter tournament, he also won in doubles with his partner, Jack Anthrop of Florida.
The next week, McKennon lost in the second round of a tournament in the Dominican Republic. The tournament eventually would be canceled on March 12 due to the coronavirus.
Since returning home, McKennon is fortunate that he can train with his coach, Carsten Ball, a former Corona del Mar High star and professional tennis player. McKennon's mother, Donna, said that her son has access to two private courts in the area. Between hitting and fitness, he spends up to five hours a day training.
"We're just hoping that something happens with the U.S. Open, and/or the French," Donna McKennon said. "It's so selfish to talk about just tennis, because we know that the problems are huge for the whole world, but this is how it's affecting us the most. We still have a nice home and we still live in Newport, Max is healthy and he's got a great future at ASU. We're so fortunate for that, but this is what he's worked for, these summer slams. It's completely out of his control, but they're slipping through everyone's fingers. Maybe one or two of them will get played this year."
Max McKennon was supposed to be playing in the prestigious Easter Bowl this week in Indian Wells. Instead, he's at home.
"There's a lot to look forward to," Donna McKennon said. "We just need to get through this mess, but the whole world needs to get through the mess, not just tennis. We know that."
NCAA voted Monday to approve an extra year of eligibility for spring athletes who had their seasons canceled because of COVID-19 but some might not get same financial aid.
While his spot on the Sun Devils roster more than likely won't be affected, McKennon may play at a lower line of singles next year than he expected. Arizona State had three seniors this year, and each will be eligible for an extra year of eligibility next year, the NCAA announced Monday.
Max McKennon is just ready to get back into matches, whether it's in London, Tempe or anywhere in between.
"I'm pretty lucky to have this problem, not wondering when my next paycheck is going to come or wondering where my next meal is going to come from," he said. "Even though my situation is not ideal, it's a lot better than most, so I'm just trying to stay positive about it."
::
Support our sports coverage by becoming a digital subscriber.
For more sports stories, visit latimes.com/socal/daily-pilot/sports or follow us on Twitter @DailyPilotSport.
---
All the latest on Orange County from Orange County.
Get our free TimesOC newsletter.
You may occasionally receive promotional content from the Daily Pilot.