O.C. All-Star games impacted by COVID-19, cancellations for baseball and softball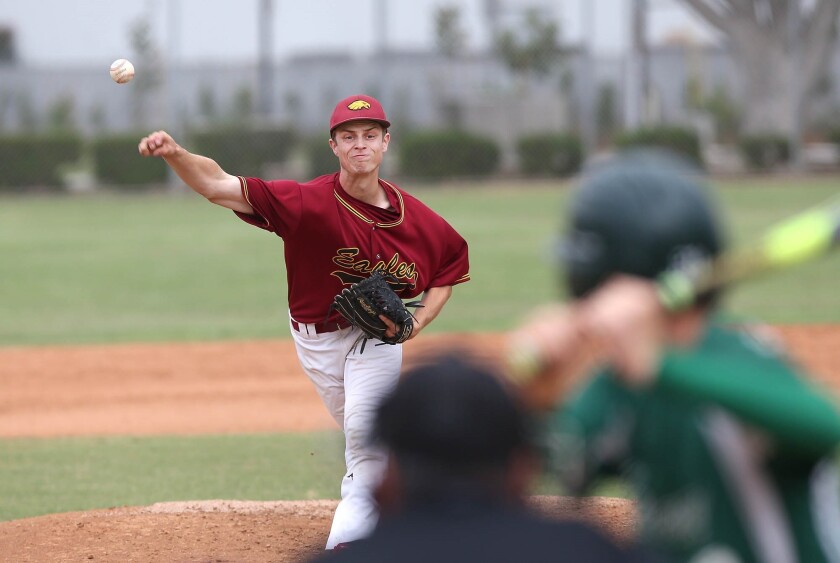 The Orange County All-Star competitions have long provided lasting memories for student-athletes at the end of their senior year of high school.
As steps have been taken to slow the spread of the coronavirus, the impact on athletics has been immeasurable.
The 53rd annual Orange County High School All-Star Baseball Game, presented by the Kiwanis Club of Greater Anaheim, has been canceled.
Joe Dale, the Chairman of the All-Star Baseball Committee for the Kiwanis Club of Greater Anaheim, said that rosters will not be produced for the ill-fated game, noting that only about a third of the season had been played.
"It truly is a major disappointment," Dale said of canceling the game, which had been scheduled for May 26 at Dee Fee Field in Anaheim. "It's a big program that we work for all year. We have a lot of fun. The kids get to know each other. They don't spend a lot of time together, but they just bond and we hear from them later on that they've stayed in touch through the years.
"We have about 143 players that have made it into the Major Leagues over the years, so we won't be able to match this year's players up against that list, but that's just another part of the loss."
The Orange County Softball Coaches All-Star Classic, in its 22nd year, and the Orange County vs. Inland Empire All-Star Softball Game also will not happen this year.
Premier Girls Fastpitch is the presenting sponsor for both games. The Orange County game was set for Tuesday, May 19 at Bill Barber Park in Irvine, while the Orange County vs. Inland Empire game would have been on Wednesday, May 20 at Big League Dreams in Chino Hills.
Dan Hay, the president of PGF, said that the decision to cancel the All-Star games coincided with the cancellation of the high school season on April 3.
"When [CIF] came out and canceled the official season and the championship season altogether, that's when we just decided to call it a day from the high school side of things," he said.
Hay added that the All-Star teams will still be selected, and an official list of those who would have played will be put out.
Newport Harbor High girls' volleyball coach Dan Glenn, who is helping to organize the 43rd Dave Mohs Memorial Orange County All-Star volleyball matches, believes that producing rosters is the right thing to do.
"I really want to make sure we do that because the spring sports have gotten absolutely crushed," Glenn said. "I still think that they should try to pick an All-CIF and do all that. I think they should do as much as they can."
The volleyball season had not quite reached the league portion of the schedule, but many of the top teams had already seen action in several tournaments. Newport Harbor had already competed in the Tesoro Tournament, the Orange County Championships, and the Best of the West Invitational in San Diego.
Glenn's son, Jaden, bound for UC Santa Barbara, was a senior libero for Corona del Mar. Glenn did not miss one of his son's matches for the Sea Kings this season. He sat on the bench for the Newport Harbor boys' volleyball team when matches did not overlap with one for CdM.
Glenn added that decisions on whether the All-Star matches occur do not need to be made until May, but he said the teams will be formed, whether the event happens or not.
The Orange County Boys' and Girls' All-Star Basketball Games are scheduled for May 9 at Cypress College, but event organizer Jesse James indicated that the games could be pushed back in response to the coronavirus.
All-Star teams have been picked in basketball. On the boys' side, Estancia coach Xavier Castellano has been chosen to head the South roster. Ethan Barnella (Marina), Judah Brown (Pacifica Christian), Jake Covey (Estancia), Brian Pacheco (Los Amigos) and Jack Stone (CdM) were selected to the South roster.
Castellano knew that baseball was Covey's first love in sports, but he said that the senior center was excited about the opportunity to be on the same team one more time.
"When I kind of mentioned that he had been nominated to play in the All-Star game, he was thinking about it," Castellano said of breaking the news to Covey. "Then I asked him again, and I said, 'Jake, if you do, I get to coach you.'
"We were both looking forward to it."
Locals chosen to compete for the South roster on the girls' side were Taylor Fullbright (Edison), Greta Graeler (Marina), Kat Luu (Fountain Valley) and Marisa Tanga (Huntington Beach).
::
Support our sports coverage by becoming a digital subscriber.
For more sports stories, visit latimes.com/socal/daily-pilot/sports or follow us on Twitter @DailyPilotSport.
---
All the latest on Orange County from Orange County.
Get our free TimesOC newsletter.
You may occasionally receive promotional content from the Daily Pilot.